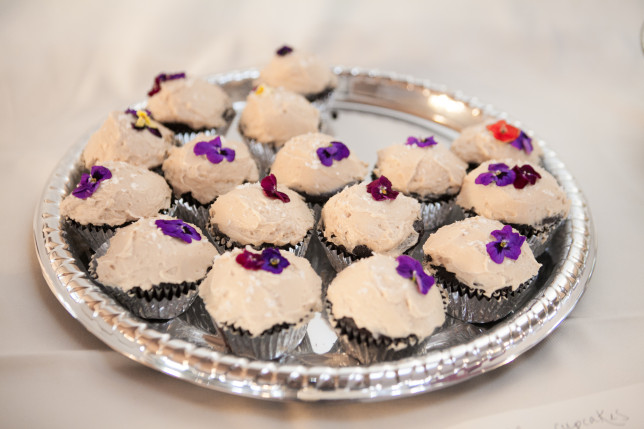 Today, the ImaginariYUM turns one year old. It's been a pretty amazing year. From my Dad's Sunday Blueberry Pancakes to Pain au Chocolat to today, you've helped me grow bolder, grow easier, grow more comfortable with my abilities and constraints. I've made some pretty creative things, tested some things tried and true. Run a marathon, and begun training for another. Learned to enjoy every moment of every season — even the hot, miserable ones, because they all mean something, give something.
And this summer, especially, has been filled with love, and with joy. I was honored to be a bridesmaid and the "pastry chef" for my best friend Tracie's wedding in July, and then, just last Friday — just a month after I caught the bouquet and he caught the garter, and five years to the day after our first date — my fella asked me to marry him. The love of my life. The guy. The one who says he never really thought the saying "the way to a man's heart is through his stomach" was true until he met me. The one who taught me to love strange midwestern concoctions, and makes a perfect grilled cheese. The one who washes the dishes, is happy to be my guinea pig. The one who never, ever complains when things take way longer to cook or bake than I led on. The one who makes me laugh every day, throws a bag of ice in the tub when I'm exhausted, sore, and whimpering after a long run, reminds me that creativity is like a muscle that needs exercise. The one who sat with me and watched Bugs Bunny cartoons on my phone, in the back of a bar, on our first date, and who will still sit with me and watch Bugs, over, and over, and over again, any day that I ask. That guy.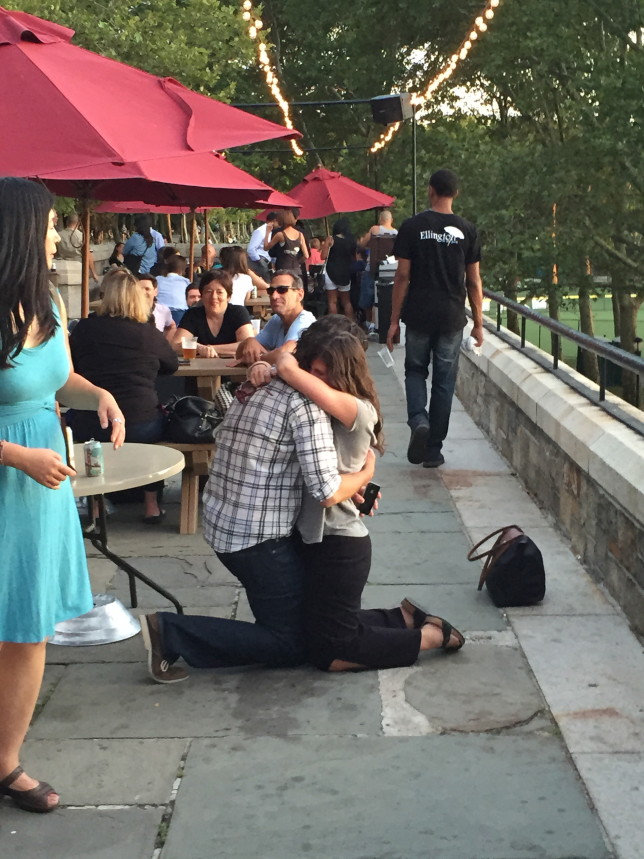 So on this bloggiversary, I thought it was appropriate to celebrate just a little. With cupcakes. Chocolate cupcakes with salted caramel buttercream, to be exact.
It was the first cupcake recipe I nailed down for Tracie's wedding. Roommates back in Jersey City, once upon a time, she had moved cross country just two months before I met the fella, and, when she asked me to be her bridesmaid, she said she missed my baking (also the way into a new roommate's heart), and asked if I would create her dessert table. Never could I ever refuse. We settled on the chocolate cupcakes with the salted caramel buttercream, vanilla cupcakes with strawberry buttercream, and brown butter chocolate chip cookies with sea salt.
I chose recipes I knew would be easy, once I worked them out. But I did not anticipate the overwhelming stress that would come with baking over 100 fairly large cookies and 100 cupcakes in an unfamiliar kitchen thousands of miles away from home base. I planned meticulously. I would make the cookie dough two days before the wedding. Bake them off in the hall's kitchen the next day while I made the first cupcakes. Prepare the caramel and the strawberries in her kitchen, ready to go when it was time to make the meringue buttercream and get to frosting. But of course, the best-laid plans…
I made the cookie dough without the baking soda — in all four batches. (Luckily remembered before scooping them and baking them, and was able to warm the dough the next morning and incorporate it in.)
I forgot that the cupcakes required not only dutch process cocoa, but also melted, dark chocolate. (Thankfully there was a Trader Joe's minutes away and a fella willing to drive there.)
I also misjudged how much coffee I needed for the number of cupcakes I was making. (I ran out into the rain and ordered another cup at the bar down the street.)
A lot of it might have been due, truth be told, to very little sleep and lots of celebratory wine and beer. But I digress.
Despite the mess, the mistakes, the stress, everything came out as wonderfully as I could have hoped. The cookies were devoured. The cupcakes swooned over. Everything was gone too quickly — even before the amazing photographer had a chance to capture a full tray of them. I told Tracie the day of the wedding, when she came into the kitchen brimming with love and joy and happiness, that she is the only person I would do this for. She's worth it.
But I'll make them in smaller quantities, for sure. They're simple enough, and sure as hell tasty enough. And these chocolate cupcakes with salted caramel buttercream? If this fella over here asked me to, I'd make them in a heartbeat. He's worth it, too.
Here's to a year of this, five years of that, and a whole future ahead of us.
(photos 1, 2, 5, and 6 courtesy Clinton James Photography)
(photos 3 and 7 courtesy Eileen Hoffman)


Chocolate Cupcakes with Salted Caramel Buttercream
adapted from Cook's Illustrated and The FauxMartha
These cupcakes are extremely rich and perfectly sturdy. They stand up beautifully to the salted caramel buttercream, which is of the Swiss meringue variety. That means that sugar is whisked into egg whites over a double boiler until it dissolves, and then it is whipped up into a meringue in a stand mixer before softened butter is added, a bit at a time, creating a silky, smooth, delicate but extremely hardy buttercream. Caramel is added, then, once frosted, the cupcakes are sprinkled with sea salt. It is decadent but not too sweet. A more mature version of a childhood treat.
It's important that your butter and your flavorings be at room temperature when making the buttercream. If your butter is too cold when you add it, the buttercream will "break." It will almost look like it's curdling. It can be fixed, though. Keep whisking, and wrap a warm towel around the bowl to try to bring it back up to temperature. Same goes for the caramel. Whisk, whisk, whisk. And if you're making the frosting in advance, store it in the fridge, and bring it all to room temperature before frosting. Whisk it well.

Makes 12 cupcakes
For the cupcakes:
3 ounces bittersweet chocolate, chopped fine
⅓ cup (1 ounce) Dutch-process cocoa
¾ cup brewed coffee, hot (espresso also works, but will yield a stronger coffee flavor)
¾ cup (4 ⅛ ounces) bread flour
¾ cup (5 ¼ ounces) granulated sugar
½ teaspoon salt
½ teaspoon baking soda
6 tablespoons vegetable oil
2 large eggs
2 teaspoons white vinegar
1 teaspoon vanilla extract
For the buttercream:
½ cup (3 ½ ounces) granulated sugar, divided
2 tablespoons water
¼ cup heavy cream
heaping pinch salt
1 ½ sticks (12 tablespoons) unsalted butter, cut into cubes and brought room temperature
2 egg whites
sea salt, for sprinkling
Make the cupcakes:
Adjust oven rack to the middle position and heat oven to 350 degrees. Line a 12-cup muffin tin with paper or foil liners.
Place chocolate and cocoa in a medium heatproof bowl (I use glass). Pour hot coffee over the mixture and let sit, covered, for 5 minutes. Whisk gently until smooth, then refrigerate until completely cool, about 20 minutes.
Whisk flour, sugar, salt, and baking soda together in a medium bowl.
Whisk oil, eggs, vinegar, and vanilla into cooled chocolate mixture until smooth. Add flour mixture and whisk until smooth.
Using an ice cream scoop or large spoon, divide batter evenly into prepared muffin cups. Bake until set and just firm to the touch, 17 to 19 minutes. Let cupcakes cool in the muffin tin on a wire rack until cool enough to handle, about 10 minutes. Lift each cupcake and place on wire rack. Let cool completely before frosting, about 1 hour.
Make the buttercream:
Bring ¼ cup plus 1 tablespoon sugar and water to a boil in a medium saucepan over medium heat, cooking slowly. Swirl pan occasionally. DON'T LEAVE THE ROOM. Keep on the heat until just before the caramel turns dark amber. Remove from heat and slowly add cream and salt. Stir until smooth. Let cool to room temperature. (If you're making the caramel in advance, bring it back up to room temperature before using)
Place egg whites and remaining sugar in a heatproof mixing bowl set over a pot of simmering water. Whisk until the sugar dissolves and the mixture is warm to the touch. It will feel smooth and silky. Be careful not to overcook.
Remove bowl from heat and, taking care not to drip water from the bottom, pour egg mixture into bowl of stand mixer fitted with a whisk attachment. Whisk on medium speed for 5 minutes. Increase speed to medium high and whisk until stiff, glossy peaks form, about 6 minutes. Reduce speed to medium and add softened butter about a tablespoon at a time, whisking well after each addition.
With mixer on low speed, add caramel and beat until smooth, 3-5 minutes.
Assemble cupcakes:
Spread the buttercream on the cupcakes, or, if you're handy with a pastry bag, pipe it on. Sprinkle with sea salt. Decorate with edible flowers if you're feeling sassy.