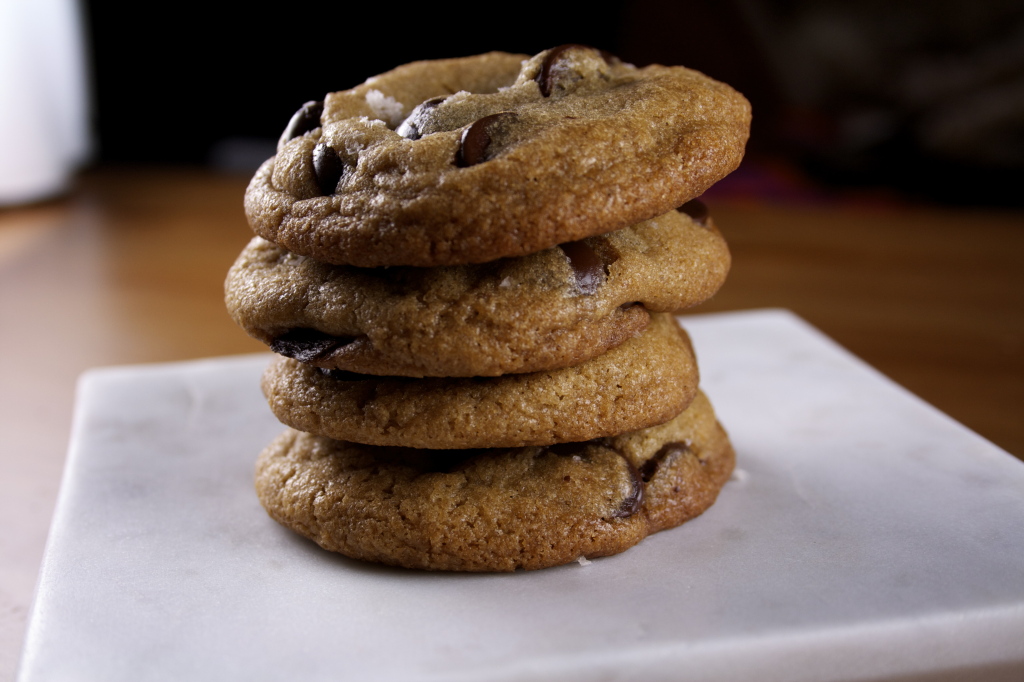 There are some desserts that are "anytime" treats – anytime of the day, anytime of the year – and most of them, obviously, involve chocolate. I know, on a 95-degree day, some of us might prefer a fruit sorbet to a heavy dark chocolate gelato, but I think we're all in agreement that that gelato would still be mighty refreshing. Cookies, obviously, fall into this category. Especially that supreme being of all that is good and sweet in the world: the mighty chocolate chip cookie.
Everyone has their favorite chocolate chip cookie recipe, and I hope most of us can recall at least one instance of making them as kids with our families. I think for some it was a regular treat: Toll House cookies hot out of the oven after school. I don't remember my mom doing it all that often (she was busy chauffeuring me around to violin and skating lessons, or my brother to his after-school varieties), so when she did make them in the afternoons or evenings during the week, it was special. More often than not, I made them with her – probably because I begged for them, and, oh, what a price to pay!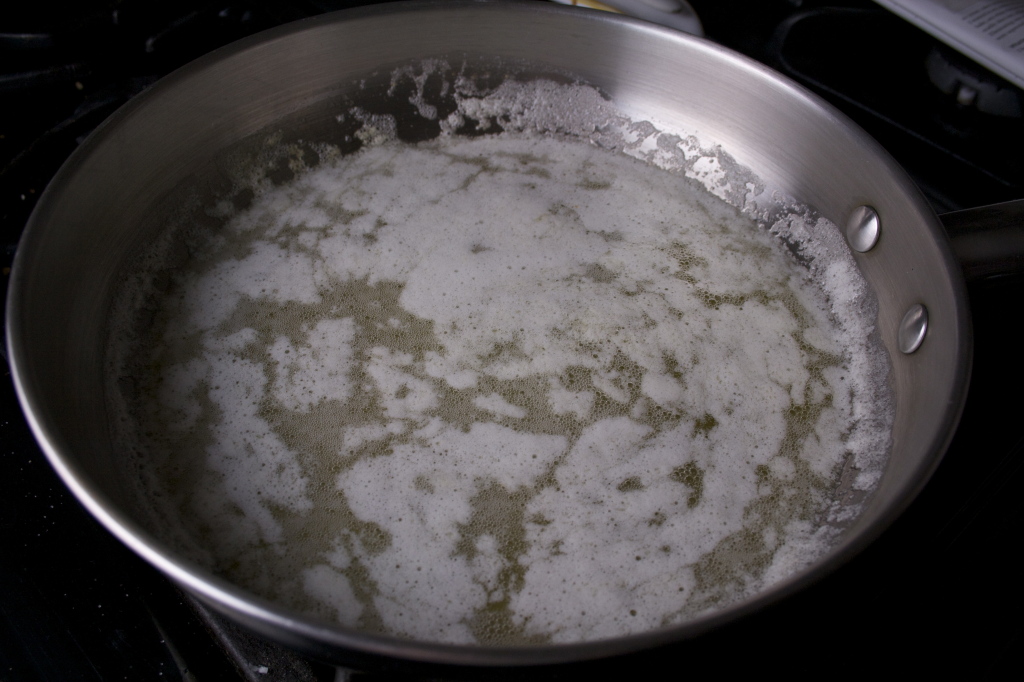 Our typical recipe was similar to Toll House, but with slight modifications based on the recipe on the back of the Ghirardelli bag. We creamed two full sticks of butter with equal amounts of white and packed brown sugar, beat in our eggs and vanilla, added our flour mixture in thirds, and then folded in our chocolate chips (and nuts, if we were daring). Eventually, I made these cookies so often that I could do it without a recipe, in my sleep, on a whim. I liked to make them small, maybe a wee tablespoon or even a teaspoon of dough, because then you could eat as many as you wanted without feeling guilty. They also didn't flatten out as much as larger amounts tended to, and I've always preferred a taller cookie. (Moment of truth here: I actually went through a phase where I made them with baking powder instead of baking soda. Anyone want a super mini cookie cake?) They were my favorite cookies. Until…
I discovered browned butter. I knew it was an intoxicating aroma from the days when my mom and I would fry up some cheese blintzes for lunch, and the butter would be in there maybe a little too long, browning the blintz perhaps more than intended, but smelling fragrant and nutty. But when that brown butter meets brown sugar? We're not just talking nutty anymore, we're talking caramelized. We're talking magic.
I want to say that this is more of an adult cookie, what with its bittersweet chocolate and sprinkling of sea salt, but I brought them to a barbeque a couple of years ago and my friends' two-and-a-half-year-old daughter couldn't get enough. Trust me, though, they are sophisticated. And decadent.
And because they are so, after trying to eat too many in one sitting you'll soon learn better. I like to make just a few at a time so that we can eat them hot out of the oven and not worry about them getting that sitting-around-in-a-plastic-container flavor or semi-softness/semi-dryness that they always acquire in said container. I like my chocolate melty and my cookie hot. Who doesn't?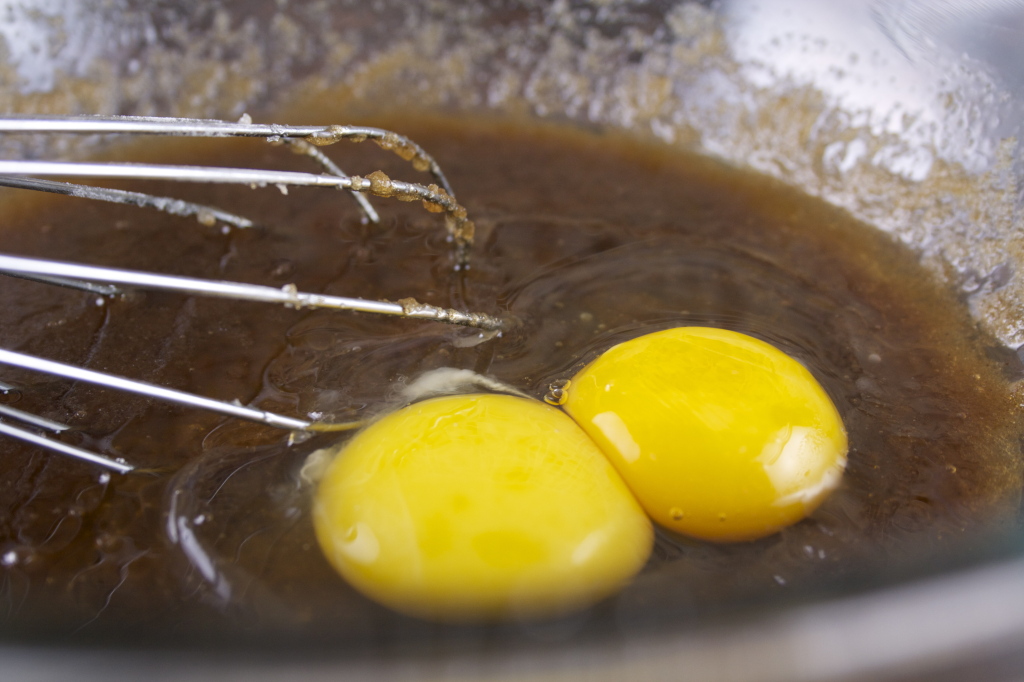 I'll prepare an entire batch – whisking my flour and baking soda; browning my butter in a 10-inch skillet until it sputters and becomes a dark golden brown; melting in more cold butter, watching it foam; stirring in my salt, vanilla, and sugars, more brown than white, and inhaling the caramel; whisking in my eggs, not just once, but four times; gently incorporating my flour; and folding in my chocolate chips – and bake maybe six or eight that first time, depending on how many people I need to feed. The rest, those gorgeous little balls of buttery dough, are frozen on a cookie sheet lined with parchment and then placed in a plastic bag so we can have freshly baked cookies whenever we damn well please.
The key to these, in addition to the browned butter and the brilliant, Cook's Illustrated-perfected technique of whisking the eggs, butter, and sugar four times, with three rest periods in between, is chilling the dough. Too soft and your cookies may flatten out. Which, hey, is totally cool if that's what you're into. But chilled dough – frozen dough even more so – creates a thicker cookie, one whose texture truly melts in your mouth, and not only from the chocolate.
And the sea salt? Forget it. That salt heightens every flavor contained in these gorgeous little nuggets. It's an obvious pairing with the caramelized flavor of the cookie's interior, and it compliments the dark chocolate absolutely perfectly.
I love ending my night with a couple of these little babies. The perfect treat after a long day, or a long week, or a long run. Or, you know, the middle of a lazy Sunday afternoon.
Those Toll House-style cookies will always have a special place in my heart, but the past is in the past. Browned butter – and sea salt – is the future.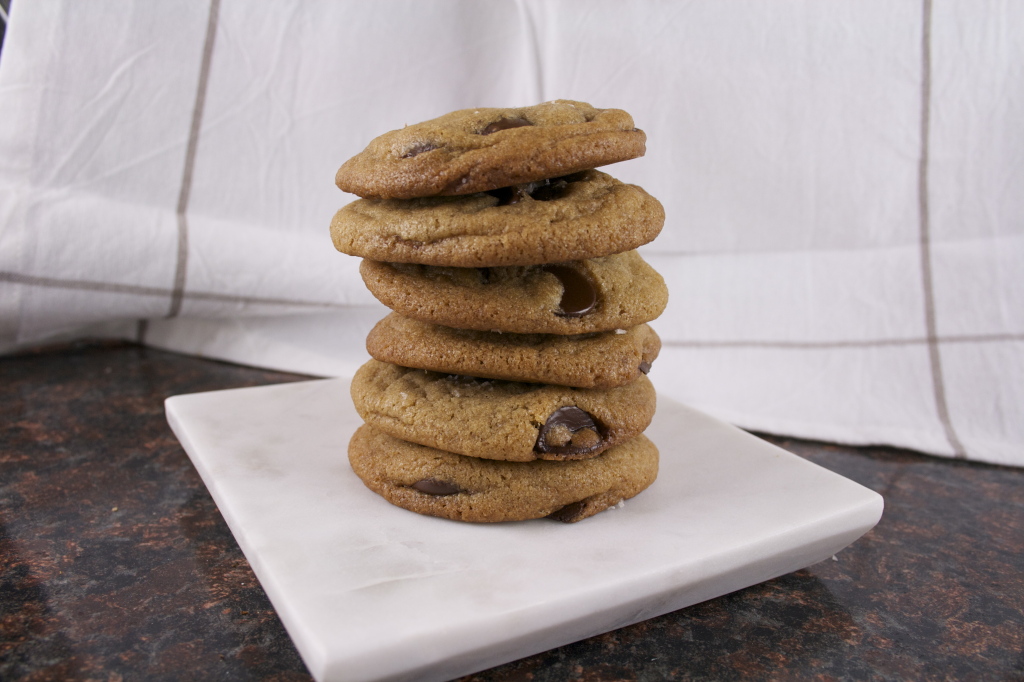 That's the way the cookie crumbles? No, my friend, that's the way the cookie melts.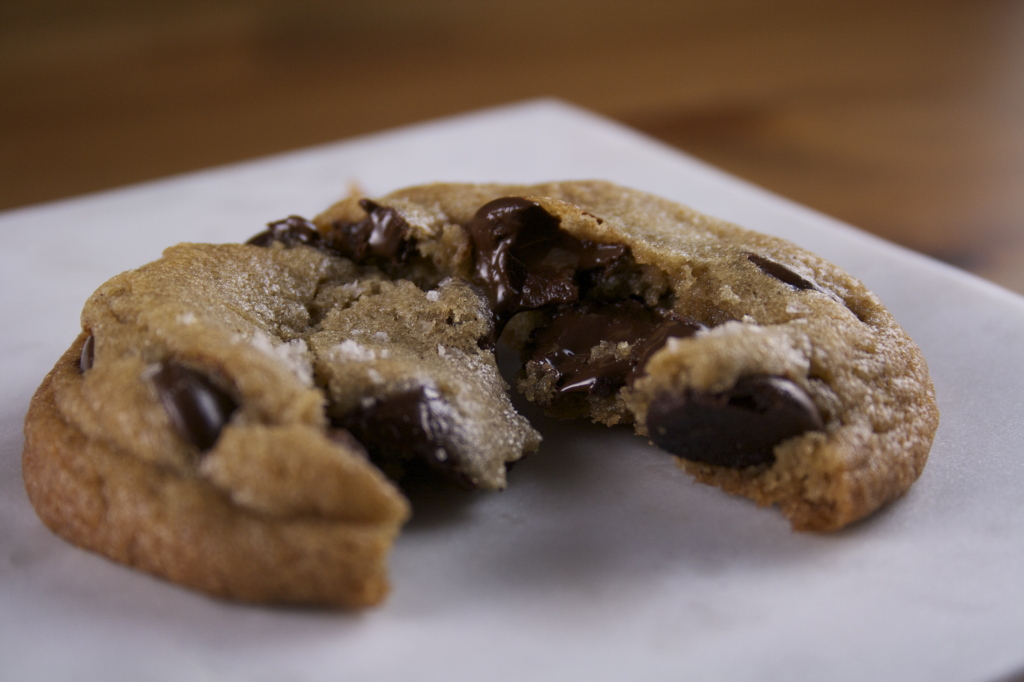 Brown Butter Chocolate Chip Cookies with Sea Salt
This recipe is adapted from Cook's Illustrated. I've upped the amount of chocolate, made it dark, reduced the amount of dough in each cookie, added the step of chilling the dough before baking, and included sea salt. Note that when you're browning your butter, it's best to avoid using a nonstick skillet. The dark facade of nonstick surfaces masks the color. A regular skillet will enable you to watch the color of your butter turn from golden-clear to golden-dark-brown. The change from light golden brown to dark golden brown will be quick. Just keep your eye on it and don't panic if it is darker than you think it should be. Those burned bits will yield a ton of flavor.
Makes about 24 cookies
1 ¾ cups all-purpose flour
½ teaspoon baking soda
14 tablespoons unsalted butter
¾ cup packed dark brown sugar
½ cup granulated sugar
1 teaspoon salt
2 teaspoons vanilla extract
1 large egg plus 1 large egg yolk
1 ½ cups bittersweet or dark chocolate chips or chunks (or about 8 ounces, chopped)
Sea salt, for sprinkling
In a medium bowl, whisk together the flour and baking soda. Set aside.
Melt 10 tablespoons of butter in a large skillet over medium-high heat. Continue cooking, swirling the pan constantly, until the butter is a dark golden brown and has a beautiful nutty aroma, about one to three minutes. Transfer the browned butter to a large, heat-proof bowl (I use glass) and add the remaining 4 tablespoons of butter. Stir until completely melted.
Add brown sugar, granulated sugar, salt, and vanilla to the butter, and whisk until fully incorporated. Add the egg and egg yolk, and whisk until the mixture is smooth with no lumps remaining, about 30 seconds. Let the mixture stand for three minutes, then whisk for another 30 seconds. Repeat this process two more times (for a total of four whisking sessions) until the mixture is thick, smooth, and shiny. Using a rubber spatula, stir in the reserved flour mixture until just combined. Stir in chocolate chips.
Cover the dough with plastic wrap and refrigerate for at least 30 minutes, or overnight.
When nearly ready to bake, preheat oven to 375 degrees and line a baking sheet with parchment. Remove dough from the refrigerator. If it's been sitting overnight, you may need to let it rest on the counter for 10 minutes to soften it slightly.
Scoop out two tablespoons of dough at a time and roll into balls. Place about two inches apart on prepared baking sheet. Sprinkle with sea salt.
Bake until the cookies are golden brown and puffy. The edges will have begun to set but the centers will still be soft, about 10-14 minutes, rotating baking sheet halfway through baking. Transfer baking sheet to a wire rack and cool for at least five minutes before devouring.
To freeze dough: scoop and roll dough into balls and place on a parchment-lined baking sheet. Place baking sheet in the freezer and freeze for several hours or overnight, then place in a large, zippered bag. When ready to bake, place as many dough balls on your parchment-lined baking sheet as you'd like, sprinkle with sea salt, and bake as directed above. You may need to add an extra minute but start checking at 10 or whatever time initially achieved your cookie perfection.