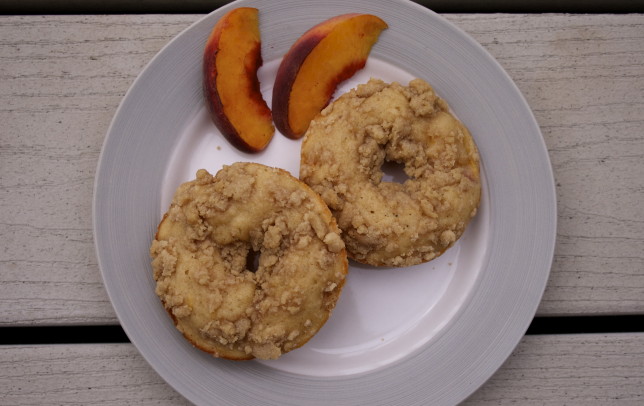 I am made of water. I crave it. I love to run beside the Hudson and East Rivers. I yearn salty ocean waves foaming at my feet. When I'm near it, in it, I feel whole. And yet — the power, its depths, the unknown, terrify me. The fear of being toppled and tossed around by a wave bigger and more powerful than any water within me has kept me from wading out more times than I care to admit. Sometimes I leave the beach without ever being further than knee-deep, when what I crave — nay, what I need — is to be in it and of it.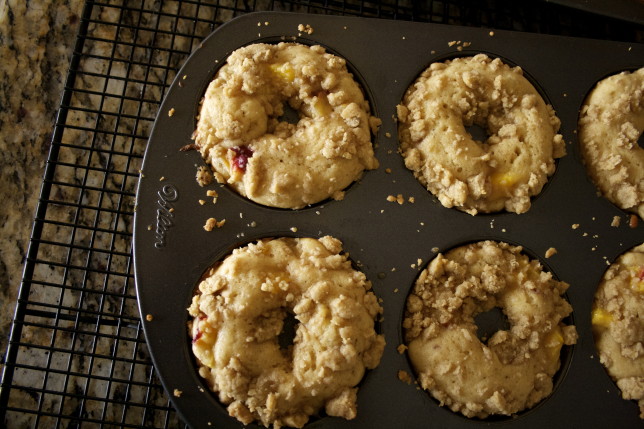 All of that changed — finally — last week, on my final day of a family vacation in Cape May, NJ. Let me correct that: in the final hour of that final day. With my fella and my dad beside me, I relearned how to face those waves. It's the silliest thing, really, the truth of it. That it's all simply a matter of preparation, of being ready for what comes, of accepting. See a wave that you can't jump? Take a deep breath, before it's on you, and duck. It doesn't need to be a competition between you and the wave. Like jumping, you become one with it. Then you rise, unscathed, and simply wipe a bit of salt of from your eyes. In it and of it.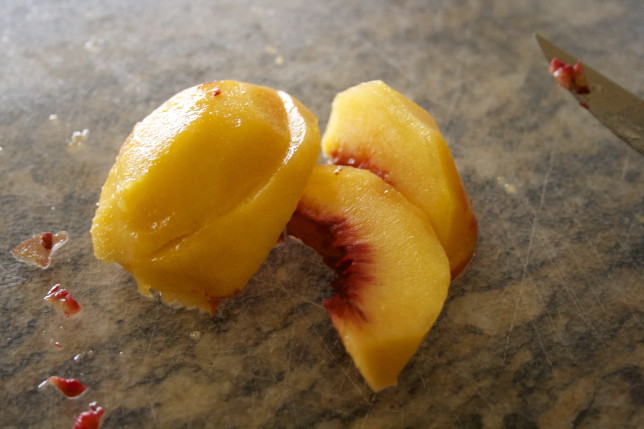 I did not want to get out of the water. Yet I didn't feel the regret that usually consumes me at the end of the day.
And so I left Cape May, land of historic Victorian houses, fudge and saltwater taffy, dolphins, and so many childhood memories, with a newfound respect for the phrase "roll with the punches." It would be an understatement to say I'm ready for the cool embrace of fall. But I've spent too much time fighting summer's existence. Thinking I can jump it even when it's too big to handle. Feeling miserable from the heat. Sick and dehydrated from the humidity. But yet, I realize, with it has come the sweetest peaches I've had in years.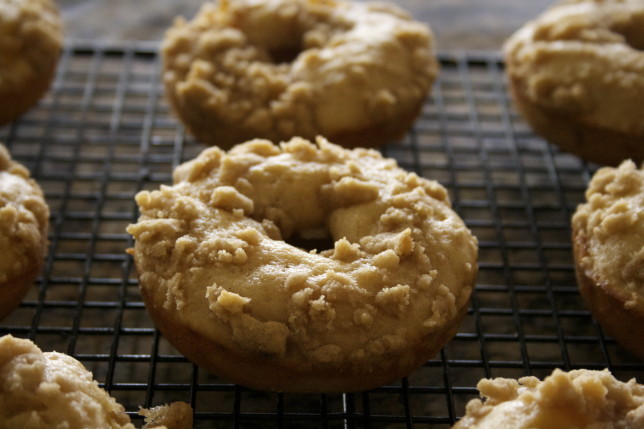 At this end of August, there are already apples at the farmer's markets. I spotted Greenings at one of the stands in Astoria two and a half weeks ago. And I was tempted — so tempted. But I still haven't had my fill of tender local peaches. Of sweet plums. Of juicy tomatoes and tiny kirbies and crisp peppers and all the wonderful things that are here because summer is a sunny, hot, miserable time of year. I've been eating peaches every day with my breakfast: diced up into oatmeal, as a side to toast and eggs, folded into Greek yogurt. And now this: baked peach crumble donuts. Because along with all the fresh ones unchanged by the heat of an oven, we need to incorporate them into flour and butter and sugar and make them more.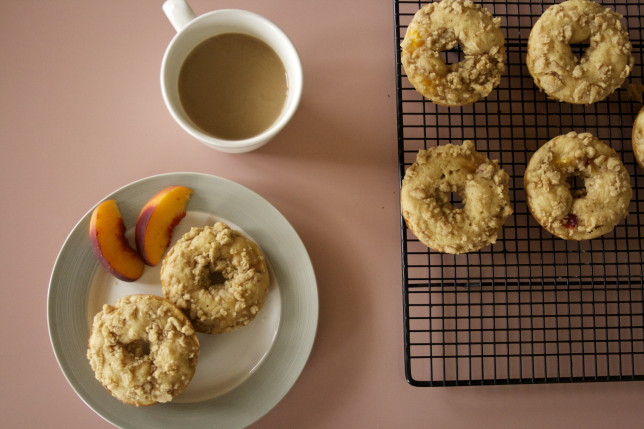 These? These are heaven. Lighter than muffins and heartier than your typical fried donuts, these scream summer breakfast. They are a combination of two of the very best rustic sweets — donuts and fruit crumble. The base, made with a combination of all-purpose and whole wheat flour, is flavored with vanilla and nutmeg and peppered with diced peaches, and topped with a crunchy, cinnamon-hinted streusel. The result is an incredibly moist, tender confection made only better with a cup of coffee. We ate these on the balcony of our rented condo, across from the ocean, as the clouds parted after a night of heavy rain and the humidity settled once again. And for once, that humidity was okay.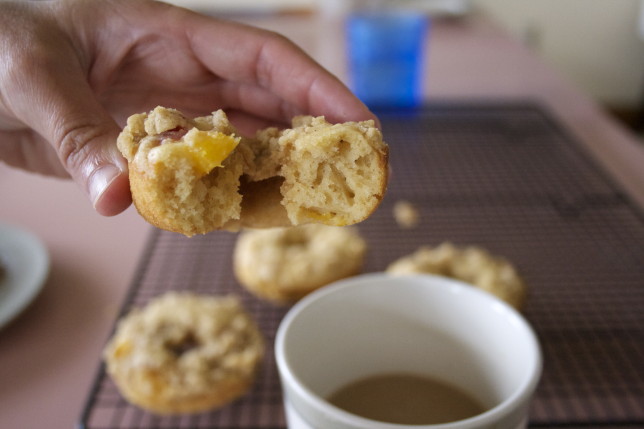 And maybe it was these donuts that gave me the courage to face my fear later that day. These things work in tandem, it would seem. All I know is that when the next wave comes, taller than me, bigger than me, more powerful than me, threatening to topple me from where I stand, I know what to do. I'm ready to be with it and of it. Work it into something I love. Work it into myself. Are you ready to duck?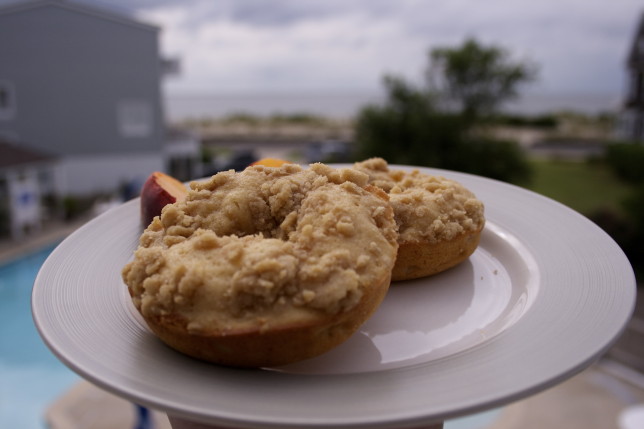 Baked Peach Crumble Donuts
based on a recipe from The Fauxmartha
These donuts are everything a baked donut should be: hearty, thanks to the whole-wheat flour; full of old-fashioned flavor, thanks to the nutmeg; and light, thanks to being baked, rather than fried. The base recipe, adapted from The Fauxmartha, uses milk + vinegar rather than straight-up buttermilk, and it works beautifully. I love the way the nutmeg and the vanilla mesh with the chunks of fresh peaches, the way the slightly crunchy crumble, hinted with cinnamon, juxtaposes the fluffy donut beneath it. And I love how healthy they are — you know, for donuts.
Note that you'll probably have a little extra batter left over. Be sure not to fill the molds all the way to the top, otherwise your donuts will end up looking a lot more like muffins.
yield: 12 donuts
for the donuts:
⅔ cup plus 2 tablespoons milk
2 teaspoons white vinegar
6 tablespoons unsalted butter, melted and cooled
1 cup (150 grams) whole wheat flour or white whole wheat flour (I used white)
1 cup (140 grams) all-purpose flour
2 teaspoons baking powder
½ teaspoon salt
¼ teaspoon freshly grated nutmeg (ground works fine here too)
½ cup (110 grams) granulated sugar
¼ cup honey
2 large eggs
1 ½ teaspoons vanilla extract
1 large peach, peeled and diced (about 1 cup)
for the crumble:
¼ cup plus 1 tablespoon flour
2 tablespoons granulated sugar
2 tablespoons brown sugar
⅛ teaspoon cinnamon
pinch salt
2 tablespoons unsalted butter
Preheat oven to 400 degrees. Spray donut pans or grease them with butter.
Mix milk and vinegar in a small bowl and let sit for at least 5 minutes. Meanwhile, whisk flours, baking powder, salt, and nutmeg in a medium bowl. Set aside.
In a large bowl, whisk sugar, honey, egg, melted butter, and vanilla until evenly combined. Add curdled milk.
Whisk dry ingredients into wet ingredients until just combined. Gently fold the peaches into the batter.
Using a pastry bag or a plastic bag with a corner cut, evenly pipe the batter into the prepared donut pans. Be careful not to overfill — the batter should not go all the way to the top.
Make the crumble: In a small bowl, combine flour, sugar, brown sugar, cinnamon, salt, and butter and work with your fingers until completely combined. It should be fairly dry and crumbly, true to its name. Sprinkle evenly over the prepared donuts.
Bake for 7-8 minutes, or until a toothpick inserted into the center of the one of the donuts comes out clean. Allow to cool in the pans for 5 minutes before removing to a wire rack to cool completely.