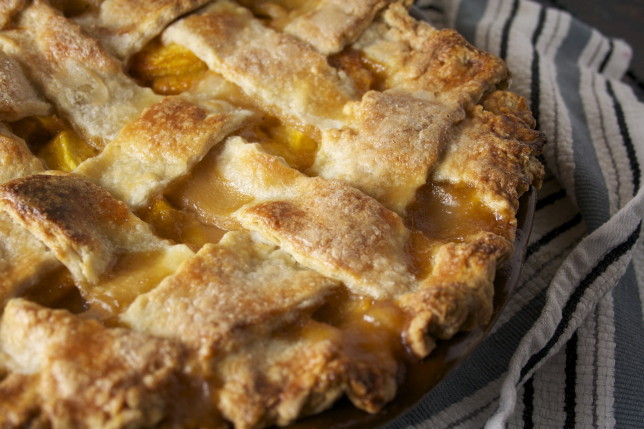 You. Hey you. I saw you out there, splashing in the waves. Bathing in sunlight. Grilling on your patio. Saying good-bye to summer. I saw you dreading the cold of winter, still three months away. But I have news for you: it's not over yet. Labor Day may have come and gone late this year, but it's still hot. It's still summer. We've got another two weeks of it, so if you're in mourning, perk yourself up a bit and get thee to the farmer's market. It's peach pie time.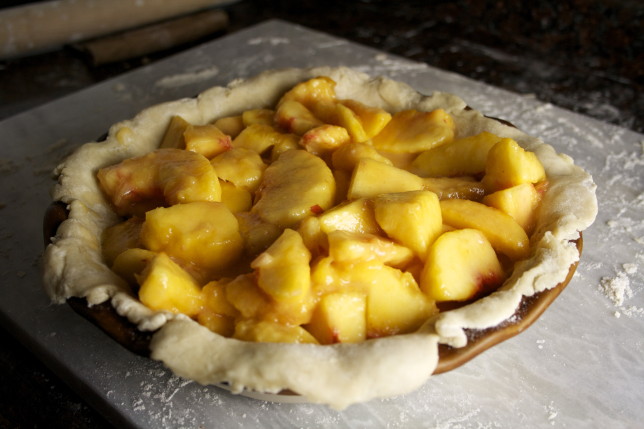 As I've said numerous times before, I'm loathe to turn on my oven in the summer, especially when the thermostat outside gets anywhere near 90. I yearn for an air-conditioned kitchen. Or, at the very least, a ceiling fan. But my god, I've missed it. I've missed the sweet smell of butter melting into flour, of fruit bubbling up and over onto a baking sheet. I've even missed the frustration of rolling out pie dough. But that, perhaps, is the reason I've got peach pie for you today. I'm determined to beat this thing, to master it — that whole "ducking into the wave" thing I talked about a couple of weeks ago. Is it a fear? I'm not sure. But it's keeping me from my favorite dessert, and that's simply unacceptable.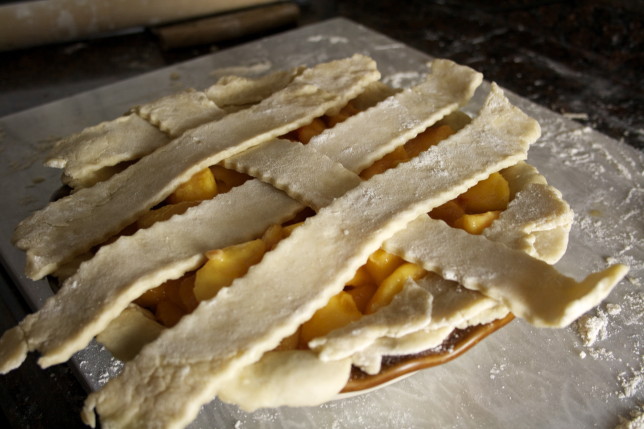 So on Saturday, a few hours after I had recovered from my first 20-mile training run of the season, I stepped into the kitchen, and started cutting up butter. No preparation, no over-thinking. "Just get in there and do it."
Instead of sour cream, instead of buttermilk, instead of just plain water, this recipe uses apple cider vinegar. Like the sour cream and buttermilk, the vinegar tenderizes the dough, helping to make a flakier crust. There's nothing to fear: just butter cut into flour, salt, and sugar, and brought together with an ice cold mixture of water and vinegar. Easy as pie.
But rolling it out — I wish you could hear me sigh. I tried to be cute last year and said "it's rustic." But the truth is I'm just terrible at it. I don't know how to do it without it cracking. I don't know how to get it into a perfect 12-inch circle. There, I said it. I'm no master.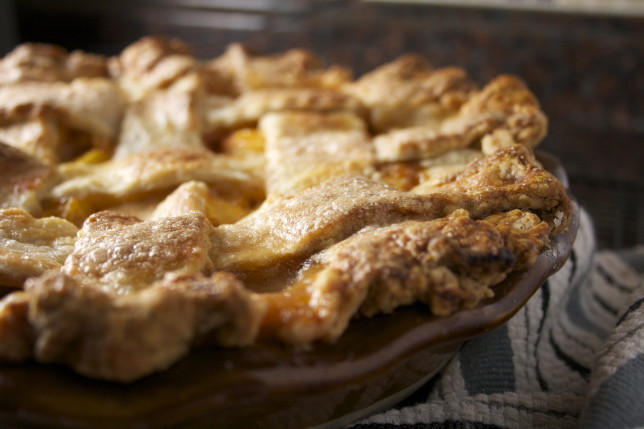 But I'm not a failure. It still comes together, it's just not always pretty. There may be some patching, there may be some jagged edges. Be kind, be gentle, and be generous flouring the counter. And lift and turn, and flour some more. Chill the dough when needed and press those cracks together. I'm getting better at it. And I will get better at it. I will not fear the dough.
And it's really the flavor that counts, right? This peach pie — it's just delightful. Its flavorings are simple, as summer needs no adornment. Summer is adornment. Summer itself is over the top, bursting with the flavors of the sun. Just a bit of sugar and a pinch of cinnamon and the slightest hint of nutmeg. When baked, the juices jam up and ooze over the buttery lattice crust. The peaches almost burst apart, but they hold back, keeping their shape beautifully.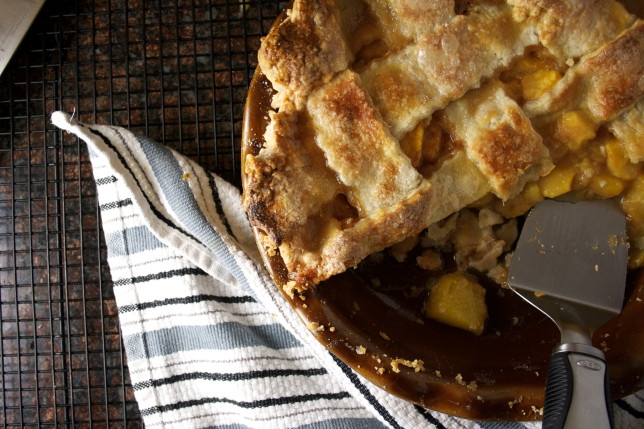 This pie is all about celebration, of the sun getting a bit lower in the sky, of the remaining heat that brought this fruit to us. And maybe a few other things. It's all about simplicity. And frankly, it's about time.
It's Not Over Yet Peach Pie
This crust is sort of adapted from a number of recipes, but I took my main inspiration from Four and Twenty Blackbirds — tweaked to my taste. I love crusts made with buttermilk but I found this a bit easier to work with — or perhaps it was the method. The water-vinegar mixture is heavily iced, and added just a tablespoon or two at a time, to truly get a feel for the dough as it's pulled together and know when to hold them, know when to fold them, so to speak. The filling is straight outta Smitten Kitchen. Not too sweet, it's amazing plain, and just lovely with a scoop of vanilla ice cream, or, if you're living on the edge, with yogurt for breakfast. I could maybe call it breakfast pie.
Also to note: I preheat my oven at the very last minute to keep it as cool as possible while I'm working, turning it on only after the pie is assembled and chilling in the refrigerator. Feel free to turn it on earlier if your kitchen is cool. And invite me over, maybe?
Makes one 9-inch pie
For the crust:
2 ½ cups (315 grams, 12 ½ ounces) all-purpose flour
1 tablespoon granulated sugar
½ teaspoon salt
2 sticks (8 ounces, 1 cup) very cold unsalted butter, cut into ½-inch pieces
2 tablespoons cider vinegar
½ cup ice
For the filling:
3 ½ pounds peaches (6-8 peaches)
the juice of half a lemon
¼ cup granulated sugar
¼ cup light brown sugar
⅛ teaspoon cinnamon
A few gratings of fresh nutmeg, or a pinch of ground nutmeg
⅛ teaspoon salt
3 tablespoons cornstarch
To finish:
1 egg, beaten with 1 teaspoon water
1 tablespoon sugar
Make the dough:
In a large bowl, whisk the flour, sugar, and salt. Add the butter, toss to coat. With a pastry blender or your fingers, work the butter into the flour until most of the butter is the size of smallish peas.
Combine the water, cider vinegar, and ice in a large measuring cup or small bowl. Sprinkle 2 tablespoons of the ice water mixture over the flour mixture, and cut it in and toss it together with a bowl scraper or rubber spatula until fully incorporated. Add more of the water, 1 to 2 tablespoons at a time, until the dough comes together in a rough, shaggy ball, with some dry bits remaining. Squeeze the dough together and divide it in two. Form each into a flat disc and wrap in plastic. Refrigerate for at least 1 hour or overnight, or up to two nights.
When you're ready to make your pie, take one disc out and let sit for 5 minutes. Place on a well-floured counter, and sprinkle the top with more flour. Roll into a 12-inch circle, lifting and turning the dough a quarter turn every few rolls. Re-flour the counter and the top of the dough as needed to prevent it from sticking. If at any time the butter in the dough begins to get sticky or melty, place it on a baking sheet and slip it into the refrigerator for several minutes. After you've reached 12 inches, fold it very gently into quarters or roll gently around your rolling pin and place evenly in a 9-inch pie dish. Cover with plastic and refrigerate.
Repeat with second disc of dough. When you've reached 12 inches, use a pastry cutter, pizza wheel, or sharp knife to cut the dough into 1 ½-inch strips. Place the strips on a baking sheet and cover with plastic. Refrigerate.
Meanwhile, make your filling:
Peel peaches using a vegetable peeler, then halve and pit them. Cut into ⅓ inch slices. Add to a large bowl. In a small bowl, combine sugar, brown sugar, cinnamon, nutmeg, salt, and cornstarch until evenly combined. Sprinkle over the peaches and toss to coat evenly.
Assemble your pie:
Spoon filling evenly over bottom pie crust. Arrange half of lattice strips evenly one way over the pie. Lift every other strip and fold them back very carefully, adding the longest remaining strip in the center. Unfold the strips over the one you've placed. Repeat with the remaining strips, folding back the other strips to weave and create a lattice. There's a great pictorial here. Fold the edges down and under (or over, if you're so inclined) and crimp decoratively. Cover with plastic and refrigerate 15-20 minutes.
Place oven rack on lowest rung. Line a baking sheet with foil and place on oven rack. Preheat oven to 425 degrees. After the pie has chilled sufficiently, remove plastic wrap and place on preheated baking sheet. Bake for 25 minutes. Lower oven temperature to 375 degrees and cook for another 25-35 minutes, or until the crust is deep golden brown and the juices are bubbling. Place on a wire rack to let cool for at least 3 hours to allow the filling to thicken. Enjoy plain or with the cool creamy treat of your choice.