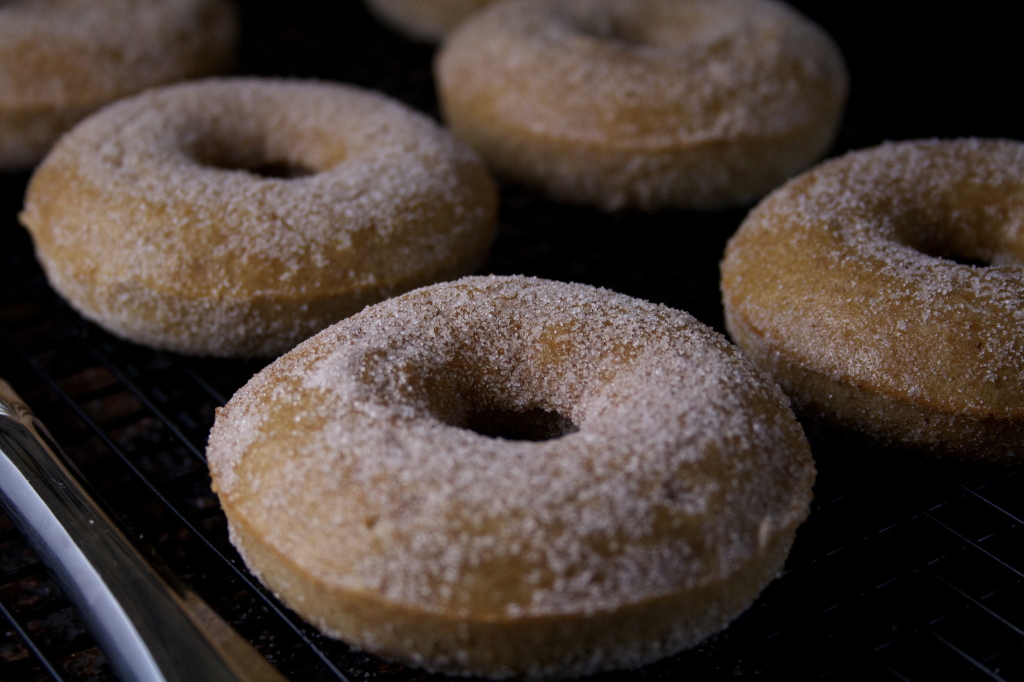 My brother got married over the weekend. The setting was a picturesque country club and golf course in the mountainous northeast corner of New Jersey, just over the New York border. Just outside the lodge, next to the gazebo where he and his lady would say their vows, was a gorgeous maple tree nearing its peak: bright red against what was, at the beginning, a cloudy October sky. It was brisk after pouring all day, and we froze in our dresses as we stood waiting for the photographer to get everything he wanted. But the scent out there was pure autumn. There's always something about grass and trees after the rain, but it takes on even more fullness in fall. When I got home, I wanted that in my kitchen. I wanted apple cider doughnuts.
When I lived in Jersey City, we had an amazing farmer's market just outside the PATH station, with several farmers and orchards from around my hometown, in the heart of northwestern New Jersey. I picked up cider doughnuts every week, sometimes more, for the duration of the apple season. Now, don't get me wrong, Grow NYC – the organization that brings us the sprawling Union Square Greenmarket – is incredible and a boon to the community, and I would be utterly miserable without it. But in Astoria the markets are still small, with only two orchards, and to my spoiled taste buds the cider doughnuts sold by one of them are lacking. If you've ever fried doughnuts and eaten them the second day, you know how foul that soaked-in oil tastes. Fried doughnuts should be fresh every day, and – in my humble opinion – shouldn't be bagged or boxed. They should be sold one at a time from a container that keeps the cinnamon-sugar topping fresh and crunchy. But that's a discussion for another day.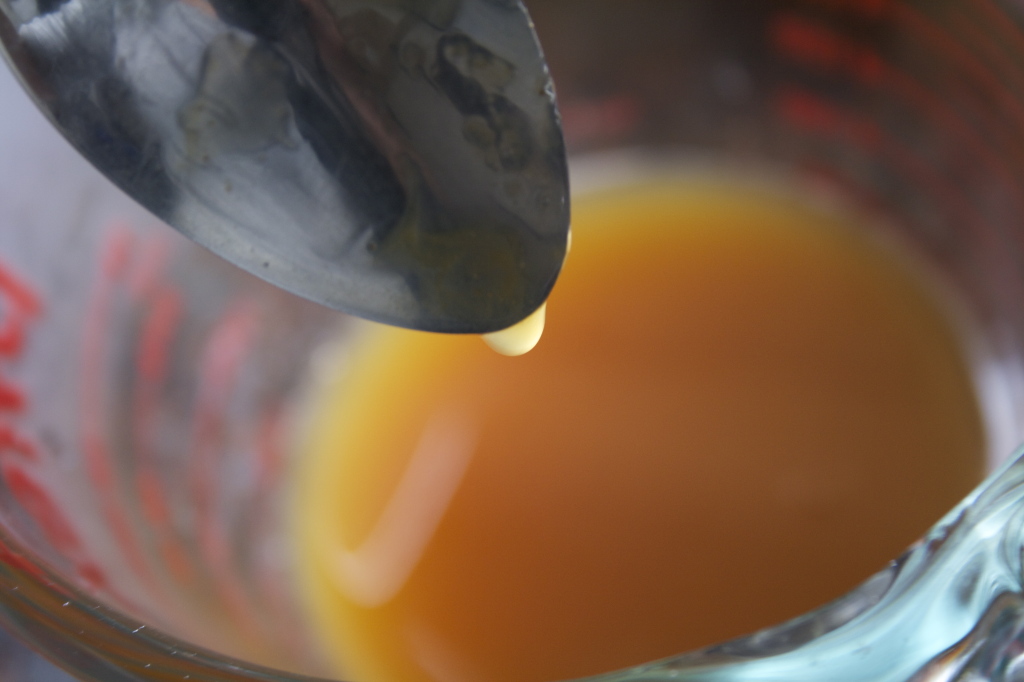 To be frank, I'm not much of a doughnut-fryer anyway. I made them with my dad a few times when I was young, a few times as an adult, including a delicious gluten-free recipe, but I can't eat them fast enough to prevent that rancid second-day flavor, and I just plain hate buying that much oil. I mean really, when did vegetable oil get so expensive?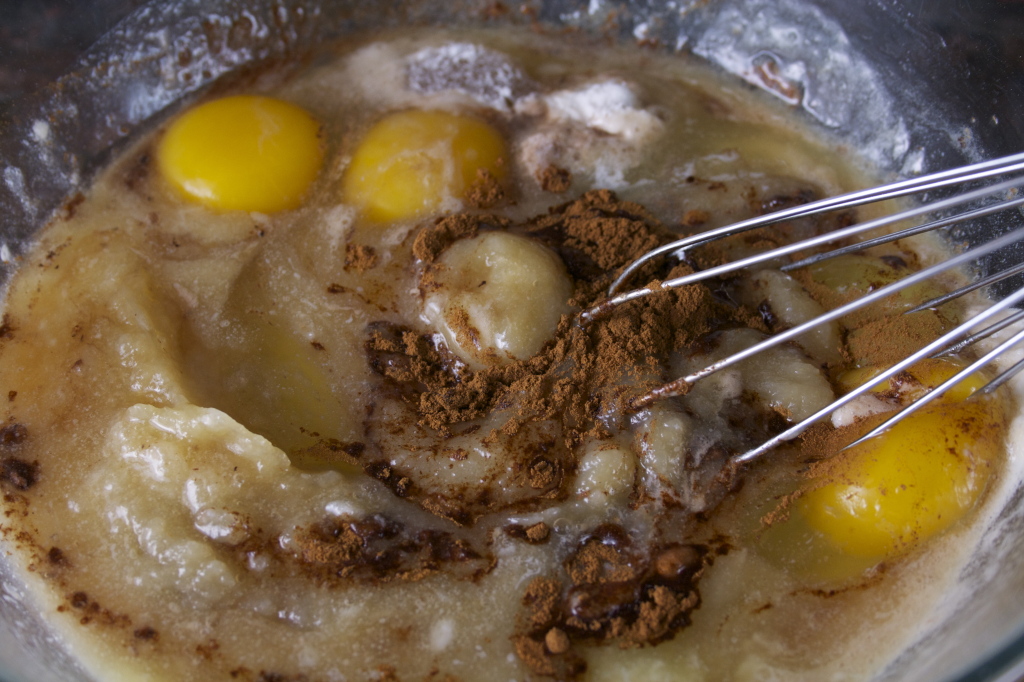 So I bake them. Yes, it's one more thing you need to buy at your favorite kitchen supply store, but doughnut pans are worth it. The doughnuts stay fresh for so much longer, and with the right recipes, they taste pretty damn close to the real thing. These apple cider doughnuts, though, aren't just close, they are the real thing.
This truly is an easy, down-home recipe, from the prep to the finish. All ingredients are whisked together before adding the flour, which is, believe it or not, the final step before baking. It's a one-two punch.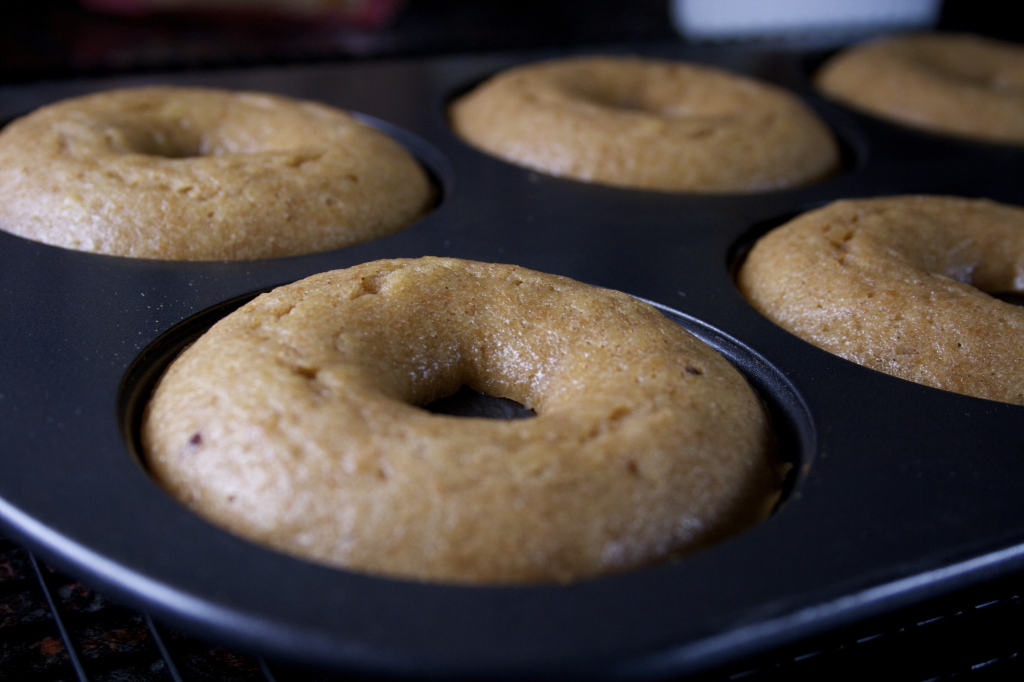 Unlike some other recipes I've found, these guys actually are made with apple cider. It's boiled down to nearly a syrup, concentrating the apple flavor and maxing the tart tang you get from a crisp, fresh apple just off the tree. Another, sweeter layer is added in the form of applesauce, infusing the doughnuts with more moisture. Whole wheat flour lends these beauties a bit of a rustic touch, like they just came off the farm, and the butter enriches them in a way that oil simply can't. A good helping of cinnamon and a touch of nutmeg, and they taste exactly like the ones I'd get fresh after apple picking at my favorite orchards in New Jersey.
I like to toss mine in cinnamon sugar. Fancy glazes are lovely, but the apple cider doughnuts I know are simple. They feel like home.
Mmmmmm… doughnuts.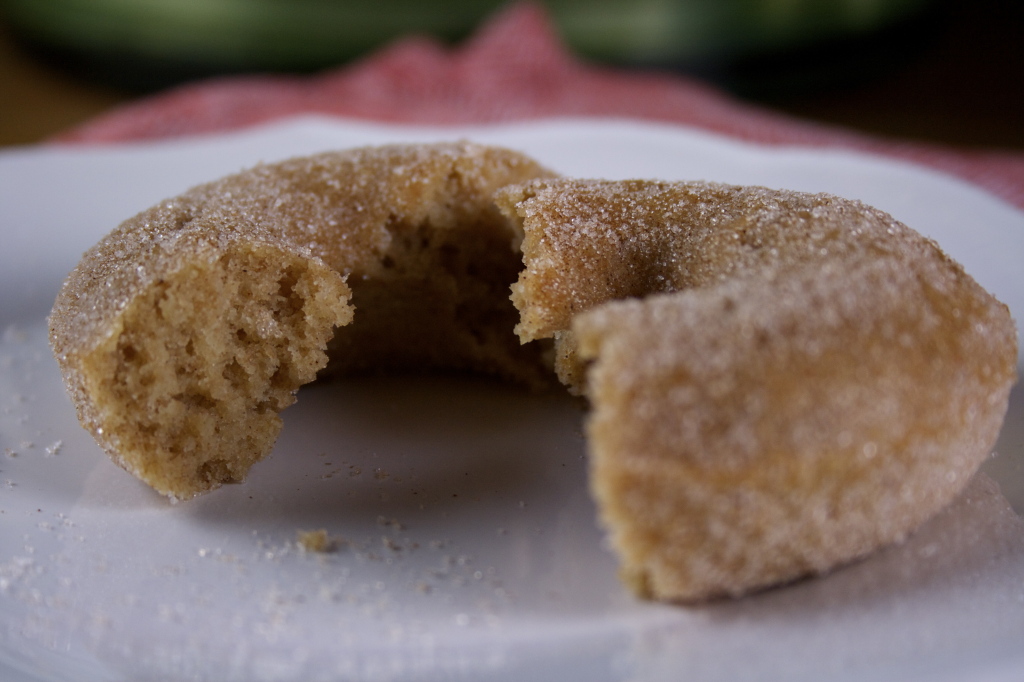 Baked Apple Cider Doughnuts
adapted from King Arthur Flour
Until I began experimenting with this recipe, most of my baked doughnuts ended up tasting (and looking) like muffins. It wasn't just the ingredients or the texture of the finished product, it was the method of getting the batter into the doughnut wells. I always filled them too high, or too unevenly. Spooning batter into narrow little moats is no joke. The solution? Pastry bags – or, in my case for this batch, plastic bags with a corner cut off. Huge thanks to The FauxMartha for hipping me to this trick. I squeeze the batter around each well in circles. If I need to add more, I stay nearer to the outside, helping to keep the doughnut holes in tact.
Want to make them gluten-free? Use your favorite gluten-free flour blend (I like Cup 4 Cup), and up the baking powder to 2 1/4 teaspoons.
makes 12 doughnuts
1/3 cup butter, melted and cooled
3 large eggs
1 1/4 cup granulated sugar
1 cup unsweetened applesauce
1 cup apple cider, reduced to ¼ cup (see instructions below)
1 1/2 teaspoons vanilla extract
1 teaspoon ground cinnamon
1/8 teaspoon freshly grated nutmeg
1 1/2 teaspoons salt
1 1/2 teaspoons baking powder
1 cup whole wheat flour
1 cup all-purpose flour
1 cup granulated sugar +  1 1/2 tablespoons cinnamon, for topping
Preheat oven to 350 degrees and lightly grease two standard doughnut pans.
Pour 1/4 cup of the cider into a small saucepan and take note of its height. Pour the remaining 3/4 cup and bring to a simmer over medium heat, stirring occasionally. Simmer until the cider is reduced to ¼ cup, about 20 minutes. It should have thickened and should coat the back of a spoon. Measure it out and set it aside to cool slightly while you measure and dump the rest of your ingredients.
Whisk together the melted butter, eggs, sugar, applesauce, vanilla, cinnamon, nutmeg, salt, baking powder, and cider until smooth.
Add the whole wheat and all purpose flours, stirring until just smooth. As with other recipes, be careful not to over-mix. Some lumps will be natural from the applesauce. Just make sure there aren't lumps of flour.
Drape a pastry bag or plastic bag inside a tall drinking glass, to steady it, and fill with batter. If using a plastic bag, seal and cut a corner about a quarter of an inch in. Pipe in your batter evenly into each well, nearly to the rim.
Bake for 15 to 18 minutes, or until a toothpick inserted into the center of one of the doughnuts comes out clean.
Run a knife gently around the edges of each doughnut to loosen. Let cool in the pans for about five minutes, then remove to a wire rack.
Prepare your cinnamon-sugar mixture in a shallow bowl. While the doughnuts are still warm, toss in the cinnamon mixture to coat.
Best served warm or at room temperature.