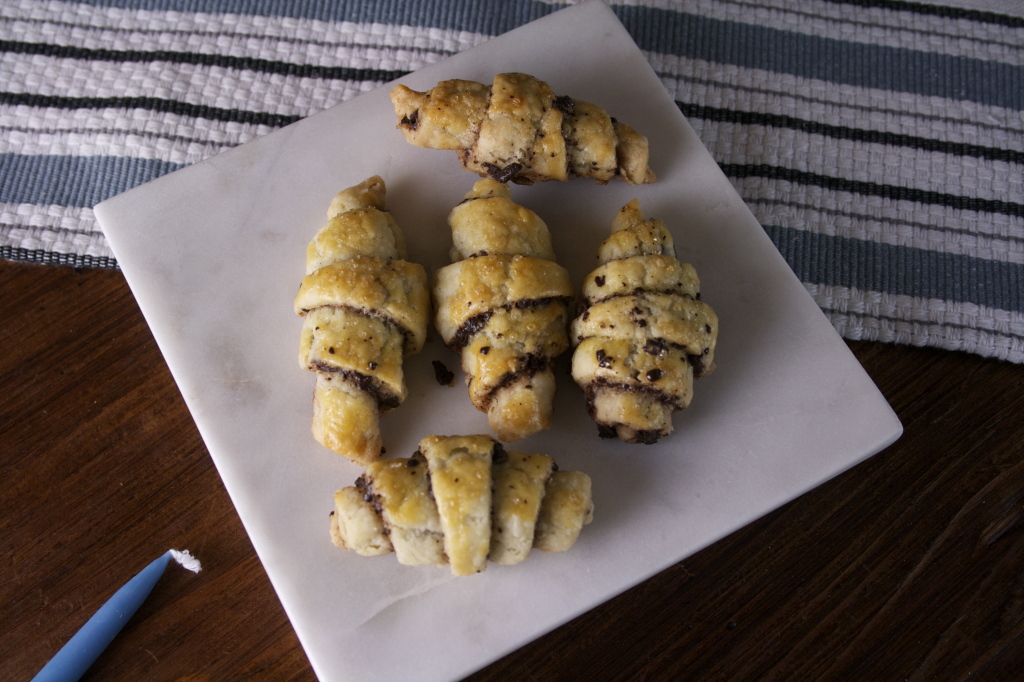 I know for the last days of Hanukkah I should probably be making jelly doughnuts. Or a jelly doughnut cake. But sufganiyot, the traditional treat served during the Festival of Lights, was never high on my mother's dessert agenda, and I'm not sure we ever tried convincing her otherwise. Once, as an adult, I fried up some apple cider doughnuts for our Hanukkah feast, but have since realized they're much better baked. And although I've had no problem stopping at Dunkin Donuts for some chocolate honey glazed (which, I think in this day and age, is no longer glazed with honey, but rather some other sugary concoction) to share around the menorah, rugelach is more in line with my family tradition. And unlike fried doughnuts (but not fried cookies), they'll last for more than one sitting. I'm also gearing up to try my hand at croissants, so I may as well work on my crescent-rolling technique now, right?
This year I set out to do something a bit different from the traditional. At least, traditional in my family. My mom's recipe, which comes from my grandma's Romanian side of the family, is filled with sugar, cinnamon, and chopped walnuts. Actually pretty perfect for this time of year. But I must be stuck in some other dimension because my December treats have been suspiciously lacking in chocolate, and this must be amended immediately. This year we're going to make rugelach of the babka variety: chocolate and cinnamon; tender and bittersweet. Sort of like 2014. But that's a whole other story.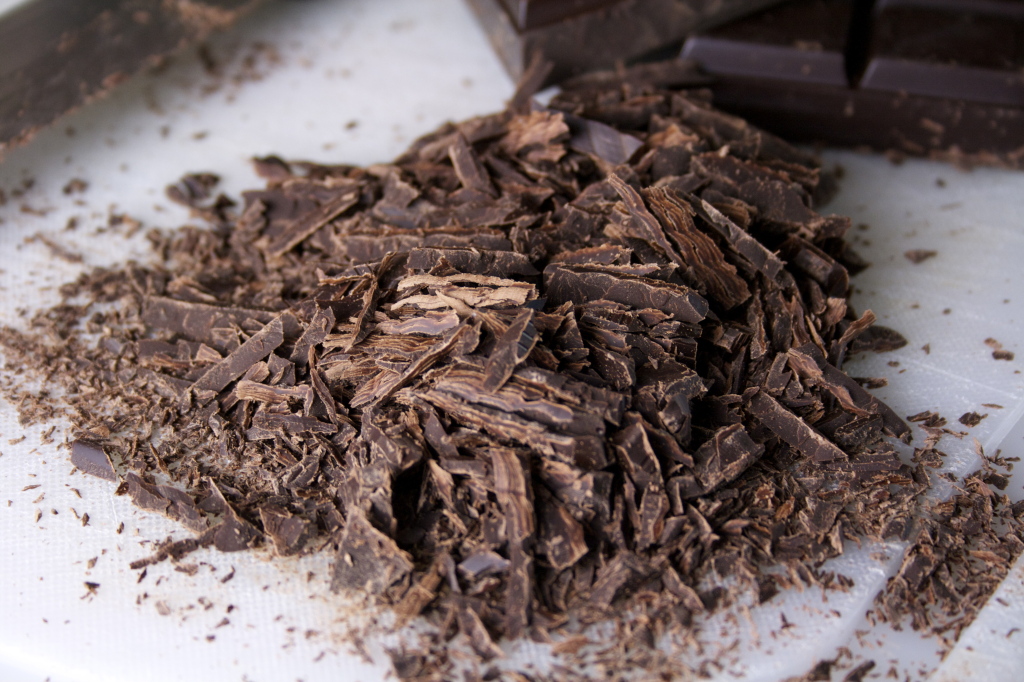 Though there are more steps involved than, say, a chocolate chip cookie, rugelach dough is extremely easy to make. Flour and fat. That's all it is. I departed from my family's tradition of using cottage cheese and turned to what I suppose is the more traditional cream cheese found in most other recipes — ours tended to shrink and get a little too crunchy, so I wondered if a cheese with a  higher fat content, cut in with two sticks of butter, would have a better effect on the outcome.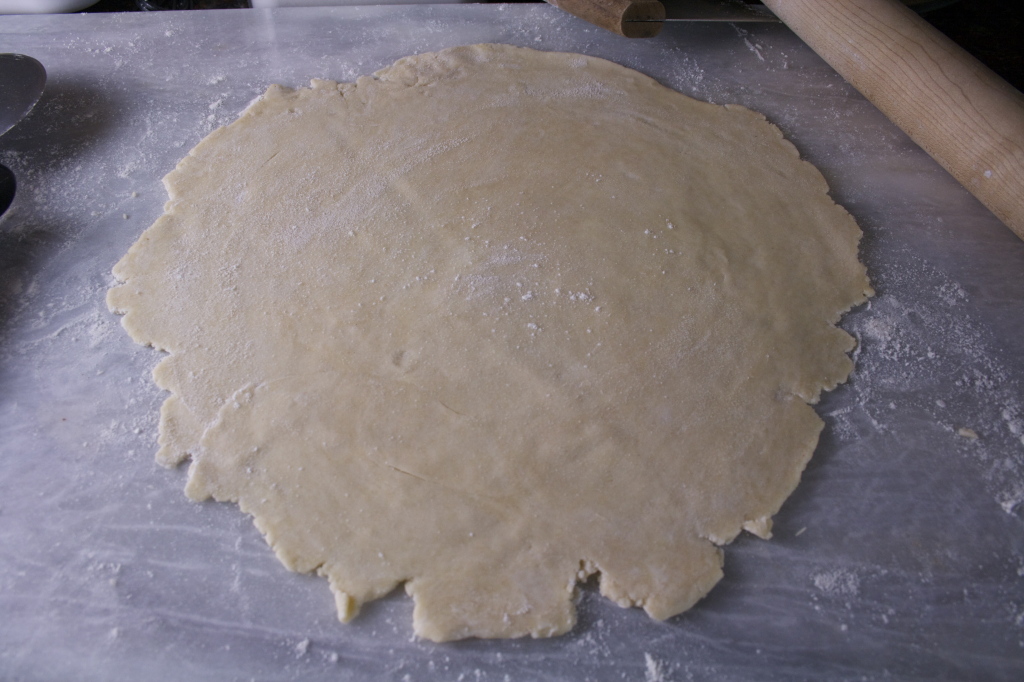 The dough, pulled together in a food processor and then chilled, was, simply put, a joy to work with. It was satiny and beautiful and extremely easy to roll out. And, okay, fine, was really tasty. Uncooked. Doesn't all cookie dough need to be tested?
I brushed melted butter over each 12-inch circle, to help the topping adhere and give it that extra boost of richness, like a babka — or even a cinnamon roll — and then sprinkled finely chopped bittersweet chocolate, cinnamon, and sugar over the top and pressed it in.
My handy pizza wheel made it easy to cut the dough into 16 wedges, though you could also use a sharp knife. Rolled into crescents, I refrigerated each set of 16 as I rolled out and prepared the remaining dough, and then brushed each cookie with egg wash and sprinkled them with more sugar — mostly just for looks — and into a 350 degree oven they went.
I'm not sure if it was the cream cheese or the extra refrigeration of the individual cookies before baking, but this rugelach was exactly what I hoped for. Extremely rich and tender, they almost melt in your mouth. This chocolate-cinnamon combo was also out of this world: perfectly balanced, not too overwhelming, sweet but not too sweet with a beautiful hint of spice. And much, much easier than making a babka.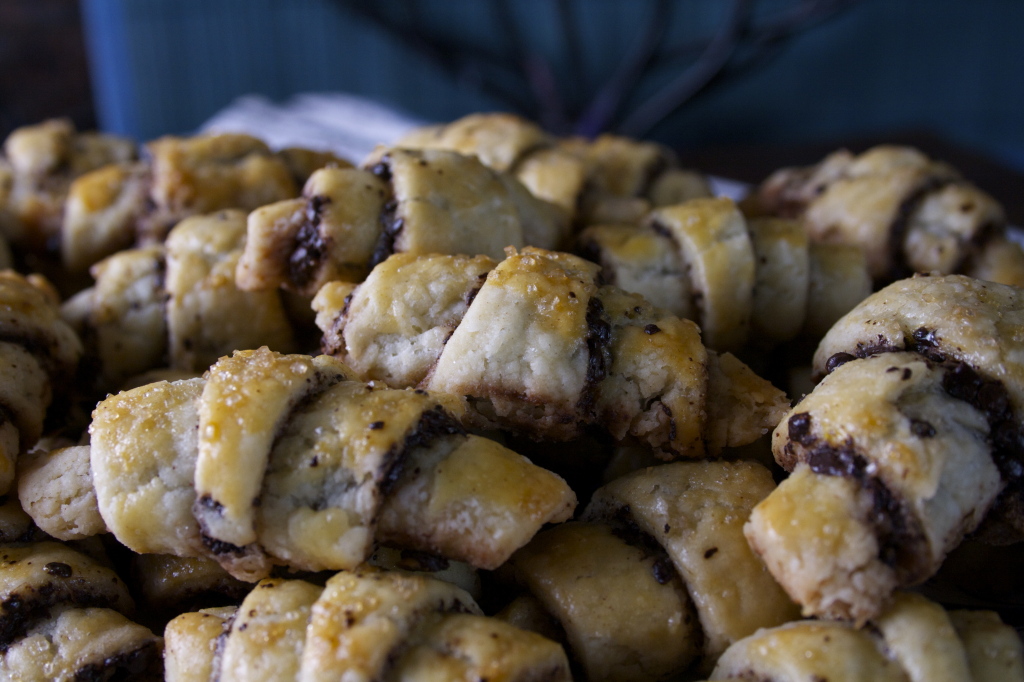 People tend to bake these guys specifically for Hanukkah, but, as many rugelach experts have noted, they're an everyday treat. And they can be filled with almost anything — jam, cinnamon-sugar, Nutella. The dough is simply a rich palette for your wildest dreams.
Chocolate Rugelach
yield: 64 cookies
For the dough:
2 cups flour
½ teaspoon salt
8 ounces (2 sticks) unsalted butter, cut into cubes
8 ounces cream cheese, cut into cubes
For the filling:
6 ounces bittersweet chocolate, finely chopped
1 teaspoon ground cinnamon
½ cup granulated sugar
3 tablespoons unsalted butter, melted and cooled
For the glaze:
1 egg
1 teaspoon water
2 tablespoons Demerara or other coarse sugar (though regular sugar would work fine)
Make the dough:
Mix the flour and salt in a food processor. Toss in the butter and cream cheese and pulse just until the dough begins to form into wet clumps.
Turn the dough onto a clean counter and pull all the bits together into a ball. Divide into four pieces and press each into a disk. Wrap each disk in wax paper and refrigerate for at least an hour, or up to 1 day.
Make the filling:
While the dough is resting in the refrigerator, mix chopped chocolate, cinnamon, and sugar in a medium bowl.
When ready to bake the cookies:
Line 2 baking sheets with parchment. Position oven racks in the lower and upper thirds (not very top or very bottom) and preheat oven to 350 degrees.
Dust a clean work surface with flour. Working one piece of dough at a time (keeping the others refrigerated), roll out into an 11- to 12-inch circle.
Brush the dough with the melted butter and sprinkle ¼ of the chocolate mixture over the top. Using a pizza wheel or a sharp knife, cut the circle into 16 wedges.
Starting from the base of each wedge, roll each cookie up into a crescent, and place on prepared baking sheet, making sure the tip is underneath to help prevent it from unrolling. Once all 16 cookies are rolled, place the baking sheet in the refrigerator as you work with each successive ball of dough.
Once all cookies are prepared, mix the egg with the water, and brush over each cookie. Sprinkle with sugar.
Place baking sheets on the top and bottom oven racks and bake for 20-25 minutes, rotating the baking sheets from back to front and top to bottom halfway through, until the cookies are puffed and golden.
Transfer the cookies to a cooling rack immediately and serve warm or at room temperature.
These keep well wrapped at room temperature for three days. They can also be frozen.