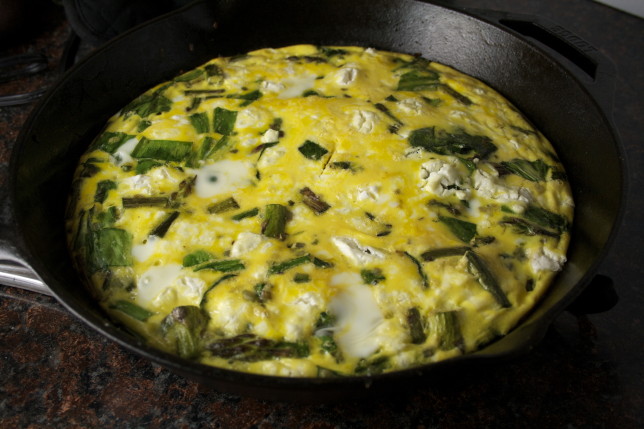 You've probably noticed a slow, steady decline in posts here at the ImaginariYUM over the past several weeks. Well, I might as well make it blog official: I've gone back to work full time. I'm once again a grown-up. Trust me, I lament the loss of my cat-desk much more than you could imagine, but I've gone to a good place, with great people, who, unfortunately, refuse to let me acquire a cat-desk for the office. I told them I'd be okay with a dog-desk, too, but they failed to see the use in that.
What this means is that, satiated though I am intellectually, my creative juices — no, my energy — is sapped by the time I get home. I've baked only one dessert since I started, which, honestly, brings tears to my eyes. Readjusting to normal adult life — with the inclusion of at least three intense after-work running sessions per week with my teammates — means that I am in survival mode. Wake, commute, work, commute, run, cook dinner, eat at 10pm, sleep. Repeat. And it's only going to get worse when marathon training begins in less than two months. But at least I'll be hungry.
As you can see, I'm still trying to create one new delicious dish to share with you each week, but I'm maybe drowning a bit, as seven days turns into nine, then to fourteen, and I know my posts often get hidden by the powers that be on Facebook, where the vast number of my wonderful following reside. (Which is why I will urge you to subscribe! See the top of the right column anywhere on the blog.)
I got a bit of a kick in the pants last Wednesday night when, in between 400-meter repeats on the track, my friend and teammate Caryn begged me not to stop. "I won't," I promised. "Don't!" she said, just before we lined up, still breathless from the last lap, and we took off. And I won't. I promise. I've been overwhelmed by the support I've gotten from some of you, your exclamations over some of my recipes. I always wanted my beauties to be my little secrets, but the truth is it's kind of amazing to see my cookies on other people's Instagram feeds. If I can't share physical bites with the world, I sure as hell can show you how to make your own.
We all have legacies, whether through genes, our writing, our art, our friendships. Our recipes that get handed down from generation to generation are our families' legacies. I'm honored to say that maybe this is mine. It maybe will be a little slow going as I find my balance once again on this ship, but I'm not done.
In fact, when I invited my brother and sister-in-law over for brunch last weekend, to share in the final few frozen pains au chocolat, I wanted to make a springtime egg dish to impress. I wanted to experiment in my lab, create, be myself.
I had heard that ramps are all the rage, and apparently because of this year's harsh and long winter, their season had just begun. So I stopped at the Union Square Greenmarket in search of them — they are, supposedly, often quite elusive, especially at the start of their brief growing season. People go crazy over them. Shockingly, I found them — even at 6pm on a Friday — and what I discovered of their scent was immediately alluring. Known as a wild leek, they look kind of like scallions, but they have broad leaves and a pinkish stem. Though clearly onion-like, they have the sharp pungency of garlic. When cooked, their delicate leaves wilted, the pungency mellows, and it's the perfect highlight in a dish with that other "beacon of spring" vegetable, the asparagus.
I found purple asparagus at my local market. It's a bit sweeter than the green kind, which, to my gradually evolving palette, seemed ideal. Sauteed together, dolloped with creamy goat cheese, and topped with egg, the combination made the most sumptuous frittata. Sweet, oniony-garlicky, tangy.
Though the ramp season is short, if you can find them, use them. Make your mouth happy. If you can't, leeks, scallions, or shallots would be great, too. Experiment. Be yourself. Leave a legacy for someone you love. I'll keep working on it myself. Promise.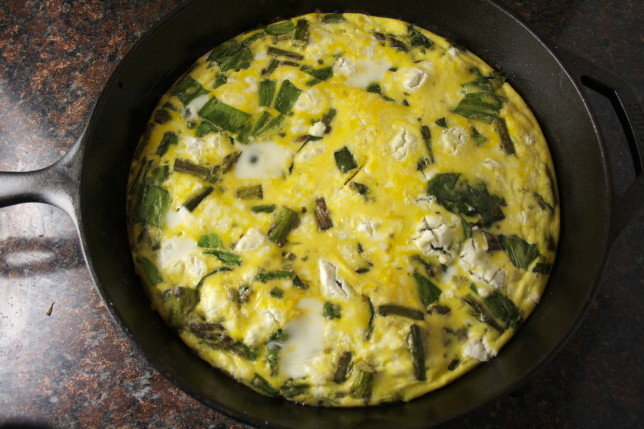 How
Ramp, Asparagus, and Goat Cheese Frittata
The measurements for this dish are approximate. I honestly am not 100% positive how much of the asparagus I used — all I know is I took a nice handful, started cooking the bite-size bits, and decided I needed more. The vegetables should pretty much at least fill the surface of the pan — which here is 12 inches, but can be 10 if that's what you've got, or if you want a taller frittata (in which case you'll probably just need to increase the oven time to ensure the center is cooked all the way through). And if I had to do it over again, I might use the entire 4-ounce log of goat cheese. Because, you know, cheese.
serves 4-6
1 bunch ramps, whites sliced thinly, leaves chopped roughly
8 ounces asparagus, trimmed and cut into 1-inch pieces
3 ounces goat cheese
10 large eggs
3 tablespoons half & half
1 tablespoon olive oil
1 tablespoon butter
salt and pepper to taste
Preheat oven to 400 degrees.
In a medium bowl, whisk together the eggs, half and half, a generous pinch of salt, and a few fresh grinds of pepper until combined.
Melt the butter and heat the olive oil in a 12-inch oven-proof skillet over medium heat. Toss in the sliced white parts of the ramps and saute for a moment, then toss in the asparagus, and cook until slightly tender. Add a pinch of salt. Add the ramp leaves and saute until wilted. Distribute gobs of the goat cheese evenly over the vegetables. Pour the eggs evenly over the vegetables and cheese and let cook for a minute or two until the sides have begun to set.
Remove the pan from heat and place in the oven. Cook until the eggs have completely set, about 10-15 minutes. If a knife inserted into the center yields runny eggs, cook a bit longer. Remove from the oven and let cool for 5 minutes before slicing and serving.