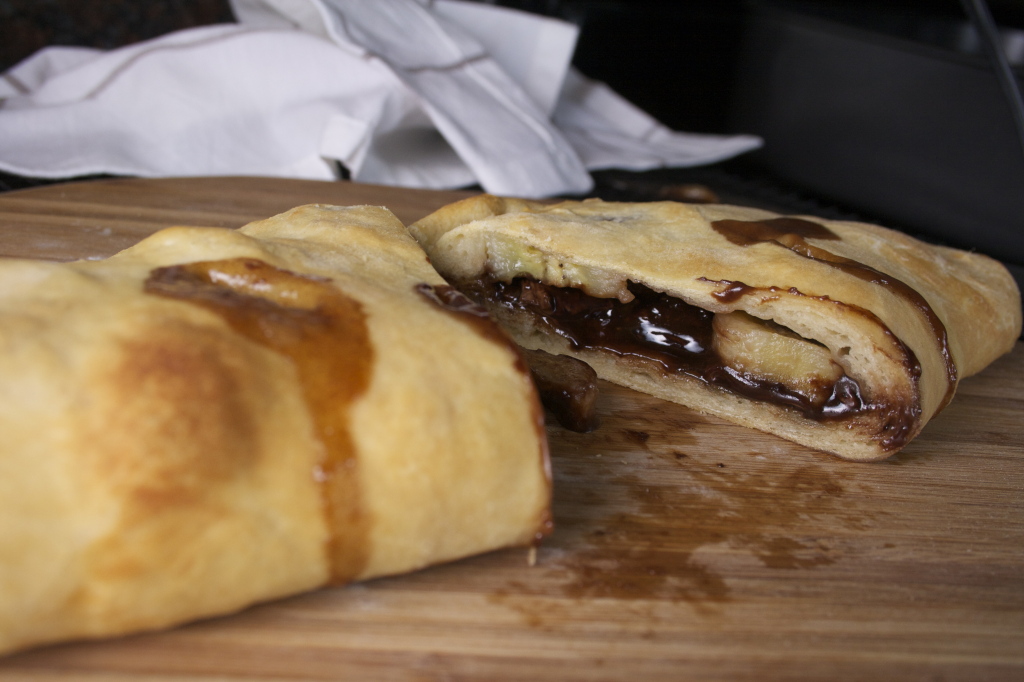 When I lived in Paris my junior year of college, I probably ate a crêpe every other day, if not every single day. My fillings of choice were simple: Nutella and banana. It wasn't breakfast, and it wasn't dessert. Usually it was lunch. I would eat it as I walked from my favorite outdoor crêperie (off rue de Passy) back to class, or to the Métro, pieces of just-warmed banana falling onto the cobblestone street as I would hurry across a small intersection while taking a bite, hot Nutella oozing onto my fingertips. Along with the pains au chocolat and other delectable pastries, I definitely had a problem. But it's a problem that, almost a decade and a half later, I still can't seem to shake.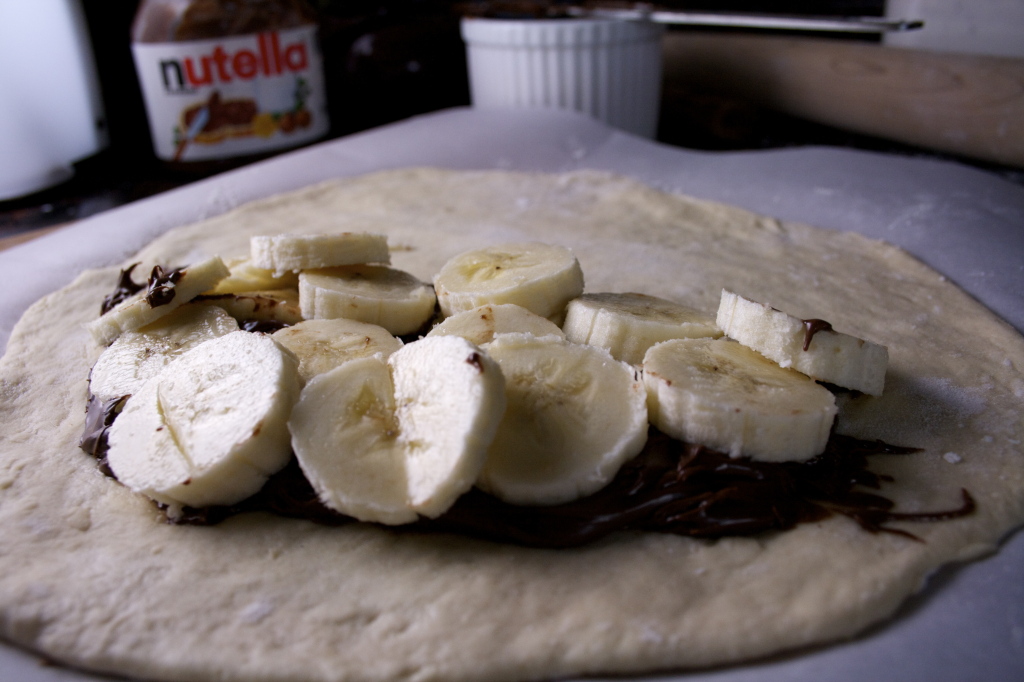 Exhibit A: this blog. See, I ran out of apple oatmeal cookies, so I had to make something new last night. Forget the fact that I have chocolate chip cookie dough in the freezer. I also had leftover pizza dough that needed to be used up before going bad. Aha, see, there's another dirty little secret I haven't yet let on. I make pizza. And bread. And calzones. We'll get to the first two at some point, I promise. But first let's hit the latter, and hit it hard. Forget savory dinnertime calzones (for now). We're making Nutella-banana calzones. Which, according to my inner 20-year-old's logic, would also make an excellent lunch.

Think about it: a calzone is basically a personalized, mini-, handheld pie. And, of course, let's not forget, Nutella, though used in copious amounts schmeared on baguettes and stuffed into crêpes in France, is actually an Italian invention. Crêpes are also messy — see above. As charming as that mess may be, there should be a better solution to making a hot Nutella dessert. Enter the calzone: the perfect vehicle for this beautiful family of two. It safely encapsulates the hot Nutella and the slightly caramelized bananas until they're at their destination.
Calzones sound much more complicated than they are. Trust me, it'll take you all of 10 minutes to prepare — or less — if you already have the dough. You're essentially just spooning a mound of Nutella on a rolled out round of pizza dough and slicing some bananas over top. Rolling, folding, and pinching the dough are the toughest parts of this equation. And is that really that difficult? Half an hour from start to ooey, gooey, sweet, decadent finish.
This is one of those desserts that tastes like a pastry chef spent hours of her time and knowledge perfecting just for you. Nutella is already amazing straight out of the jar, but when it oozes hot, it's taking chocolate and hazelnuts to another plane. Hot Nutella tastes gourmet. And though pizza dough often has a bit of sugar in it, it's still fairly savory, letting the Nutella and the banana shine.
For a beautiful presentation, you could definitely sift some powdered sugar over the top. But you might be like me and be way too excited to just cut it open and dig in. It'll be gone too quickly to even notice.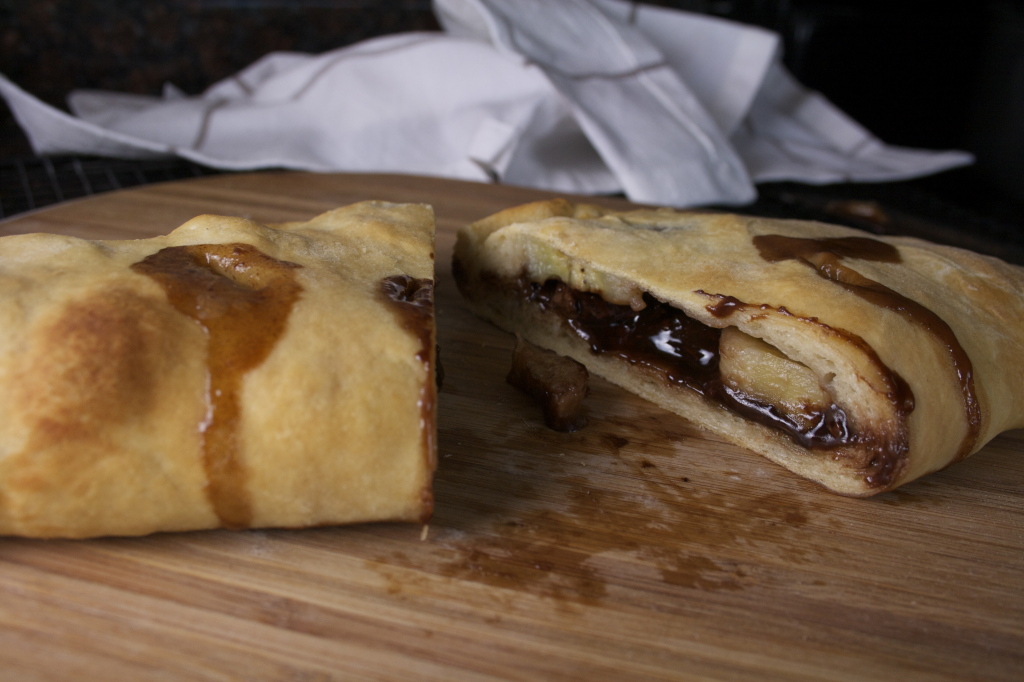 Nutella-Banana Calzones
I like to use the olive oil dough from Jeff Hertzberg & Zoë François's Artisan Bread in Five Minutes a Day — flour, water, yeast, salt, olive oil, and sugar stirred together in a giant bucket or bowl, left to rise, and then refrigerated and scooped when needed within 12 days (though it's still worked for me in 14). It's brilliant and yields about six calzones or 10-inch, thin crust pizzas, or even more. I've included the recipe below. But if you don't have a bowl big enough, or just don't feel like going through the (minimal) trouble, ask for a ball from your favorite pizzeria. Even supermarket pizza dough works. You can make this with a pizza or bread stone, or simply with a baking sheet. This recipe makes one fairly large calzone, but it can be easily multiplied.
1 large calzone, serves 2
1/2 pound pizza dough
1/4 cup Nutella
1 banana
1 tbs butter, melted
Preheat oven to 400 degrees with a rack in the center. If using a bread stone or pizza stone, be sure it's heating in the oven.
Flour a work surface generously with flour. Gently work pizza dough into a ball and press into a disc. Sprinkle the top with flour, and, with a rolling pin, roll out into an approximately 9-inch round, or about 1/8-inch thick, rotating dough a quarter turn every couple of rolls. If the dough starts to stick to the counter, lift it gently with a dough scraper and dust the work surface with a bit more flour. If it begins to stick to the rolling pin, sprinkle more flour over the top where it's sticking or over the rolling pin. Pizza dough tends to shrink back up on itself while you're rolling. If that happens, just let it rest for a few minutes to relax it before starting to roll again.
Once the dough is rolled to a 9-inch circle, transfer to a piece of parchment either on a pizza peel or a baking sheet. You may need to press the dough back out with your fingers if it shrunk during transfer.
Warm the Nutella in the microwave for about 10 seconds to make it easier to spread. Using an offset spatula if you have one, or a rubber spatula or knife, gently spread the Nutella over half the dough, leaving a one-inch border. Slice a banana over the top.
With your fingers, or the help of a dough scraper, gently lift the clean side of dough and fold it over the Nutella and bananas, leaving a half-inch border. Press to seal, then fold the half-inch over that seal, crimping along the way to ensure a tighter seal. Brush calzone with melted butter and cut three vents on the top.
If using a baking stone, slide the parchment directly on. If using a baking sheet, place it on oven rack. Bake for 20 minutes, or until the calzone is golden and Nutella is bubbling out the vents. Let it rest for five minutes before cutting.
Best served warm or even hot.
Olive Oil Dough
2 3/4 cups (625 grams) lukewarm water
1 tablespoon (10 grams) instant or rapid rise yeast
1 1/2 tablespoons (25 grams) kosher salt
1 tablespoon (15 grams) sugar
1/4 cup (55 grams) olive oil
6 1/2 cups (920 grams) all-purpose flour
Add all your ingredients in a dough bucket or large bowl (at least 4 quarts). Stir with a wooden spoon or Danish dough whisk, making sure all ingredients are fully incorporated. The dough will be very wet and sticky, but will firm up a bit during the rise and subsequent refrigeration. It will measure about 2 quarts at this point, and will rise to 4 quarts during the rising period. Cover (not airtight) and let it sit on the counter for two hours, until the dough has doubled in size, and then refrigerate until ready to use. You can also put it directly in the refrigerator and let it rise overnight.
When ready to bake, sprinkle the top with flour and pull out half a pound of dough (about the size of an orange or large apple), cutting it with kitchen shears or a serrated knife. Sprinkle it with additional flour and quickly work it into a ball, stretching the surface of the dough around to the bottom, rotating a quarter-turn as you go.
Proceed with recipe above.