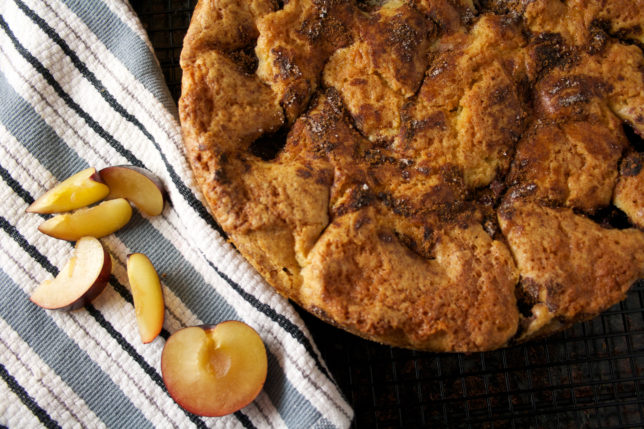 Raise your hand if you're ready for fall. The shifting light means it's coming, as does that breeze from the north that's sneakily blown in, even on those hottest days. I know summer's not over, and the heat is about to descend upon us once again, but there's golden light at the end of this tunnel. The kind that says it's okay to turn your oven on, it's okay to come inside early and eat dinner after the sun sets, it's okay to wear pants and snuggle up under blankets, warm kitties on your lap and a cup of hot, spiced apple cider to your right. It's coming.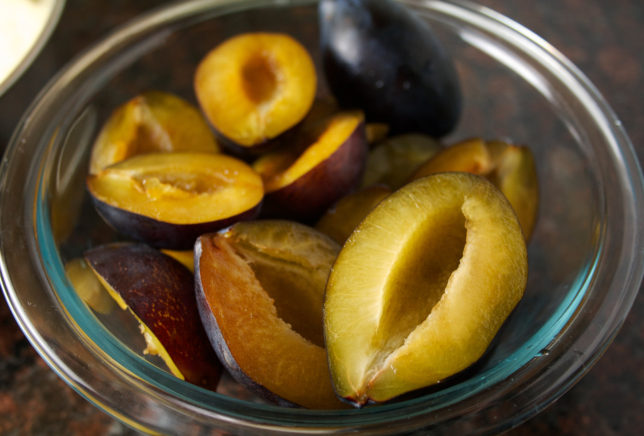 And while we beckon fall ever closer to our embrace, let's make another seasonal bridge, this time with gorgeous plums, still ubiquitous right now even as apples take the place of peaches and nectarines at farmers markets. A hint of cinnamon says yes, fall, we're ready. Enter this perfect plum torte from Marian Burros, here to make you swoon a little at this changing of the seasons.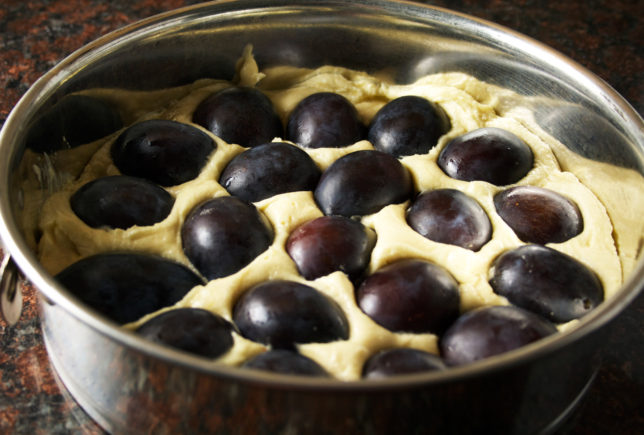 This recipe was printed every September in the New York Times, apparently because editors — and readers — had the same response I did. It's been reprinted and gushed about everywhere, for good reason. It's light and fluffy, like a buckle. The batter rises tall around lovely halved plums that bake down into purple pools of jammy goodness. And the top, laced with cinnamon and sugar and lemon juice, comes out crisp, highlighting the delicate cake beneath it.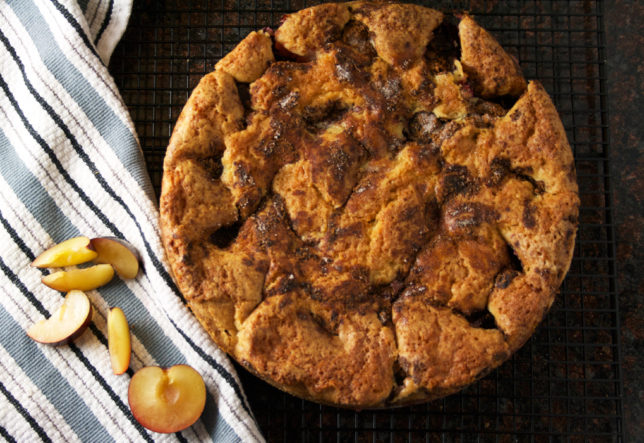 It's a lovely dance for a light dessert or a decadent breakfast, and is easier than a pie, yet still beautifully impressive. It's also a dance in between seasons, one that you'll want to return to again and again.
Plum Torte
adapted from the New York Times by way of Smitten Kitchen
I'm lucky to have a springform pan in my cupboard, but if you do not, you can use just about any 9-inch pan here. Just be sure to grease it and maybe line it with parchment, and maybe grease that too. You can also use an 8-inch or 9-inch springform — it'll just be taller or flatter and you may need to adjust the baking time. A note about plums: I used Italian prune plums here, which is what the original recipe calls for. If you can't find them, you can certainly use others, though I have noticed that this time of year the Italian plums are waxing while all others are waning.
1 cup (125 grams) unbleached all-purpose flour
1 teaspoon baking powder
Pinch of salt
3/4 cup (150 grams) granulated sugar plus 1-2 tablespoons for topping
1/2 cup (8 tablespoons, or 115 grams) unsalted butter, softened
2 large eggs
12 purple plums, halved and pitted
About 2 teaspoons fresh lemon juice
1 teaspoon ground cinnamon
Preheat oven to 350°F. In a medium bowl, whisk together flour, baking powder and salt. In a large bowl, cream butter and 3/4 cup sugar together with an electric mixer until light and fluffy. Add the eggs, scrape down the bowl, and then add the flour mixture, mixing until just combined.
Spoon batter into an ungreased 9-inch springform pan and smooth the top. Arrange the plums skin side up over the batter. Sprinkle the top with lemon juice, remaining sugar, and cinnamon.
Bake until the cake is golden and a toothpick inserted into a center part of the cake comes out clean, about 45 to 50 minutes. Let cool before unmolding.