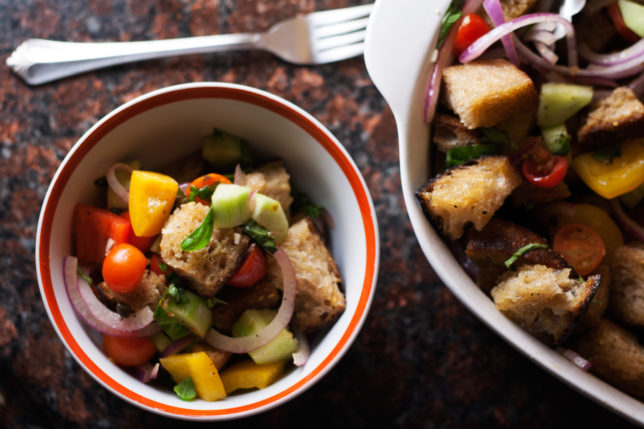 Catharsis: tears fall, a dam breaks. Time is not your enemy, yet it nudges you along its path, regardless of your mistakes or your self-doubt — whether you're ready for it or not. Fall with your tears, fall into the river time has made in your kitchen. This is the art of bread baking, and it's why I came to the mountains of North Carolina earlier this month for a three-day intensive, wood-fired baking workshop with the inimitable Tara Jensen of Smoke Signals Bakery. I came for an awakening.
I had contacted Tara months ago, when I was deeply unhappy with my place in my professional life and frustrated with my self-imposed barriers in the kitchen. I had been following her gorgeous photos on Instagram for quite a while when I read a feature about her and her practice in the February issue of Bon Appetit magazine, and I knew her workshops, run out of a workspace attached to her home in rural Marshall, NC, were what I needed to break free of the stifling walls both New York City and technology have borne upon me over the last several years.
When I describe Tara's baking as a practice, I mean it in every spiritual sense you might infer. It is technical: there are formulas, proper temperatures at which to aim for your dough to ferment well. And yet it is an art. One so entwined with nature and humanity that it goes beyond everything most of us are taught about baking growing up. It is a connection: listening to the very real and alive ingredients you're incorporating into your breads and the very alive dough itself. Dip your hand into a sack of grain, press the flour within your fist. Smell your starter. Taste your levain. Feel your dough after every rest, every fold. What is it telling you?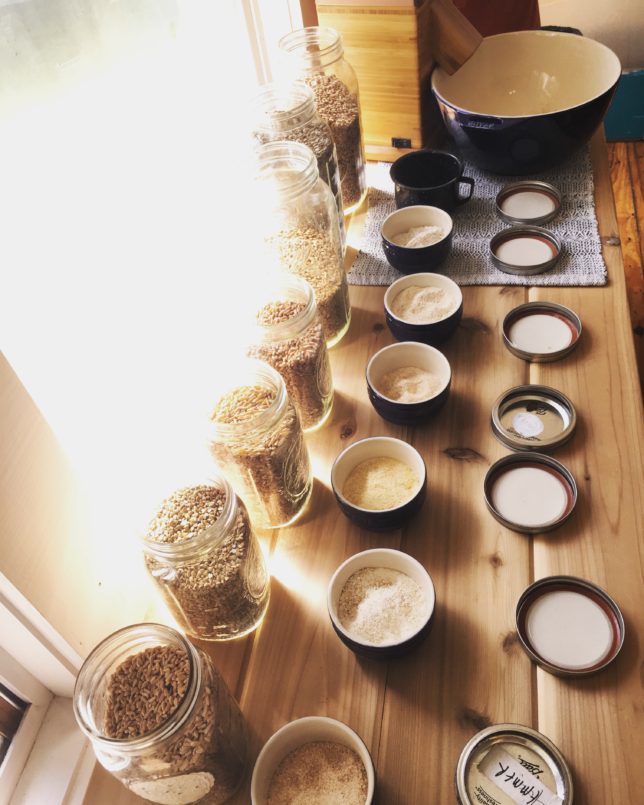 One day, it might tell you it's thirstier. Another day, it's warmer. Perhaps this crop of flour wants something more than another, because it came from the earth, it is grain, it is very much alive, and it's talking to you.
Yet sometimes the dough can speak as much as it wants to you, and you'll listen, but there will still be human error. It's what you make of it that counts.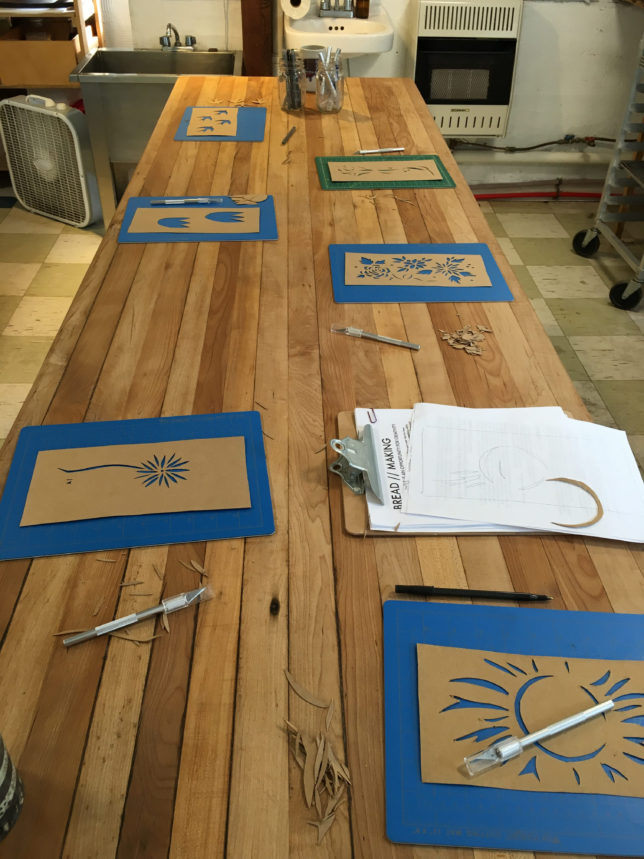 I was proud of the stencil I had made for my pan loaf – I didn't think twice about what I was doing, yet I was deliberate with my exact-o knife. I let my hand flow over the cardboard, do what it wanted, and the design was beautiful. It was me, from my heart and my soul. It was my best doodle. But when I went to dust flour over the top for my imprint before shoving it into the blazing hot oven, my stencil stuck, and as I yanked it off flour came with it and flew straight into my eye – the design, I thought, was ruined, and I lost it. I began dwelling on every part of my day that had gone wrong. My slashes on my hearth loaves were too shallow. I didn't hold my lame correctly. Everyone else's breads were perfect. I didn't belong.
And the next day, when we were making our pie dough, I accidentally added a cup of water – twice the amount I was supposed to. Why is this so wet? I asked. The grains are thirsty, she said. As long as I added half a cup of water it would be fine – shit. She switched doughs with me. This one wouldn't roll out. It was not of me – I didn't work in this butter with my own hands, didn't understand it. My finger started bleeding. I lost it again. I didn't belong, I kept thinking, again and again, until the tears began falling from the vicious cycle of disappointment and embarrassment for being disappointed at all.
But bread-making, pie-making, and baking in general, is forgiving. What it teaches you, I've learned, is to forgive yourself. "You're too hard on yourself," Tara told me after my first meltdown. Katrina and I took an easy hike on the Laurel River Trail later that day, setting ourselves on the slick rocks and dipping our feet in the flowing water of Big Laurel Creek, a branch of the French Broad River, as the hot southern sun beat down on us. Like the river, Katrina, too, emphasized her philosophy of just going with the flow. It's okay to mess up; everyone does.
Those loaves of bread with the imperfect slashes? The pan loaf without the stencil? They were amazing — perfectly sour, shattering crisp crust, and creamy, lofty interior. The pie? It came out of the oven just fine, and looked (and tasted) pretty damn good, too.
It seems every year around this time I need a reminder to just duck under those waves, ride the river, be okay with what potentially may have gone wrong because it's all going to turn out just fine. That ball of dough will be bread. That sheet of butter-flecked dough will be pie. Just be present in everything you do, be deliberate, listen to your ingredients, and it will be fine. Maybe even better than fine. I needed that dam to break to reach this moment, and now, as I deepen my own practice here back at home, I'm happier than I've been in a long, long time.
"Every obstacle," Tara says, "is an opportunity for creativity." Hear, hear.
Panzanella
adapted from Ina Garten
I brought home 3 1/2 gorgeous, crusty sourdough loaves from my workshop at Smoke Signals — too much to eat quickly before they got too stale, even for us. Panzanella, though,  is the perfect way to use up stale bread. An Italian bread salad, it combines combining tomatoes and other vegetables like peppers and cucumbers and onions with cubed, toasted bread essentially made into large croutons, and tossed with a homemade vinaigrette. That vinaigrette coats the vegetables and soaks into the bread, and after half an hour, you have a perfect summer salad. It's hearty, especially if you've got a whole grain, naturally leavened loaf (but any crusty bread will do just fine), and screams with flavor.
makes 12 servings
Salad
3 tablespoons extra virgin olive oil
1 pound crusty bread, cut into 1-inch cubes
1 teaspoon kosher salt
1 pound cherry or grape tomatoes, cut in half
3 kirby cucumbers, peeled and cut into ½-inch pieces (or 1 hothouse cucumber, seeded and sliced)
1 red bell pepper, seeded and cut into 1-inch cubes
1 yellow bell pepper, seeded and cut into 1-inch cubes
½ small red onion, cut in half and thinly sliced
20 large basil leaves, coarsely chopped
3 tablespoons capers, drained (optional)
Vinaigrette
1 teaspoon finely minced garlic
½ teaspoon Dijon mustard
3 tablespoons Champagne vinegar (white or red wine would work fine)
½ cup extra virgin olive oil
½ teaspoon kosher salt
¼ teaspoon freshly ground black pepper
Heat the oil in a large saute pan or skillet. Add the bread and salt, and cook over low to medium heat, tossing frequently for about 10 minutes, or until nicely browned. Add more oil as needed. If your pan is too small to hold all the bread, toast it in batches.
Meanwhile, make the vinaigrette by whisking all ingredients together.
In a large bowl, mix the tomatoes, cucumbers, peppers, onion, basil, and capers, if using. Add the bread cubes and toss with the vinaigrette. Taste and season with additional salt and pepper as desired. Serve, or, even better, allow the salad to sit for at least half an hour for the flavors to meld and the bread to soften slightly.