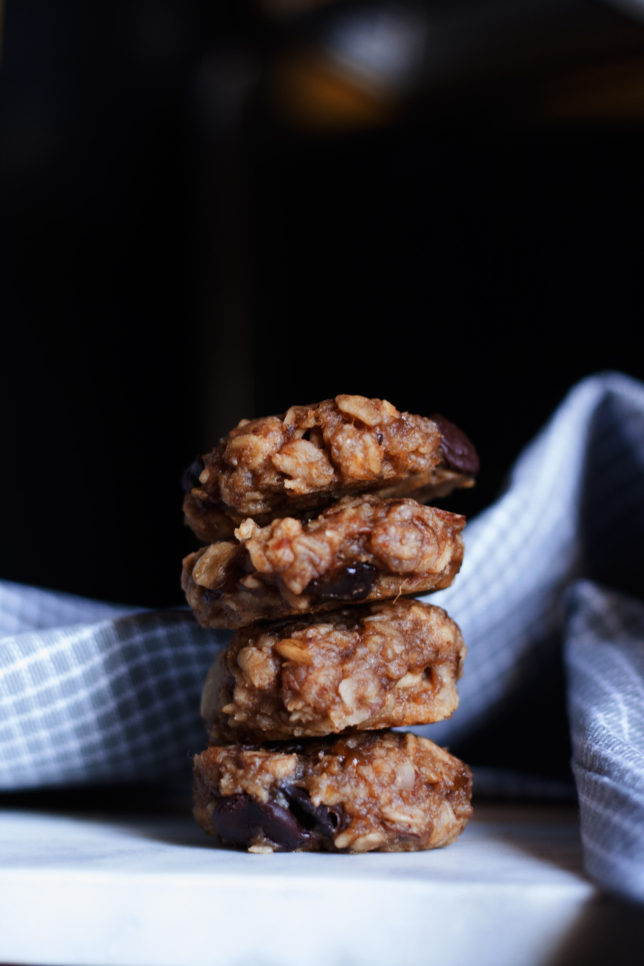 This one goes out to all you marathoners out there. All you celiacs. All you vegans. This is the back-pocket recipe I wish I had over the last two years, when I was training my ass off, hungry all the time and only half-heartedly fooling myself into thinking I could eat whatever I wanted. These vegan, gluten-free chocolate peanut butter banana energy bites have everything I want in a sweet, satisfying treat, and nothing I don't need.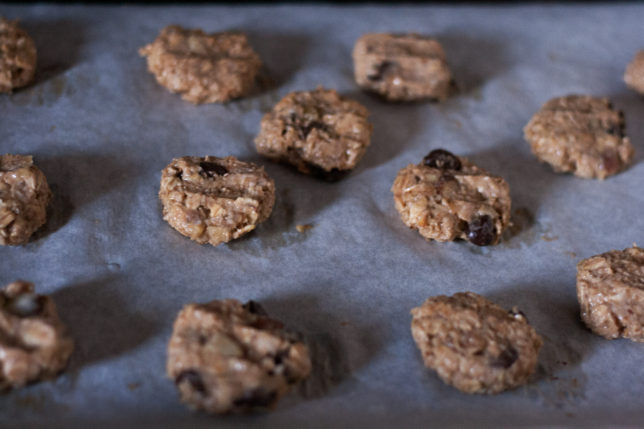 Truth be told, I'm feeling a little nostalgic for marathon training. I almost feel a twinge of jealousy at my friends' rough and humid 18-mile runs. I miss the discipline. The camaraderie. Even the pain, because it leads to something far greater than we ever thought we had within us. I've had a pretty lazy few months, running when I feel like it and giving myself a break when it's been over 90 degrees or my ankle hurts. The extreme heat has been a great excuse to be fair to my body as it continues its ridiculously slow healing process, or maybe it's the other way around. But that almost makes it worse: on the days when it is cool, I push myself through some minimal miles, even when I do get those twinges of a not-quite-healed tendon tear. What can I say, I'm a running addict.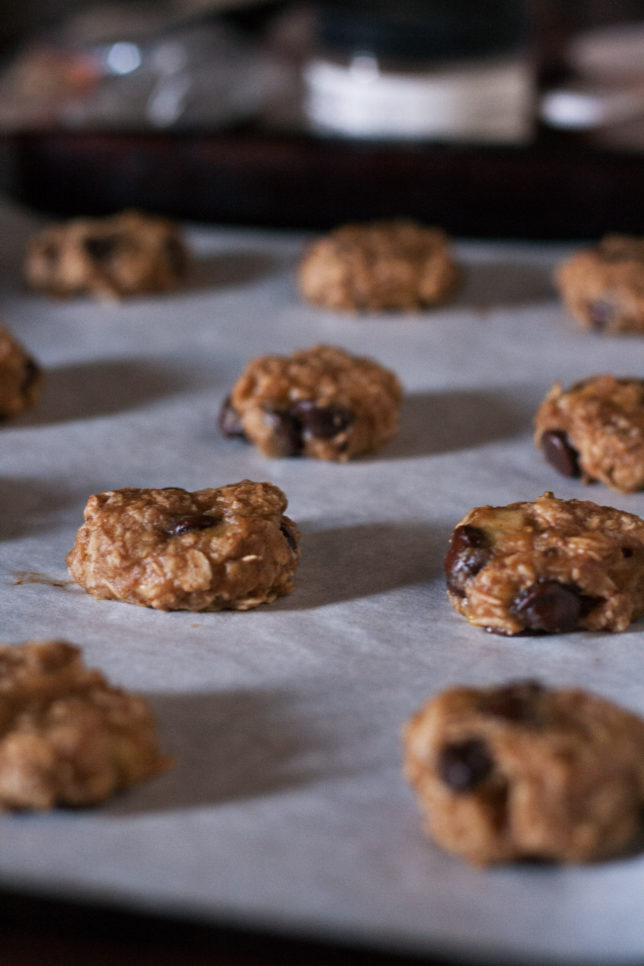 But running or not, that's where these little energy bites come in handy. They can be made with as few as five ingredients, and come together and out of the oven in a flash. The best part is there's no added sugar of any kind — the bananas take care of that — and I don't miss it one bit. Oats give them their heft, and I like to use salted, no-sugar-added peanut butter to bind, with an extra sprinkling of Maldon sea salt to highlight the chocolate chips. I just love their texture — soft and chewy, they're just plain satisfying to bite into. You can add sliced almonds or another chopped or sliced nut to give some crunch, or dried cranberries or raisins if you're into that sort of thing.
Regardless of whether you're training for a race or just want to be more health conscious with your sweets, these energy bites fit the ticket. I've eaten them for breakfast, as snacks, and for dessert, and with my wedding coming up, my waistline — and my tongue — thanks me.
Chocolate Peanut Butter Banana Energy Bites
I've made these with both salted, unsweetened peanut butter and fresh-ground honey roasted, and was surprised that I liked the salted better. I do think they benefit from a little extra salt, so taste a little bit before you bake (no worrying about overworking the dough!), and adjust to your taste. I suggest a pinch of salt for basic, salted pb, but you might want more if yours is very sweet or unsalted. Like granola bars, these little bites are easily adaptable. I think they'd be delicious with almond butter or another nut butter, and toasted nuts or dried fruit if you choose.

makes about 24-30 small cookies, depending on add-ins
1 ½ cup oats (old fashioned or quick – use gluten-free if needed)
2 very ripe bananas, mashed
½ cup peanut butter
½ cup chocolate chips (dairy-free if needed)
Pinch salt (adjust to your taste)
¼-½ cup nuts or dried fruit (optional)
Sea salt, for finishing
In a large bowl, mix together the oats, bananas, peanut butter, and salt until thoroughly combined. Add chocolate chips and mix until evenly incorporated. Refrigerate for 15 minutes — this will make it easier to work with.
While the dough is chilling, preheat oven to 350 degrees and line a baking sheet with parchment. Scoop tablespoon-sized chunks of dough and, with moistened hands, roll into balls. Place on cookie sheet and gently press with your fingers into the shape of small pucks. Bake for 11-14 minutes, until set. Let cool slightly on a cooling rack before enjoying.