Hear ye, hear ye! There are local strawberries at the NYC farmer's markets! Thank the fruit gods, that rhubarb bridge really did bring us to summer sweets, and more quickly than I had imagined. I had gone to the Union Square Greenmarket last Friday for asparagus and ramps for an upcoming risotto I'm cooking up, but there was no way I was forgoing those gorgeous scarlet gems when I stumbled upon them. And the Pennsylvania farmer who prominently displayed them (the only one that day) took credit cards, which solved my "I only brought $15" conundrum, hallelujah. Six dollars for one pint and $10 for two wouldn't be a bargain for giant strawberries trucked from across the country, but for small, sweet, tender berries grown locally and only just picked, that $10 was money well-spent. I brought them home after a couple of hours walking around downtown, and when I removed them from the bag I was reminded how delicate local berries can be. They needed to be consumed or baked into something lovely, stat. Good thing the fella and I were going to my baby nephew's (um, and brother and sister-in-law's) house for pizza Friday. Why yes, I would make us some strawberry balsamic basil hand pies for dessert.
See, I really love small things, from cookies to kitties to tiny pencils. It must be something about my own size — when I was four or five and just learning to read, I thought the "most mature" award I had won at my summer day camp said "most miniature," and I was thrilled. Regular-sized pies tend to stress me out — "This is not a circle!" "The butter is melting!" "The dough is cracking!" "Shit, it doesn't fit in my pie dish!" "Oh god why am I so bad at this?!" Hand pies give you the opportunity to throw perfection out the window. You don't even need to roll the dough in a circle! As long as you have biscuit cutters or drinking glasses, you're saved.
And so with renewed vigor and command I rolled out my pie dough, throwing caution to the wind and my weight behind my rolling pin. I filled each bottom round with those tender strawberries that I had tossed with a balsamic reduction — the perfect complement — and some sugar and cornstarch and a couple of basil leaves, also from that day's bounty at the farmer's market. The basil would infuse its almost citrus, floral accents into the strawberries while they macerated.
Topped with another round of dough, sealed and crimped, glossed with an egg wash and a heavy-handed sprinkle of sugar, they're in the oven until they're bubbling, nearly ready to explode with intensity. They are so perfectly imperfect — many become misshapen from the handling and the juice seeps out of the pies, but the flaky layers of crust,  created when water in the butter evaporates in the oven, and the deep garnet, tempered sweetness of the strawberries, make it all okay.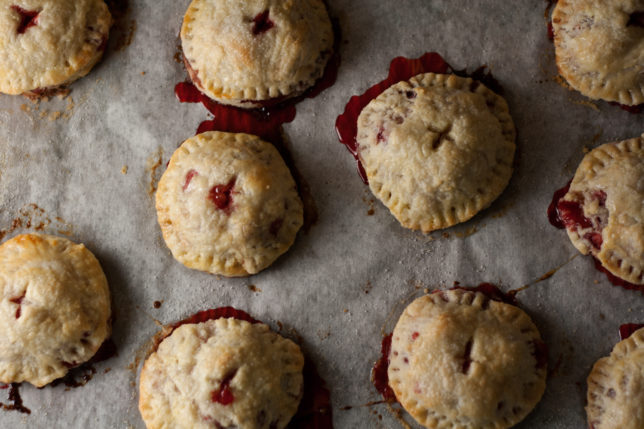 It was the fastest "pie" I had ever made, from scratch, from start to finish. From cutting my butter into my flour for the dough to the moment I walked out the door with eight cooled little treats for the four of us, my strawberry balsamic basil hand pies were done within two and a half hours, and were a huge hit. Because when you need to consume the first strawberries of the year, you've gotta do it fast.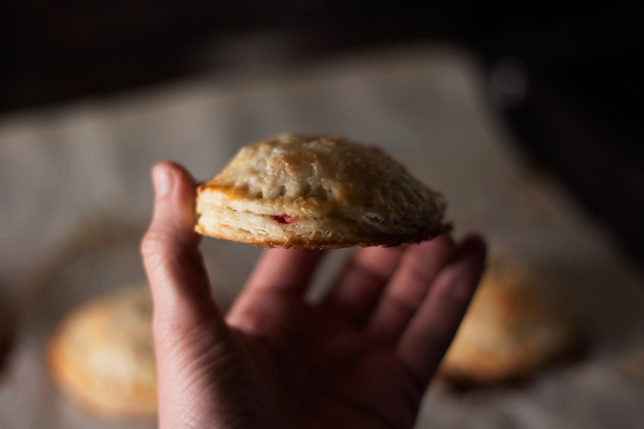 Strawberry Balsamic Basil Hand Pies
Inspired by Joy the Baker, pie crust adapted from Four and Twenty Blackbirds
A couple of notes: The local strawberries I used were small and perfectly sweet, and the recipe below reflects that. If you have supermarket strawberries that are very large, cut them smaller, I'd say into ½-inch pieces. Taste one of the slices before adding your sugar. You might find that they'll need more than the ¼ cup, or maybe even less. I kept my basil leaves whole, and kept them out of the finished hand pies. They're really only used to infuse their lovely flavor into the strawberry mixture. And for the dough, yes, you can re-roll the scraps! I actually found that my second batch was even flakier than the first. Just gather them up, press them together, and refrigerate to re-chill the butter. Magic!
Makes about 18 3-inch pies
For the crust:
2 ½ cups (12 ½ ounces) unbleached all-purpose flour
1 teaspoon salt
1 tablespoon granulated sugar
2 sticks (1 cup, 6 ounces) unsalted butter, cut into 1/2 -inch pieces
1 cup cold water
¼ cup cider vinegar
1 cup ice
For the filling:
3 tablespoons balsamic vinegar
1 pint (about 12 ounces) strawberries, hulled and cut into quarters (cut smaller if berries are very large)
¼ cup granulated sugar, more if strawberries are very sour
2 teaspoons cornstarch
A few basil leaves
To finish:
1 egg beaten with 1 teaspoon water and a pinch of salt
Granulated sugar
Make the dough:
In a large bowl, whisk the flour, sugar, and salt. Add the butter, toss to coat. With a pastry blender or your fingers, work the butter into the flour until most of the butter is the size of smallish peas. Some larger pieces are okay.
Combine the water, cider vinegar, and ice in a large measuring cup or small bowl. Sprinkle ¼ cup of the ice water mixture over the flour mixture, and cut it in and toss it together with a bowl scraper or rubber spatula until fully incorporated. Add more of the water, 1 to 2 tablespoons at a time, until the dough comes together in a rough, shaggy ball, with some dry bits remaining. Squeeze the dough together and divide it in two (splitting it up will make it easier to roll out). Form each into a flat disc and wrap in plastic. Refrigerate for at least 1 hour or overnight, or up to two nights.
Meanwhile, make the filling:
Bring balsamic vinegar to a simmer in a small saucepan over low heat until it has reduced down to 1 tablespoon. Take care not to burn the vinegar. Transfer to a bowl and add the strawberries, sugar, cornstarch, and basil leaves. Toss gently to combine and coat evenly. Set aside until pie dough is ready.
Roll out pie dough:
Take one disc of dough out of the fridge (let sit for 5 minutes if it's been in the fridge for longer than a couple of hours) and place on a well-floured counter. Sprinkle the top with more flour. Roll the dough until it measures between 1/8- and 1/4-inch thick, re-flour the counter (lift the dough with a bench scraper) and the top of the dough as needed to prevent it from sticking. If at any time the butter in the dough begins to get sticky or too melty, place it on a baking sheet and slip it into the refrigerator for several minutes. Use a 3-inch biscuit cutter (or the top of a glass) to cut the dough into rounds. Place each round on a parchment-lined baking sheet and place in the fridge. Gather the scraps of pie dough and smush them together, re-wrap with plastic and chill in the fridge. Repeat with second disc. You can roll out the dough scraps, too, so long as they're chilled enough. Magic!
Form and bake hand pies:
Preheat the oven to 400 degrees with an oven rack at the center.
Place a heaping tablespoon of the filling on one of the dough rounds — try not to add too much liquid, and make sure not to add the basil. Take a second round, stretch it slightly with your fingers and stretch it over the filling, pressing the edges together. I found it helpful to use a couple of fingers of one hand to keep the filling in place while the other hand pressed the edges of dough together. Use the tines of a fork to crimp and seal the edges, and cut a small cross in the center of the pie. Repeat with the remaining dough rounds.
Place each hand pie on a parchment-lined baking sheet. (You likely won't be able to fit all the pies with all the dough on one sheet. I did mine in batches, keeping the dough in the fridge until I was ready to bake another. You could also keep formed hand pies in the fridge until ready.) Brush the tops of each pie with egg wash, and sprinkle generously with sugar. Bake for 15-18 minutes, or until pies are golden brown and the fruit is bubbling.
Let cool on the baking sheet on a wire rack until cool enough to handle, then either remove directly to the wire rack let cool the rest of the way, or go ahead and eat the hell out of them.