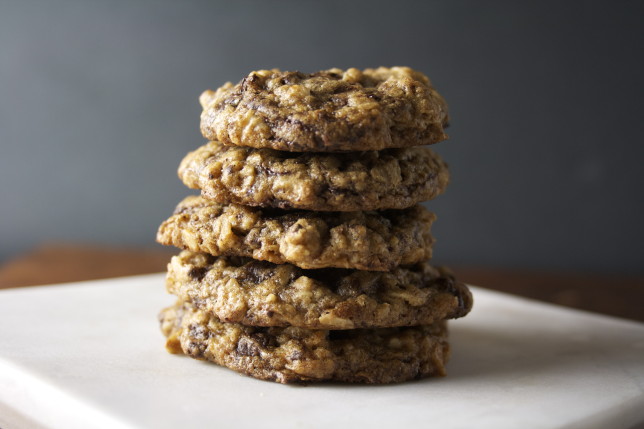 What grounds you? For me it's the gentle purr of a cat. The peaceful fall of snow against lamplight. A warm, firm embrace. And cinnamon. No matter where my mind is, whether it be under stress or on the high of a possible opportunity — an electrical current coursing — they bring me back down to earth. They give me a moment to pause, to breathe, to close my eyes and smile.
So when it snowed on the first day of spring, my brain frustrated from staring at research and trying to edit on an 11-inch screen, I stepped into my kitchen and watched our one tree being blanketed swiftly with white as the sky became greyer and greyer, then darkened towards nightfall, pink and purple in the cloudy city sky, and knew that I also needed to inhale the aroma of butter and chocolate and oatmeal and cinnamon. The frustration of technology, and not having a printer, required a double dose of grounding. I needed oatmeal chocolate chunk cookies to connect me back with the earth, my sanity, myself.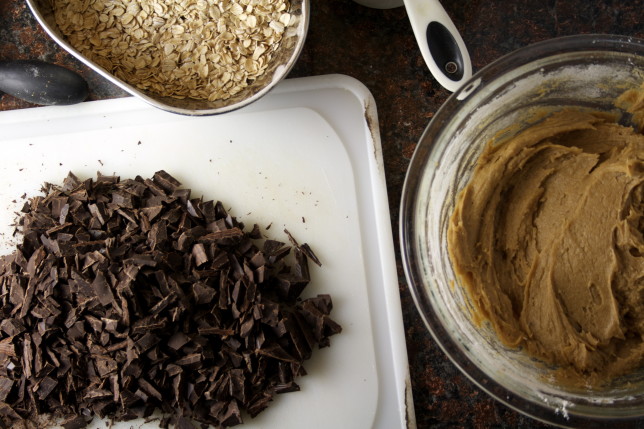 These may be my favorite cookies after the brown butter chocolate chip. It's interesting to read through other people's blogs and see their favorite ingredients shining through in recipe after recipe — buttermilk, whole wheat flour, smoked sea salt. For me I guess it's oats, at least for now. I love the texture softened oats give a cookie, the flavor they impart to a muffin or a scone. Because of the relatively low amount of sugar spread throughout what typically yields about 5 dozen cookies, they almost seem safe to eat for breakfast — a quick little bite when you're starving but want to get a run in before a real breakfast at home, or a bigger one when you sit down with your coffee at work (or am I the only one who does that?).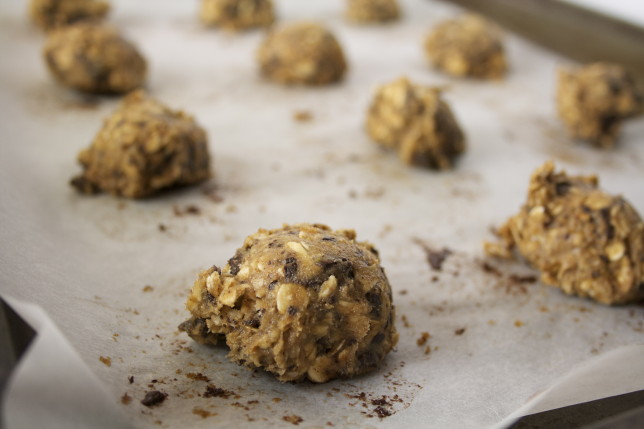 These are thick, soft, and chewy, even three days after baking. And can we talk about flavor? Can we talk about the chocolate? In these I've chopped up a whopping 12 ounces of bittersweet chocolate, which never seems to be that much when picking up a bag of chocolate chips, but looks like much more when chopped into big chunks, small chunks, and thin shavings, and heaped atop your cutting board. The different shapes and sizes of the chocolate means it's layered and well interspersed throughout each cookie. They become more of an amalgam than a pairing.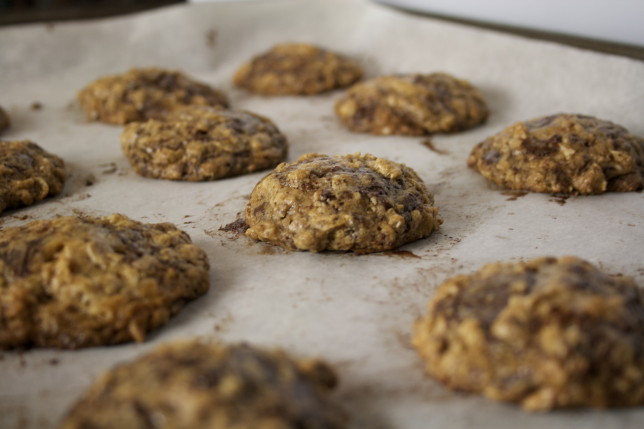 And the cinnamon. Oh, sweet, floral, spicy cinnamon. It's what marries the flavors of the oats and the butter and the dark, rich chocolate together to create the most perfect little morsel.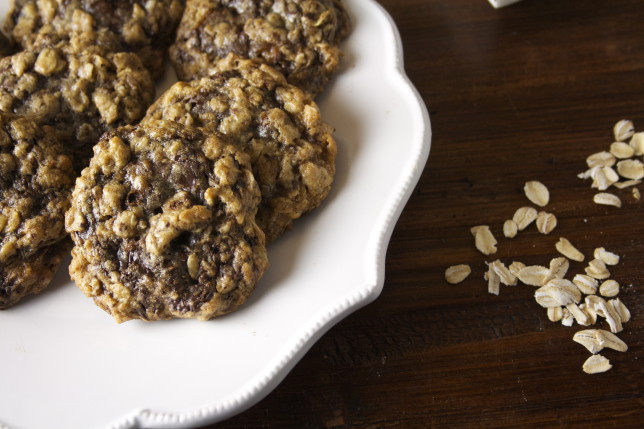 I guess all parts of these cookies are grounding. All parts came from the earth. Thank goodness there are — okay, fine, were — more than 60 cookies to temper the electric current coursing through my body and my mind. This spring, I think I'm gonna need them.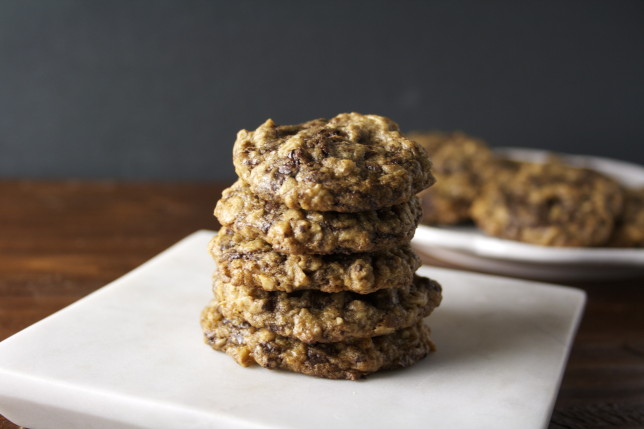 Oatmeal Chocolate Chunk Cookies
I'm a huge fan of chopped chocolate in these cookies, and my go-to is Trader Joe's Pound Plus Bars, specifically the 72% bittersweet from Belgium — it's incredibly economical and it's damn good chocolate. Very dark, smooth, and complex. But if you can't get your hands on it or another kind of bar (go as dark or sweet as you'd like), or if you just don't feel like chopping, of course chips will work. Just make sure you get some good stuff. Do it for the cookies.
yield: about 5 dozen 2-inch cookies
16 tablespoons (2 sticks, 8 ounces, 230 grams) unsalted butter, softened
¾ cup (4 ¾ ounces, 135 grams) packed brown sugar
½ cup (3 ½ ounces, 100 grams) granulated sugar
2 eggs
1 teaspoon vanilla
1 ¼ cups (170 grams, 6 ounces) all-purpose flour
1 teaspoon baking soda
½ teaspoon salt
1 teaspoon cinnamon
3 cups (256 grams, 9 ounces) old-fashioned rolled oats
12 ounces good quality bittersweet chocolate, chopped
Preheat oven to 375 degrees with a rack positioned in the center. Line a baking sheet with parchment.
In a medium bowl, whisk flour with baking soda, salt, and cinnamon. Set aside.
In a large bowl, use a hand-mixer to cream butter with brown sugar and granulated sugar until lightened in color. Add vanilla and egg and mix on low speed until combined. Add flour mixture and stir with a spoon until combined. Stir in oats, ensuring that all are moistened. Fold in chocolate.
Drop by the tablespoon onto prepared baking sheet. Bake for 8-10 minutes, or until the edges have begun to set but the center is still soft. Let cool for five minutes on baking sheet before removing to a cooling rack to cool completely.