On Sunday I had the honor of meeting the amazing Joy Wilson of joythebaker.com, who was in New York to promote her new book, Homemade Decadence. Filled with simple and elegant recipes, with a twist on the nostalgic, it's a masterpiece of sweet. That's sort of a lot of what Joy the Baker is, really, on her site, in her recipes, and in person. Disarmingly funny, she wants us all to eat, to enjoy. The best way to do that, without being directly in her kitchen? Make her recipes. I'd be fooling you all if I didn't say that Joy was a huge inspiration for me when I started this blog. Her food and her writing are, unequivocally, her. There is no high-brow or low-brow. It's just fabulous deliciousness that can be created equally by all.
Before heading to The Brooklyn Kitchen for the event, I had been keen on working on a pumpkin recipe for the ImaginariYUM. 'Tis the season, after all. Last year, Joy posted a recipe for pumpkin pecan scones with brown butter glaze. This was during the time that I was convinced that my fella, Ray, hated scones — they're too dry, too crumbly, he'd tell me. I had even saved him some of my nutella scone from Dean and Deluca three years ago, believing that he would fall over himself with glee when he tasted the glorious swirls of his favorite condiment embedded in such a tender crumb. I was wrong. So I kept the pumpkin scone recipe from my repertoire, but bookmarked it just the same. And since my love of scones hasn't abated, I would have to make him love them, too. Over these last several years I've started wearing him down, creating scones with a more moist interior to please his palate. He's started to ooh and ahh. After meeting Joy, I knew that the time was ripe for pumpkin scones.

I collected my ingredients from the supermarket, but they were out of pecans. In my laziness, and in yet another concession to Ray, who says he hates nuts in his desserts, I decided that I'd stuff them with chocolate chips instead, because chocolate goes with everything, right?
Well, he loved them. But I thought there was entirely too much competition between the chocolate and the spices, and the chocolate was winning. I wanted that autumnal spice, that sweet spot between summer's freshness and winter's gingerbread. Pumpkin, cinnamon, nutmeg, and all things deep and golden. Joy was right: those pecans would add the perfect crunch.
The thing about pecans? For someone who's averse to nuts in their cookies, their quickbreads, their scones, pecans are the perfect introduction. Walnuts are bitter, but pecans are sweet. And toasting them first, as I did here, pulls out the sweetness even more. They don't hit you in the face with difference — instead, they're complimentary, simply adding another layer of earthy sugars, warmth, and texture. And in this scone, that's a good thing.
Don't do what I did the first time and forego the brown butter glaze. It's silky, sweet, and tastes almost maple-like: the brown butter marries with the vanilla and confectioner's sugar just beautifully. It's not sickeningly sweet, as some glazes can be. It's yet another compliment to the pumpkin and spices, helped along by a pinch of salt.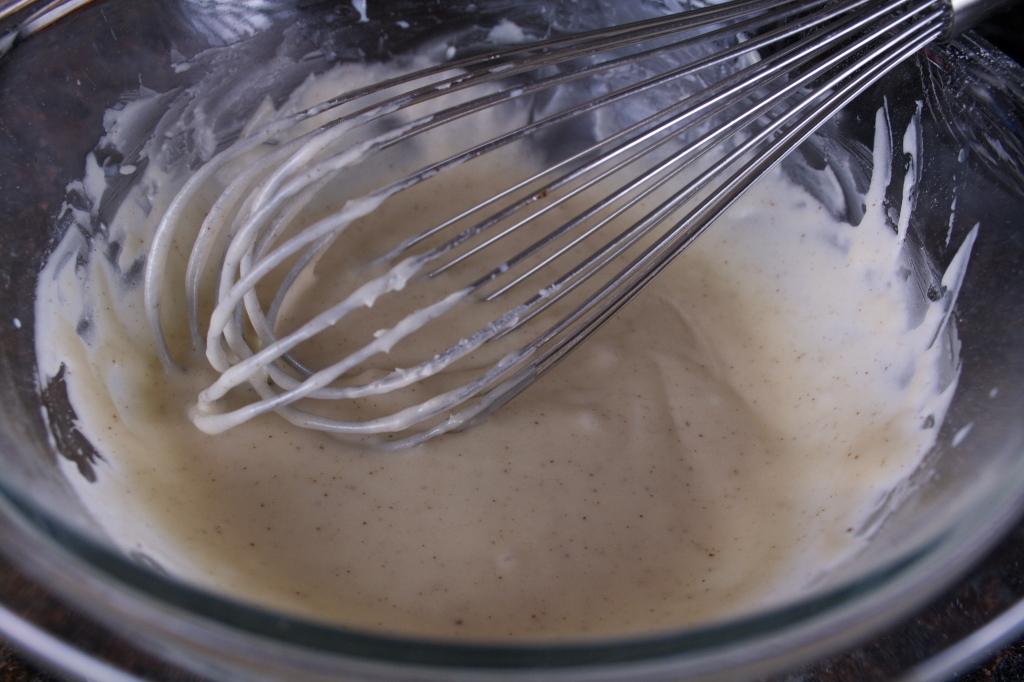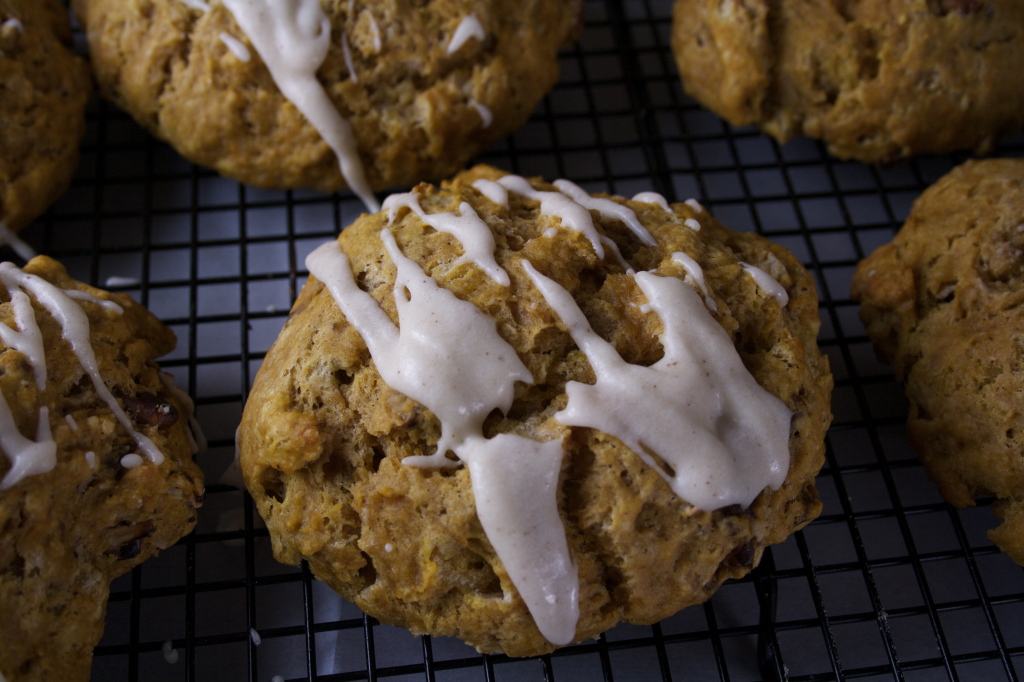 I think Ray was still a little dubious when I split the first scone with him. But it won him over. He had his very own after that, swallowed it in just a few bites. It may have been the pumpkin, creating an incredibly moist, dense interior. It may have been brown butter glaze. He's still a little unsure of the nuts, but it may just be a nagging predisposition that hides behind his shoulder while he tastes really, really good things and whispers his own history back to him. "I think I really liked it," he told me. Wearing-down mission not yet complete, but coming along nicely.
I'm very glad I listened to my gut (or rather, to Joy) and sought out pecans. There is definitely something to be said about experimenting and finding exactly what you want, but often the perfect recipe is already out there and needs little change or embellishment. This is one of them.
Now excuse me while I take a scone with my homemade pumpkin latte and flip through my new cookbook. I think I'll find some inspiration in these little flecks of brown butter.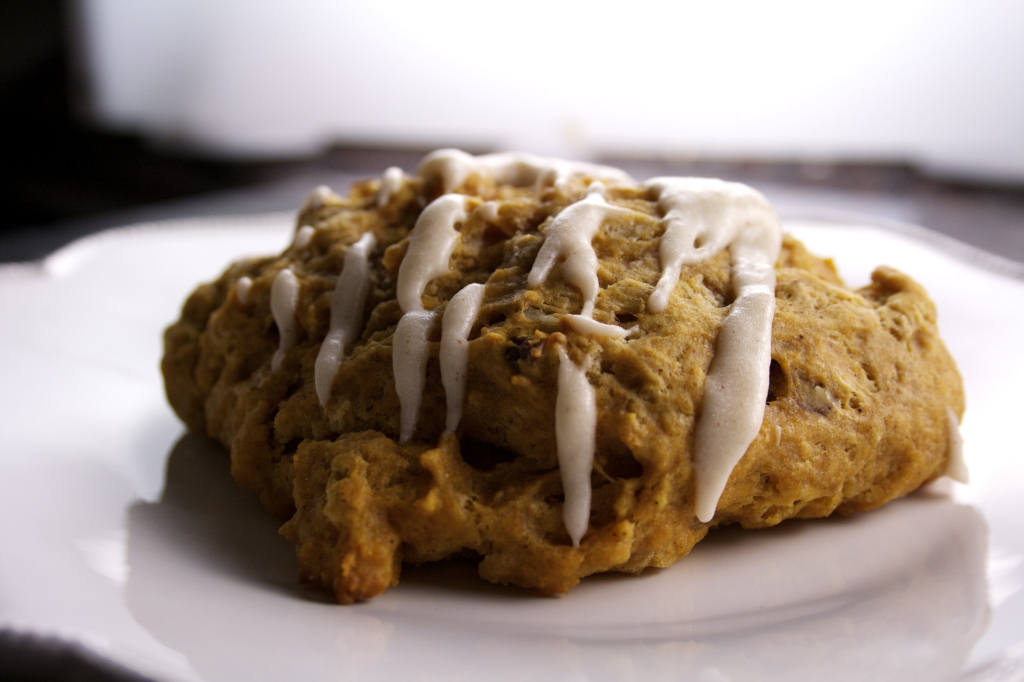 Pumpkin Pecan Scones with Brown Butter Glaze
adapted from Joy the Baker
Thanks to the apple cider doughnuts, I'm now very into adding whole wheat flour to my fall baked goods. There's something about the subtle earthiness of whole wheat that just ups the autumnal factor. It's hearty, but it's not overpowering. I have two-thirds all-purpose, one-third white whole wheat here. Feel free to experiment with more, or switch back to 100% all-purpose. Same goes for the pecans: toasting them unlocks their potential, raising the fall bar. But generally all nuts are better toasted. Toast them over medium heat in a skillet until they start to brown and become fragrant, tossing occasionally.
This recipe is incredibly easy, but does involve some care. Be sure to let your pecans cool completely, and keep your butter and your buttermilk cold, placing your butter in the freezer for 10 minutes before cutting it and preparing your buttermilk/pumpkin mixture before cutting the butter into the flour, ensuring that the butter doesn't sit long on the counter and threaten meltiness. You want those little flecks of butter, not an amalgamated mess. But don't let that scare you: you can use a pastry cutter or you can use your hands, and you can always put your bowl in the fridge if you feel it's getting too warm. You'll also find that you'll only be able to fit six scones at a time on a baking sheet. Put your dough in your fridge while one batch bakes. Again with the melting. This is a very wet dough, but the other great thing about these is that instead of rolling them out and cutting them, as many scone recipes call for, you simply drop them with an ice cream scoop or a measuring cup, as I did. To help release the dough from your scoop of choice, run it under cold water first.
yield: about 12 scones
For the scones:
2 cups all-purpose flour
1 cup white whole wheat flour
2/3 cup packed dark brown sugar
2 1/2 teaspoons baking powder
1/2 teaspoon baking soda
1/2 teaspoon salt
1 teaspoon ground cinnamon
1/2 teaspoon freshly grated nutmeg
1/2 teaspoon ground ginger
1/4 teaspoon ground allspice
1/8 teaspoon ground cloves
1 1/2 sticks (12 tablespoons) unsalted butter, cold and cut into small cubes
1 cup buttermilk, cold
1 cup pumpkin puree
1 tablespoon pure vanilla extract
1/2 cup pecans, toasted, cooled, and chopped coarsely
For the Glaze:
4 tablespoons unsalted butter
1 1/2 cups powdered sugar
1 teaspoon pure vanilla extract
3 to 4 tablespoons whole milk
pinch of salt
Place a rack in the upper third of the oven and preheat to 400 degrees.  Line a baking sheet with parchment paper and set aside.
In a large bowl, whisk together the flours, brown sugar, baking powder, baking soda, salt, and all of the spices. Set aside.
In a medium bowl, whisk together the buttermilk, pumpkin puree, and vanilla extract. Refrigerate while you go back to your dry ingredients.
Add the cold butter to the flour mixture and cut it in using a pastry cutter or your fingers, working quickly to ensure that the butter stays cold. The butter should be the size of small to large peas.
Add the wet ingredients to the flour and butter mixture, and stir together until almost thoroughly combined. Add pecans and stir until no dry flour bits remain. Using a large ice cream scoop or measuring spoon, scoop dough by the 1/2-cupful onto the prepared baking sheet, about 2 inches apart.
Bake for 18 to 20 minutes or until browned slightly, inserting a toothpick into the center of a scone to test for doneness.
Allow to cool completely on a wire rack before glazing.
To make the glaze:
In a small saucepan, melt the butter over medium-low heat. Continue cooking, swirling the pan constantly, until the butter is a dark golden brown and has a beautiful nutty aroma, about one to three minutes. Immediately remove from the heat and transfer to a small, heatproof bowl.
In a medium bowl, whisk together the powdered sugar, browned butter, vanilla, pinch of salt, and 2 tablespoons of milk. Add more milk as necessary for your desired consistency — I used 3 tablespoons.
Place a sheet of parchment under your cooling rack for easy cleanup and generously drizzle the glaze over the scones. Best enjoyed within three days of baking.