I've been dealing with a bit of writer's block this past week. I'm not quite sure what's gotten into me, but it's been butting heads with deadlines, leaving me stressed out and needing to just get in my kitchen and get my hands dirty without worrying what to say about whatever's coming off my stove or out of my oven. In fact, the first sentence here was the only thing on this page for hours after I excitedly, and successfully, baked and tasted what could be the greatest thing ever to come out of an oven anywhere ever. Hyperbole? Maybe. But come on now, say this with me: chocolate, peanut butter, banana bread.
Yes, you read that right. And it's the thing that's putting words back on this page. Last March, Deb Perelman of Smitten Kitchen posted a recipe for what was, at the time, the greatest quick bread baked in New York City: double chocolate banana bread. I followed her instructions to a tee then (not even realizing that the cocoa I was using was, as she directed, in fact Dutch-process cocoa — but we'll get to that later), and was in love. Last week was a food blogger lovefest, and just days after meeting Joy the Baker, I had the honor of meeting Deb and the great Melissa Clark of the New York Times at a WNYC event at the Greene Space in lower Manhattan. Again: two incredibly personable people who just want to make good food and share it with the world. I was inspired, but I still couldn't write.

Let me tell you: writer's block drains you. It saps you of energy. It makes you question who you are and what you do, even though you know, as with all other times in your life as a writer — meaning, your entire life — it will pass. Even if you're making good food, finding success in hard training weeks and PRs in races, writer's block brings you down. So, as it happens, I sought comfort in familiar recipes, and I turned to the chocolate banana bread. And while it didn't necessarily need anything, I wanted something more out of it.
So I added peanut butter.
Not gobs of it, no. The thing about this bread is the chocolate almost overwhelms the banana. It's more of a deep chocolate cake with a hint of moist banana goodness. It doesn't need any other competing flavors, drowning out the banana completely. But could it use another layer to compliment it? Why yes, yes it could.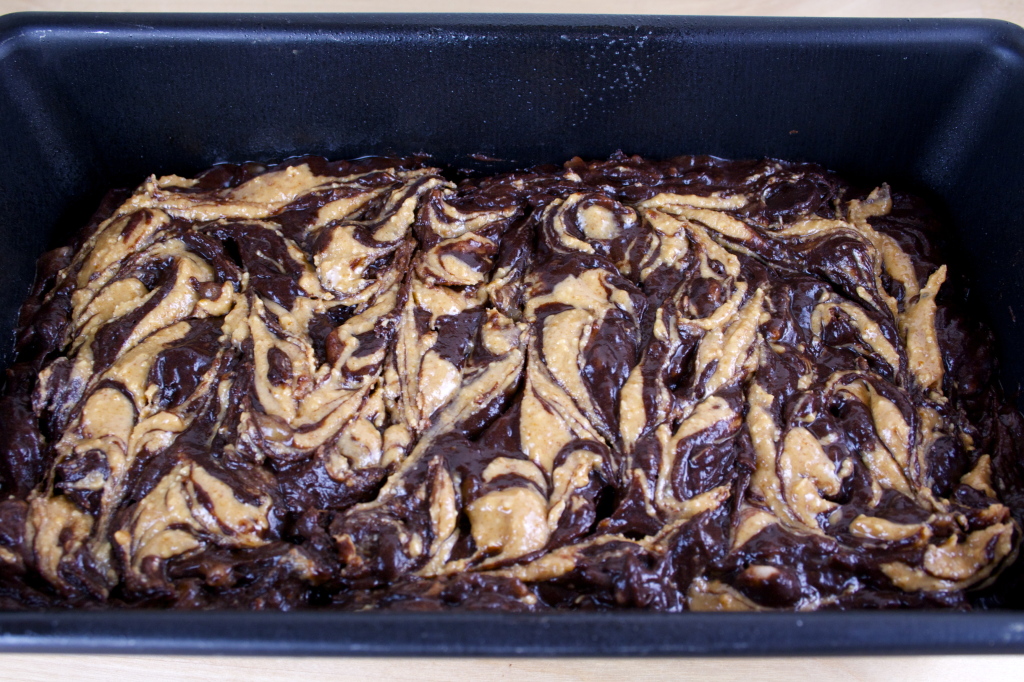 The answer came in another one of Deb's posts, for raspberry swirl cheesecake. I decided to dot the top with quarter-teaspoons of the peanut butter and swirl it in using a toothpick, creating a gorgeous design but barely dipping below the surface. It basically acts as a beautiful topping, crisping up in the oven and highlighting the flavors beneath. The bananas make it incredibly moist, the Dutch cocoa paired with the chocolate chips make it incredibly rich, and the hint of peanut butter salts it ever so slightly.
It's the easiest, tastiest quick bread I have ever made. And you know what? You can make a case for it being somewhat healthy. Potassium and Vitamin C from the bananas? Check. Protein from the peanut butter? Check. Antioxidants from the unsweetened cocoa? Check. Yes, there's sugar and butter, but for an entire loaf, it's truly not that much. Its decadence comes from pairing healthful ingredients.
But why am I trying to convince you? I know you're already right here with me, lined up for a slice.
Chocolate Peanut Butter Banana Bread
Deb Perelman very extremely strongly urges you to use Dutch-process cocoa, whose acidity has been neutralized. I know, it's horribly inconvenient and rather difficult to find. You can definitely make this with natural unsweetened cocoa, but the flavor will be slightly different and less complex, and the rise will also be altered (it will probably rise and then fall). If you need to make this right now, and you just don't have or can't find any Dutch-process cocoa, just go for it, but I think if you can hold out and get your hands on a cannister it will be worth it, especially since there are so many fantastic recipes out there that call for it. You may also be wondering what kind of peanut butter I've used: it's freshly ground honey roasted peanut butter from Whole Foods, which I highly recommend. It's not perfectly smooth but it's not chunky either, leaving little specks of crunchiness throughout. But any peanut butter should do the trick.
adapted from Smitten Kitchen
3 medium-to-large very ripe bananas (about 1 cup)
1/2 cup (1 stick) unsalted butter, melted and cooled slightly
3/4 cup packed brown sugar
1 large egg
1 teaspoon pure vanilla extract
1 teaspoon baking soda
1/4 teaspoon table salt
1 cup all-purpose flour
1/2 cup Dutch-process cocoa powder
1 cup bittersweet chocolate chunks or chips
2 heaping tablespoons peanut butter
Heat your oven to 350 degrees. Grease a 9×5-inch loaf pan.
Mash bananas in the bottom of a large bowl. Whisk in melted butter, then brown sugar, egg, and vanilla. Sift baking soda, salt, flour, and cocoa powder over wet ingredients. Stir dry and wet ingredients together with a spoon until just combined. Gently stir in chocolate chunks or chips.
Pour into prepared pan. Dot the top of the loaf with the peanut butter. Using a toothpick or skewer, swirl the peanut butter around the batter.  Bake for 55 to 65 minutes, until a toothpick inserted into the center comes out batter-free. Cool in the pan for 10 to 15 minutes, then run a knife around the edge and invert it out onto a cooling rack. Serve warm or at room temperature.
Keeps up to four days at room temperature, wrapped in foil.