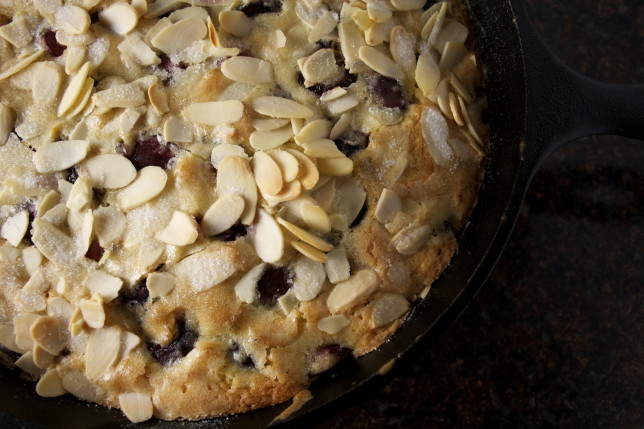 And so, there comes a point in every person's life when she must decide, once and for all, whether cooked cherries can have a part in her baking repertoire. For me, that point came last week. Except for the earliest parts of my youth, I've never loved the flavor. I eschew the cherry Starbursts and Tootsie Roll pops for orange and grape. And I know what you'll say — those candies aren't really made with cherries. But the cloying disaster of them tainted their value for me for too long. Even maraschino cherries topping drinks and chocolate-covered ones falsely promising balance are a no-go. Everything just tastes like syrup.
It wasn't until several years ago that I even started enjoying cherries raw. I remember that first day well: I was hanging out with my old friend Lorraine on a sunny summer day in one of the parks in our hometown. We sat on the bleachers next to one of the baseball fields, catching up, eating black cherries and seeing how far we could spit the pits. And yes, we were in our 20s. The cherries were sweet, but had a hint of acidity to give them brightness. And the pits, instead of being a burden, as I had always thought they were, became the carefree definition of summer.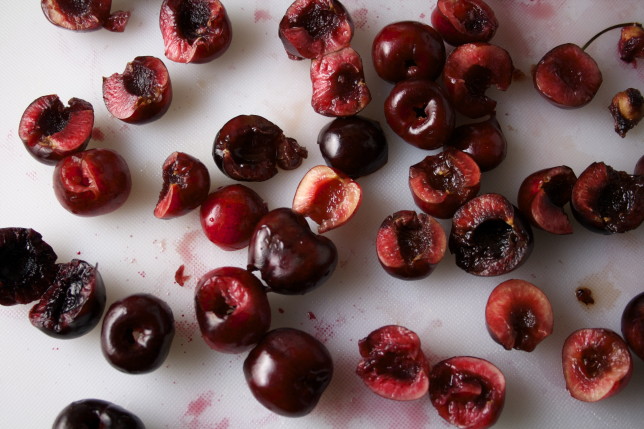 So cherries have become a regular character in my warm weather novella, playing a supporting role to peaches, strawberries, and blueberries, but a critical role nonetheless. In one of our hottest Mays on record, I've been craving those summer bounties, which, for now, still seem like delicacies until our local orchards can catch up after our long, cold winter. So on one of those hot days, along with a pint of blueberries for my Sunday blueberry pancakes, I picked up a giant bag of sweet, ripe cherries.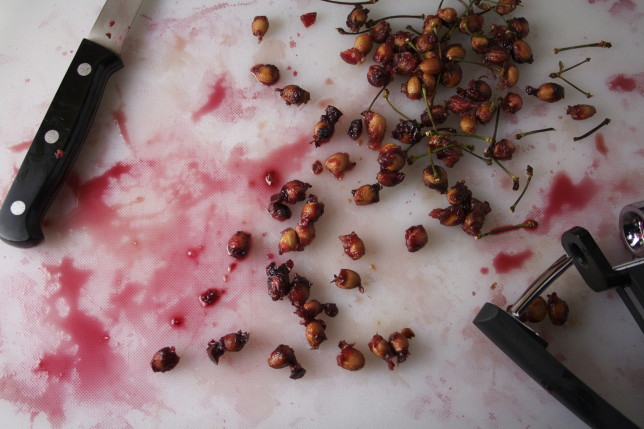 Despite the heat, though, we're not yet in the lazy, hazy days of summer (in fact, it's now in the 50s as I type this), when all we want is to sit around and eat watermelon and ice cream under a fan. There's still baking to be done.
And suddenly, cherries baked into something lovely sounded perfect for the end of May. Enter this cherry almond breakfast cake.
Based on the apple buckle, it's fluffy and almost creamy, accented with almond extract, and just barely sweetened, complimenting the cherries, which hold their shape and gently release their slightly mellowed juices, just perfectly. A sprinkling of sugar gives the top a light sheen, and a healthy scattering of sliced almonds gives it crunch.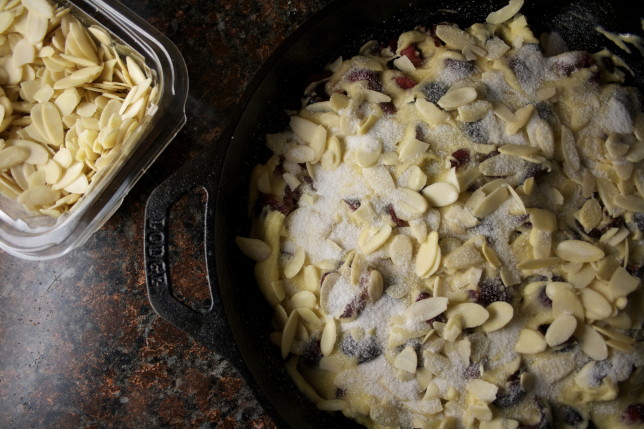 It was perfect with a couple of fried eggs and creamy blueberry coffee on a warm, sunny morning, but would be equally at home with a dollop of whipped cream or a scoop of ice cream for dessert on a cool night.
Consider me won over. So long to the cloying distraction that syrupy cherries have become in the mainstream. This cherry almond breakfast cake proves that cooked cherries can still be, well, cherries.
Cherry Almond Breakfast Cake
Call it a breakfast cake, a coffee cake, or a buckle, this beauty bakes up perfectly balanced for any occasion. It was the perfect height in a 10-inch cast iron skillet, but you can also use a square baking dish, or even a round cake pan, so long as the sides measure at least 2 inches. I didn't toast the almonds before I sprinkled them on, but I think it would make this even better. They didn't get as toasty as I thought they would in the oven, so a light browning beforehand would give it an extra kick of warm, almond flavor.
1 ¼ cup (spooned and leveled) all-purpose flour (156 grams or 5 1/2 ounces)
¼ teaspoon baking powder
½ teaspoon salt
½ cup (113 grams or 4 ounces) unsalted, softened butter, plus more for greasing skillet
½ cup plus 2 tablespoons sugar
3 large eggs
1 teaspoon almond extract
4 cups (1 ½ pounds) cherries, pitted and halved
⅓ cup almonds
Preheat oven to 350 degrees with a rack in the center position. Butter skillet or baking pan or dish.
In a medium bowl, whisk together the flour, baking powder, and salt. Set aside.
Using an electric mixer, cream butter and ½ cup sugar in a large bowl until fluffy. Add almond extract and the eggs, one at a time, and beat to combine. With the mixer on low, gradually add the flour mixture to the wet ingredients and mix until just combined. Gently fold in cherries.
Spread batter into prepared skillet. Sprinkle 2 tablespoons of sugar over the cake, then sprinkle the almonds.
Bake for 45-50 minutes, or until a toothpick inserted into the center comes out clean. Let cool in the pan for 15-20 minutes before slicing and serving.