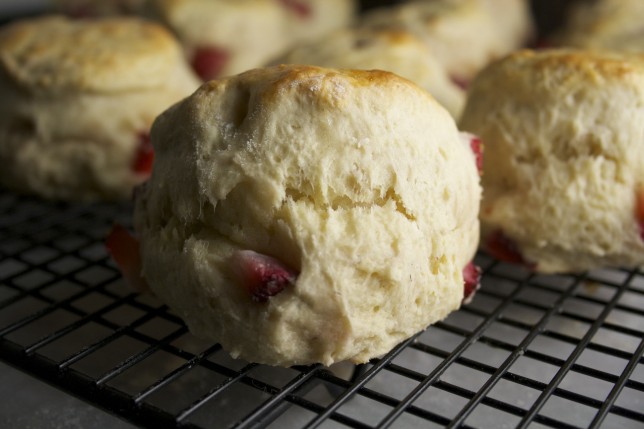 Nothing says summer — even if it's still technically spring — like fresh, sweet, red strawberries. I was trying very hard to wait to make these until I could get to the Union Square Greenmarket, where, I hear, strawberries are starting to line the tables. But I couldn't. I just couldn't wait any longer. When I found juicy, fragrant strawberries at my local organic market, even if they were trucked in from California, I just couldn't resist. Time for my favorite warm-weather breakfast treat: strawberry scones.
I had my first strawberry scone years ago at a farmer's market in Morristown, New Jersey. It was crumbly but fresh-tasting — very simply made and finished, with a sugar topping. I made a similar version for years, without eggs, in a drop-style. They were lovely, but a bit dry. I just didn't know any better. But then, last year, I discovered Cook's Illustrated's British scones. Unlike traditional American scones, British scones are more delicate, with a finer crumb. They don't fall apart when you gently schmear a pat of butter on them — indeed, British scones rise with a perfect seam in the center, allowing you to open them up (no knife needed) and schmear your butter, your jam, your clotted cream, to your heart's content.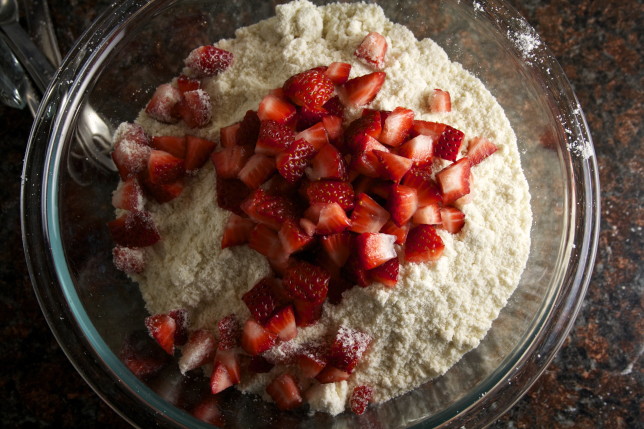 Now, Cook's Illustrated makes a point of insisting that British scones are meant to be uncomplicated; plain or a smattering of currants is all you need for perfection. And it's true, they're lovely plain. Still, considering they're just barely sweetened and lightly buttery, they seemed like the perfect vehicle for strawberries.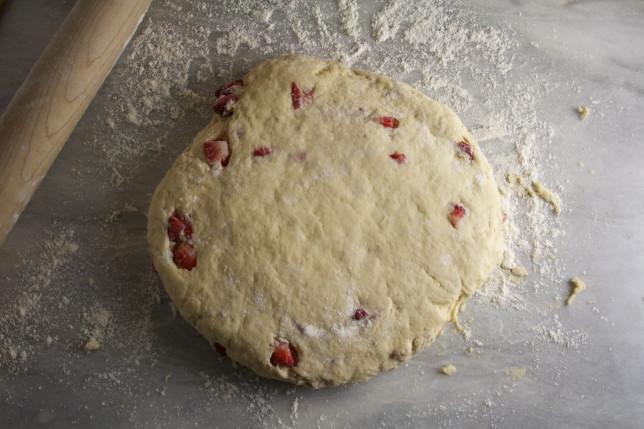 And they are. The strawberries melt into the scone. They rise up tall and delicate — but again, not too delicate for butter. I suppose you can think of them as a more refined scone, not rustic in the slightest. Sort of how you'd compare a proper British accent to, oh, I don't know, a New Englander's. That doesn't mean they're difficult to prepare, or too fussy to admire. You want to enjoy them with tea or coffee not because you need a beverage to balance the dryness you might find in a different scone — you want the tea or coffee because it just feels right.
Sort of like a late spring weekend. Fresh, full of color, ready to embrace the explosion of summer.
Strawberry Scones
adapted from Cook's Illustrated
Be prepared, the dough is very wet. Every single time I turn it out to knead it I think I've done something wrong. But every time I cut them and bake them, watching them rise tall and perfect, I know that's just the way this dough is. You end up re-incorporating quite a bit of flour when you knead, so don't be afraid to keep dusting it on. With the strawberries, which begin to weep after being enveloped by the dough and making contact with the sugar, you'll need it. Without extra flour, they're hard to cut and bake up rather squat and lopsided. Still delicious, but not perfectly tall and gorgeous, and definitely more difficult to handle. Flour is your friend here.
Makes 14 scones
3 cups (15 ounces) all-purpose flour
⅓ cup (2 ⅓ ounces) sugar
2 tablespoons baking powder
½ teaspoon salt
8 tablespoons unsalted butter, cut into ½-inch cubes and softened
1 cup strawberries, cut into ½-inch pieces
1 cup whole milk
2 large eggs
Heat oven to 500 degrees with a rack in the upper middle position. Line a baking sheet with parchment.
In a food processor, pulse the flour, sugar, baking powder, and salt until combined, about 5 pulses. Add the softened butter and pulse until completely incorporated; the mixture will look like very fine crumbs with no visible butter (about 20 pulses). Transfer mixture to a large bowl and toss in strawberries, making sure they're coated in the flour.
In a small bowl, whisk eggs and milk together until combined. Set aside two tablespoons of this mixture (you'll use it later). Add remaining milk mixture to the flour mixture and, with a rubber spatula, fold together until almost no visible flour remains.
Transfer the dough to a very well-floured counter and gather into a ball. It will be quite sticky. With floured hands, knead until the surface is smooth and free of cracks, about 25 to 30 times. Add more flour as necessary. Press gently into a disc, and then, using a floured rolling pin, roll into a 1-inch thick round
Using a floured 2 ½-inch biscuit cutter, cut scones and gently place on prepared baking sheet, re-flouring the cutter as necessary to prevent it from sticking. Gather the scraps of remaining dough into a ball and knead gently until the surface is smooth again. Roll the dough into a round 1 inch thick and continue cutting scones. Repeat as necessary.
Brush the tops of scones with the reserved milk mixture. Place scones in the oven and reduce oven temperature to 425 degrees. Bake until the scones have risen and the tops are golden brown, about 10 to 12 minutes, rotating the baking sheet halfway through. Transfer scones to a wire rack to cool slightly before enjoying. Serve warm or at room temperature with butter, clotted cream, and or/jam.
Scones can be kept in an airtight container and brought back to life in a 300-degree oven for 5 minutes. Because they are studded with fruit, though, they'll be more prone to acquire mold. Even better is to freeze remaining baked scones and reheat in a 300-degree oven for 10 minutes.