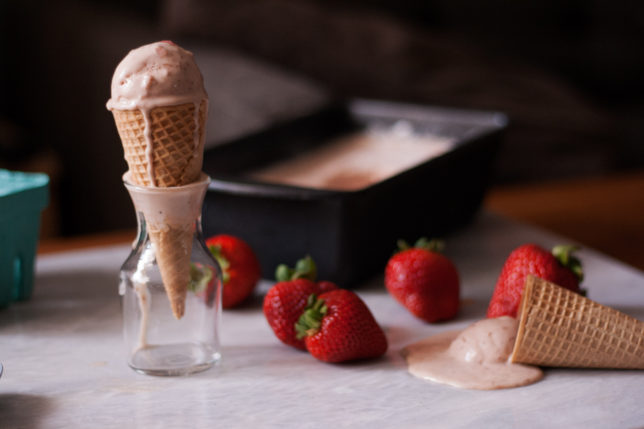 Of all the amazing things about Astoria's food scene, the one thing it seems to be lacking is ice cream. In Jersey City, there was an ice cream shop literally around the corner from my apartment. I have fond memories of lightly stepping down the steps of my stoop into the barely cool summer night air with my roommate, in our pajamas, for a cone of amazingly intense, creamy chocolate peanut butter or cookies and mint minutes before the family-owned Torico closed for the evening. Astoria is dotted with frozen yogurts-on-the-wall, but good ice cream or gelato is, as yet, impossible to come by. A new gelato place opened down the block from me over the winter, and a friend and I finally tried it last week on one of the first insanely hot days of the season, with high yet guarded hopes. While it was charming for its bare decor and nearly silent European proprietor, the gelato was just sad. Gelato is supposed to be dense, creamy, and packed with flavor. This was the opposite: some whipped concoction that was instead packed with sugar to mask its lack of flavor. The strawberry, after two bites, had an almost artificial taste. I was reminded, again, that if good ice cream were to be had in this town, it would have to be made in my kitchen.
This balsamic roasted strawberry gelato has everything I want in an ice cream: it is impossibly creamy without being weighted down by the fat of a typical American ice cream. Its flavor is completely unmasked by the higher milk-to-cream ratio, intensified by slow-roasting strawberries with balsamic vinegar and maple syrup. It's sweet, but not too sweet. The strawberry, instead, takes center stage. Pure but ramped up on balsamic-induced steroids.
The balsamic essentially adds a punch to a fruit that almost becomes more mellow, if concentrated, with heat. It adds tang. It adds brightness. It adds sophistication. And after the strawberry balsamic basil hand pies, it's a combination I never want to be without.
And because the fruit is roasted, it's actually totally okay to use strawberries that are maybe slightly past the point of fresh-eating. It's truly a great option for local berries that have a much shorter lifespan than ones bought at the supermarket — and it also elevates the sometimes-blander-than-local flavor of those supermarket strawberries if that's what you can get your hands on.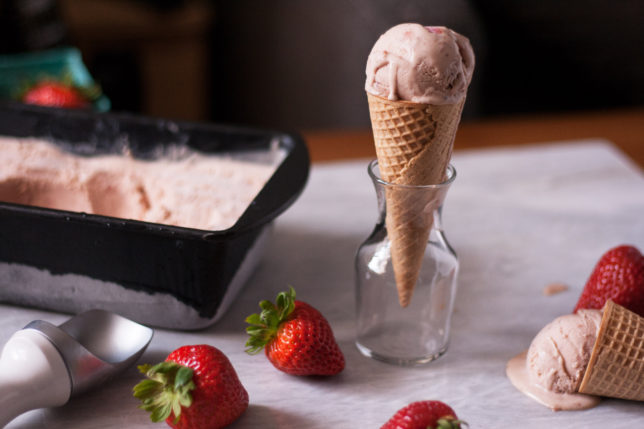 Truly, this balsamic roasted strawberry gelato tastes like what ice cream should be: dense, intense, bursting with summer. And what better way to enjoy it than sitting on your windowsill, feet dangling onto the fire escape, in your jammies. As the ice cream gods intended.
Balsamic Roasted Strawberry Gelato
makes about 1 1/2 pints
1 pound strawberries, hulled and quartered
3 tablespoons balsamic vinegar
3 tablespoons maple syrup
Pinch salt
2 cups whole milk
1 cup heavy cream
¼ cup plus 3 tablespoons granulated sugar
4 egg yolks
Preheat oven to 375 degrees F. In a shallow baking dish, combine strawberries, balsamic vinegar, maple syrup, and salt, and toss to coat. Bake for 30-40 minutes, stirring twice, until berries are soft and fragrant and the juices are bubbling. Let cool slightly on a cooling rack, then puree in a blender, food processor, or with an immersion blender, leaving some pieces slightly chunky. Set aside.
In a heavy saucepan, combine milk, cream, and ¼ cup of the sugar. Heat gently over medium heat, stirring occasionally, until hot, but not boiling.
Meanwhile, whisk together egg yolks and the remaining 3 tablespoons sugar in a medium bowl until thick and lightened in color. Whisk in about ½ cup of the milk mixture to temper the egg yolks, and then pour this mixture back into the saucepan. Heat on low heat, stirring constantly, until thickened, about 7 to 10 minutes.
When the custard is thick enough to coat the back of a spoon, pour through a fine-mesh strainer into a large bowl. Whisk in strawberry puree until combined. Place plastic wrap directly over the surface and chill in the refrigerator until completely cold.
Churn custard according to your ice cream maker's instructions, then scoop into a cold storage container and return to the freezer for at least 2 hours.