Cucumbers: is there anything they can't do? When I was young, both my mother and my grandfather used to make a simple cucumber salad to pair with summer meals: cukes and red onions, lightly pickled in a sweetened vinegar solution. Crisp and refreshing, I was always over the moon whenever it was placed before me — they were cucumbers, after all. So I was overjoyed when I found the familiar slices in large glass bowls at several hotel breakfast buffets when I visited Israel years later, as a young adult. There, they were paired with bright red bell peppers, a beautiful and perfect addition to an already perfect side. I made this salad religiously for months after I returned stateside, and then, for no discernible reason, forgot about it for months — maybe occasionally years — at a time. With the heat of summer already upon us but no fresh kirby cucumbers available for raw consumption or true quick pickling, this oldie-but goodie is in order.
When I say quick, I mean quick. After slicing your cukes, peppers, and red onions, you simply marinate them for however long you have in a vinegar-water-sugar solution. I err on a slightly higher proportion of water to vinegar, but it's generally 1:1. A bit more water simply tempers the acidity of the vinegar, making it, to me, more palatable. It's good to go as soon as you prepare it, but I like to give it 20 minutes or more to really soak into the veggies. The onions, too, give more of their flavor to the solution, and the cucumbers and peppers, if they're allowed to sit a bit longer. Even after a couple of days, they retain their crunch.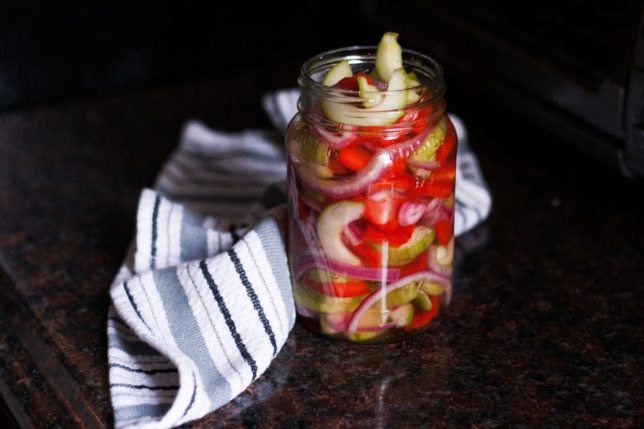 Instead of pickles' salty punch, cucumber salad is sweetly tangy. It's refreshingly cool, refreshingly honest. It is what it says it is, nothing more, nothing less. But what that is, for me, is home.
Quick Cucumber Salad
This recipe is completely versatile, and can be easily doubled  or halved. You can also alter the proportions — more cucumber than pepper, more onion if you like it. Swap in kirbies when they're in season — definitely no need to seed them. I also encourage you to taste it as you go — you may find that you want it more acidic, so add more vinegar; less acidic, so add more water. You may also want it more or less sweet. It's all adjustable with these ingredients!
1 long English cucumber, peeled, seeded, and sliced
1 red bell pepper, chopped into bite-sized pieces
½ small red onion, sliced thinly
⅔-1 cup white vinegar
1 cup water
2 tablespoons granulated sugar
Fresh dill, chopped (optional)
Combine cucumbers, peppers, and onion in a bowl. In a separate bowl, stir together vinegar, water, and sugar until sugar is dissolved. Pour it over the vegetables. Add dill, if using. Let sit for however long you have. Can be refrigerated for up to one week.