So, for weeks I've had this whole long, eloquent post about how I'm injured, and not running, and generally feeling sorry for myself just sitting here on my computer. I haven't been able to finish it because, well, UGH. I don't need to put a sad-sack story online about how frustrated and pathetic I feel about not being able to just throw on some running shoes and head out the door, blow off some steam, release some energy. And it's cold, and we just had a blizzard, so if there's ever a time to be forced to take a break, it's now, in the dead of winter. I think the other reason I was reticent is because this is comfort food, and few things require comfort as completely as an injury. And yet, when you're forced to sit on your butt for however many weeks are required for tendons to heal, shoving tons of cheese down your gullet doesn't seem like the smartest idea in the world. That said, it didn't stop me from eating this, my favorite baked ziti, and it won't stop me in the future as I re-learn that elusive "portion control" thing that people who don't run marathons talk about. OK, fine, we talk about it too. But a giant bowl full of pasta was always justified when you knew you would just run it off. Now, maybe a little less. Everything in moderation, right?
About this baked ziti: it's my go-to casserole of the cold-weather months. It is by no means traditional. My Italian-American friends would probably have my head for it. But trust me on this — some genius somewhere discovered that sour cream gives baked ziti a brightness that lightens it in a way that ricotta can't. Thank you, kind sir or madam — and thank you to my friend and teammate Do, who introduced me to the idea. Paired with a hefty amount of meat-optional tomato sauce that's highlighted with a pour or two of balsamic vinegar and it's got zing. It doesn't taste overwhelmingly heavy in your mouth or your gut. It's comfort food that still tastes kind of light, at least compared to last year's lovely, rich bolognese.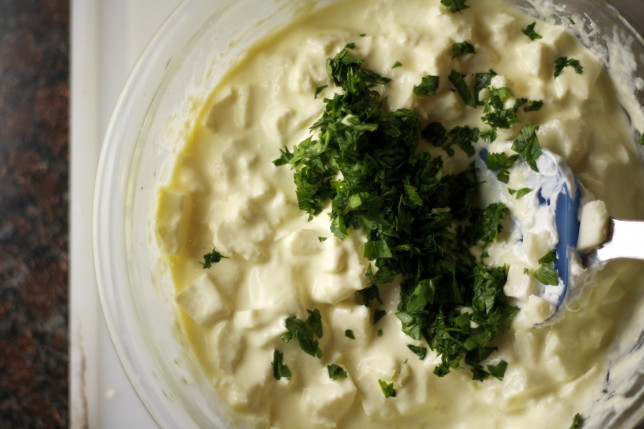 And thank goodness for that, because this recipe makes an obscene amount. It feeds an army. It would be perfect for a potluck, or a extended-family Sunday dinner. Here, we just eat it for three or four days straight — though it would also be perfectly acceptable to halve it and bake it in a smaller baking dish. I just also enjoy not having to worry about coming home from work and actually creating something completely new every night. Doesn't every sane person?
Because without this baked ziti, maybe I'd be a little less sane. It's called comfort food for a reason. If it makes you happy, more power (and healing) to you.
Baked Ziti, Baby

serves 6-8
1 pound ziti, penne, or other short, tubular pasta
¼ cup olive oil
1 small onion, chopped
3 cloves garlic, minced
1 pound lean ground turkey (optional)
1 28-ounce can whole tomatoes
1 28-ounce can crushed tomatoes
1 4-ounce can tomato paste
kosher salt
freshly ground black pepper
1 tablespoon dried oregano
1 teaspoon dried basil (or 1 tablespoon fresh chopped)
pinch sugar
balsamic vinegar
2 eggs
12 ounces mozzarella, grated or diced small
1 cup (8 ounces) sour cream
¼ cup parmigiano reggiano, plus more for topping
2 tablespoons fresh parsley, chopped
Preheat oven to 350 degrees and grease 9 x 13 inch baking dish.
Heat olive oil in a large saucepan or dutch oven over medium heat. Add onions and a pinch of salt, stirring until onions are translucent. Add garlic, cooking for about 30 seconds. Add ground turkey, if using, and cook, breaking up with your spoon, until no more pink remains. Add whole tomatoes (smushing them with a spoon or cutting them with kitchen shears in the can first), crushed tomatoes, and tomato paste. Season lightly with salt and ground pepper. Add oregano, basil, sugar, and one or two splashes of balsamic. Bring to a simmer and cook until the sauce is thickened and the pasta is cooked. Add salt, pepper, additional herbs or balsamic to taste.
Meanwhile, bring a big pot of water to a boil, add a tablespoon of salt, and cook pasta according to package directions or until al dente. Drain and add to the sauce, stirring to coat completely.
While the pasta is cooking, beat the eggs in a medium bowl and add the mozzarella, parmigiano reggiano, sour cream, and fresh parsley. Stir to combine.
Build your casserole: Layer half the pasta and sauce evenly over the bottom of your baking dish. Add half the cheese mixture, spreading evenly. Add a second layer of pasta, reserving some sauce. Spread remaining cheese mixture over the top. Dot the the top with the rest of the sauce, and grate some additional parmigiano reggiano as a final layer. Bake for 30 minutes. Let cool ever so slightly before serving.