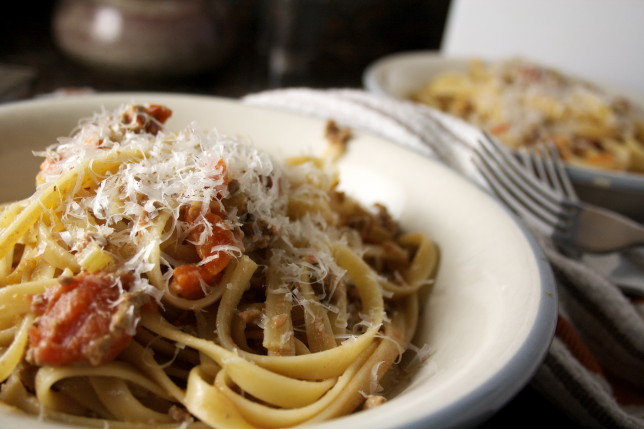 We are now in the single-digit countdown for Marathon Sunday. My friends, teammates, and friend-strangers all over the world are settling into the zone called "the taper" — the Catch-22. Both dreaded and welcomed, it's the time when we bring our mileage and our intensity down in order to rest and recuperate after months of depletion. It's the time when we pull together our marathon outfits and plan our fingernail colors, go over our race strategies, and, of course, worry. Why does my ankle hurt? Why am I so tight? Can I really do this? Oh god am I getting fat?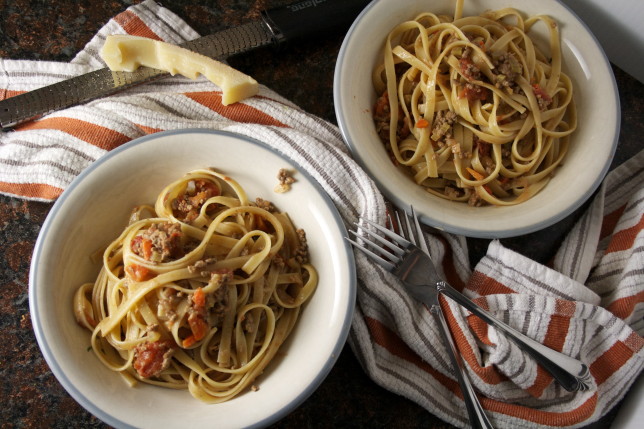 But possibly the best part (which raises the "fat" question) is the carbo-load — a necessity to shore up the body's glycogen stores to fuel the 26.2-mile haul. Granted (and I think I've said this before), I generally don't need to do anything too out of the ordinary to make this happen. I'm a pasta fool. But after my longest, hardest effort two weeks ago, in the form of a 22-mile run up to the Little Red Lighthouse and back, I decided to shake it up a bit and go beyond my usual penne alla vodka, or spaghetti aglio e olio, or simple tomato and basil, and put in a bit of effort. I decided to make a true bolognese.
This is truly a labor of love. Thankfully I chose to do this the day after my run, when I was okay with the possibility that I'd have to be on my feet more than just the 20 seconds it takes to walk into my kitchen and pour a bowl of cereal. The steps are simple, but they take time. But oh, are they worth it.
Onions, carrots, and celery are sauteed. After the meat is browned, it grows heavy after being simmered in milk. Then in wine. Then finally, it's left to gently and slowly putter away with some tomatoes for a good three hours — enough time to watch your favorite Sunday afternoon PBS cooking shows.
It's rich, for sure, made beautiful and complex with tender loving care and simple ingredients, including a grating of nutmeg. This bolognese nothing short of a treat that will, if you're a family of two, last for at least three nights. The fella says it's restaurant quality. Good, because in this restaurant, eating in your pajamas, with your feet tucked under you on a couch, is not only allowed, it's welcomed.
Fettuccini Bolognese
from Marcella Hazan in the New York Times
I must admit that I prefer this a little more tomato-y than Marcella's recipe indicates. I probably used closer to 2 cups of tomatoes, and might consider using more when I make it again. Chalk that up to the fact that "meat sauce" in my family has basically meant tomato sauce…with meat. This is decidedly more complex, and truly, with an extra grind of black pepper at the table, there's probably no need for more flavor than it already has.

serves 6-8
1 tablespoon vegetable oil
3 tablespoons butter plus 1 tablespoon for tossing the pasta
½ cup chopped onion
⅔ cup chopped celery
⅔ cup chopped carrot
¾ pound ground beef chuck (get 80-20, lean to fat)
Kosher salt
Black pepper, ground fresh
1 cup whole milk
Whole nutmeg
1 cup dry white wine
1 ½ cups canned imported Italian plum tomatoes, cut up, with their juice
1 ¼ to 1 ½ pounds fettuccini or other pasta
Freshly grated parmigiano-reggiano cheese, for serving at the table
Place the oil, butter and chopped onion in pot or dutch oven and turn the heat to medium. Cook and stir the onion until it has become translucent, then add the chopped celery and carrot. Cook for about 2 minutes, stirring vegetables to coat them well.
Add ground beef, a large pinch of salt and a few grindings of pepper. Crumble the meat with a fork, stir well and cook until the beef has lost its raw, red color.
Add milk and let it simmer gently, stirring frequently, until it has bubbled away completely. Add a tiny grating — about 1/8 teaspoon — of nutmeg, and stir.
Add the wine, let it simmer until it has evaporated, then add the tomatoes and stir thoroughly to coat all ingredients well. When the tomatoes begin to bubble, turn the heat down so that the sauce cooks at the laziest of simmers, with just an intermittent bubble breaking through to the surface. Cook, uncovered, for 3 hours or more, stirring from time to time. While the sauce is cooking, you are likely to find that it begins to dry out and the fat separates from the meat. To keep it from sticking, add 1/2 cup of water whenever necessary. At the end, however, no water at all must be left and the fat must separate from the sauce. Taste and correct for salt.
Toss with cooked drained pasta, adding the tablespoon of butter, and serve with freshly grated parmigiano-reggiano and freshly ground black pepper.