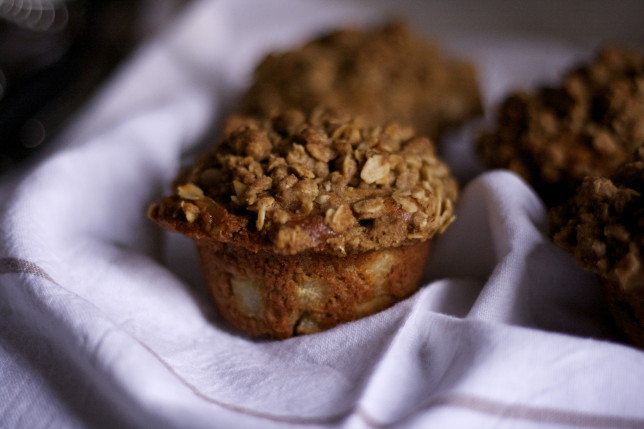 If you're anything like me, you will go into a Trader Joe's with a list of a handful of necessary things — light enough to truck two subway lines home — but end up with a heavy basketful and a wandering eye on the long, long checkout line. The last time I was there, just before Christmas, I spotted a bag of candied ginger while we were meandering closer to the registers, picked it up, and dropped it in our basket, convinced there was something I wanted it for. There wasn't. Well, not that I knew of. But I knew people were pairing ginger with pears all over the place, and with the new year approaching, I also knew I wanted a new, healthy-ish muffin recipe in my arsenal. And what better form with which to experiment? These Ginger Pear Muffins are everything I never knew I wanted.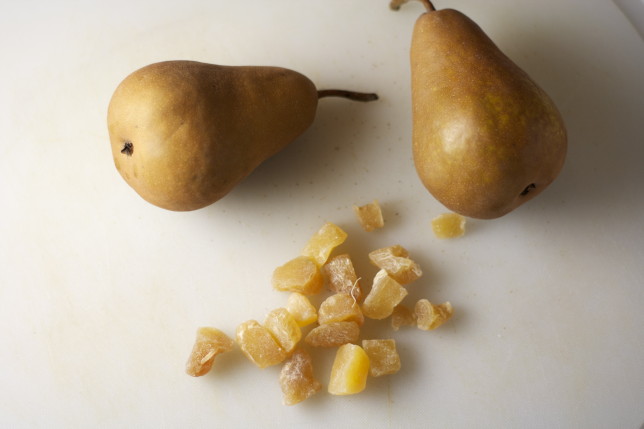 Ginger is a tricky ingredient. Too much, and it burns. I had a small piece of the candied form when I got home, announced it delicious, and went for a bigger chunk, only to gasp for breath and seek water immediately. I am a wuss when it comes to heat. But still, they're sweet. And, as I learned, when diced small and baked into a treat, they almost lose their chew and seem to melt into the crumb, imparting just a hint of their characteristic sweet heat.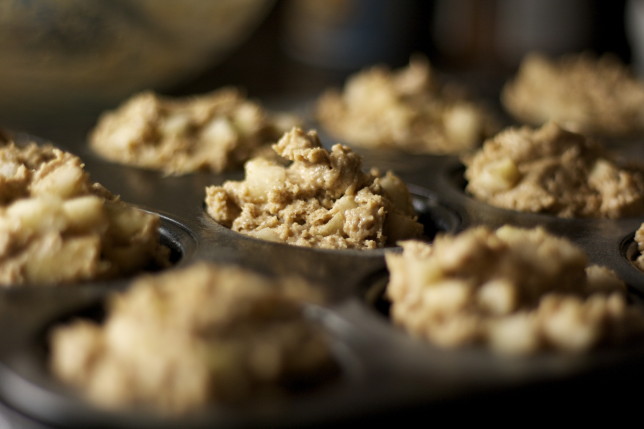 It's the perfect accompaniment to the lovely mellow pear, which, when baked up in a similarly small dice, also melts, this time into sweet, jammy puddles. They play off each other — you may think you're biting into a pear, only to discover it was a spicy dot of ginger. A simple melange of cinnamon, nutmeg, and ground ginger highlights the easy buttermilk and whole wheat muffin crumb, and an oat streusel topping brings it firmly into breakfast territory.
In these early January days, I'm still craving butter and sugar, heat and spice. It's a little dangerous, seeing as I haven't been running very much thanks to a still undiagnosed ankle injury. But these ginger pear muffins, they have it all. They're perfectly domed, healthy, and studded with light and heat. And so what if they have a little bit of butter? Like a cozy sweater, a thick blanket, a fuzzy kitty, these muffins are bound to keep me warm all winter long. I hope they keep you warm, too.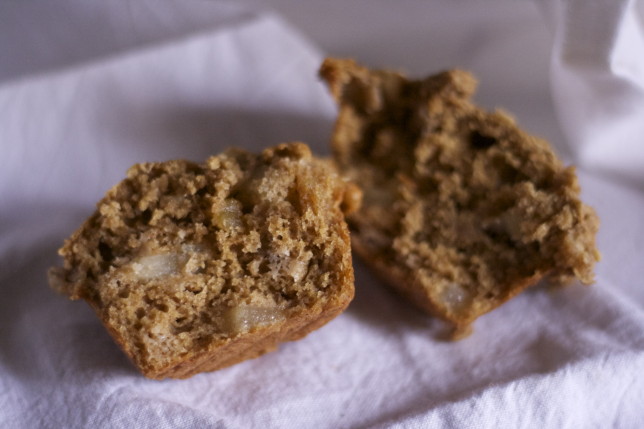 Ginger Pear Muffins
inspired by King Arthur Flour
I've given a range of measurements for the ground ginger. I went to the lower end, but feel free to use the full teaspoon for a little more punch. You can also add more candied ginger, but be careful not to completely overwhelm the pear, which is just lovely and balanced with the spices. I also used buttermilk, but I've made the original King Arthur recipe with yogurt and it's worked beautifully. Pro tip: place a damp paper towel over your diced pears to keep them from browning while you prepare the batter. Works like a charm!
yield: 12 muffins
1 cup (4 ounces) white whole wheat or regular whole wheat flour
1 cup (4 ¼ ounces) all-purpose flour
1 teaspoon baking powder
1 teaspoon baking soda
¼ teaspoon salt
2 teaspoons cinnamon
½ to 1 teaspoon ginger
⅛ teaspoon nutmeg
8 tablespoons (1 stick) unsalted butter, room temperature
½ cup (4 ounces) packed brown sugar
¼ cup (2 ounces)  granulated sugar
1 large egg
1 cup (8 ounces) buttermilk or plain yogurt
½ teaspoon pure vanilla extract
2 medium pears, peeled and diced small (about 2 cups, or 11 ounces whole pears)
¼ cup candied ginger, diced small
For the topping:
4 tablespoons (½ stick) unsalted butter, room temperature
⅔ cups oats
⅓ cup plus 1 tablespoon all-purpose flour
⅓ cup brown sugar, packed
⅛ teaspoon salt
¾ teaspoon cinnamon
Line or grease and flour a 12-cup muffin tin (PAM for Baking works well here) and preheat oven to 375 degrees.
Make the topping: combine butter, oats, flour, brown sugar, salt, and cinnamon in a small bowl. Use your hands to combine until bits of the mixture holds together when squeezed. Set aside
In a medium bowl, whisk together the flours, baking powder, baking soda, salt, cinnamon, ground ginger, and nutmeg. Set aside.
In a large bowl, beat butter, granulated sugar, and brown sugar until fluffy. A hand mixer works well here. Add egg and mix well, scraping the sides of the bowl as needed. Gently mix in buttermilk. Stir in the flour mixture until just combined. Do not over-work. Gently fold in the pears and candied ginger.
Divide the batter evenly in the muffin cups — they will be quite full and mounded. Sprinkle the topping evenly over the tops of each, pressing to help it adhere.
Bake for 25-30 minutes, or until a toothpick inserted into the center of one comes out clean. Let cool in the tin for 5-10 minutes, or until they're easily unmolded, and remove to a wire rack to cool completely.
These muffins keep well in a sealed container for up to three days. To bring them back to life and make them taste brand new, heat them, uncovered, in a 300 degree oven or toaster oven for 10 minutes.