Spring? What was spring? I'm fairly convinced we skipped pretty much right over it, from the depths of winter to the stifling heat of summer. It is not fun out there. And anyone who thinks otherwise is crazy. Especially because this means that the oven is off-limits when it is 90 degrees outside. Yesterday was the first of many, I'm sure. Perhaps, though, there's something beautiful to it: the late emergence of rhubarb and spring produce is touching fingers with early summer berries. The perfect pairing of sweet strawberries and that strange sour stalk herald something brighter — we're no longer waiting for it all to be here, using it as a beacon for warmer weather. It's here. All the flavors, together.
Or I might be delirious. Still, I'm glad I found rhubarb and turned my oven on for this strawberry rhubarb crostata earlier in the week, when it was dress-wearing weather during the day but cool enough again once the sun dipped behind the Manhattan skyline at night. I think there might be more days like that in our future, too. I hope.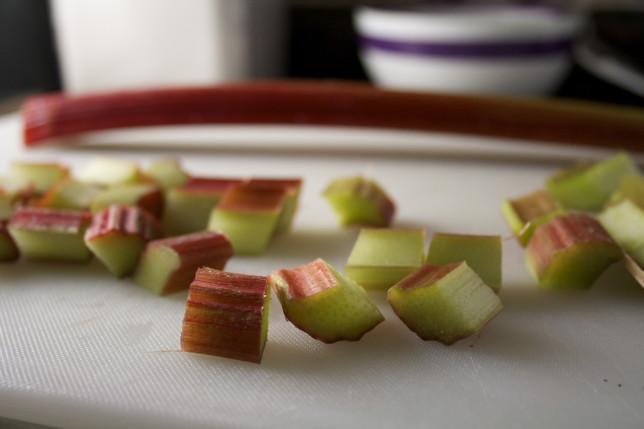 Truth be told, this was the first time I've ever cooked with rhubarb. I had it once in jam form at a cute little cafe on the Upper West Side, years and years ago, and once in a pie my very talented friend Kim was entering in a pie contest and forced us to taste-test after a hill workout (what a hardship!). But I had never bought it, never diced it, never tried to make it into something sweet. Which it is not — at all — raw and on its own.
But indeed, combined with strawberries and sugar, and a bit of citrus perhaps, rhubarb melts into sweetness with a tang. Strawberries baked on their own are, of course, lovely. But rhubarb adds a depth I didn't know they could have. Or maybe it's the other way around. Maybe the strawberries bring the rhubarb to life. Either way, I am convinced of this pair's greatness.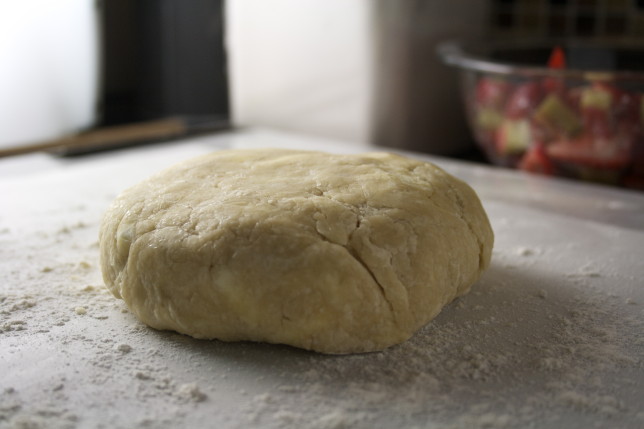 This crostata — or rustic tart, if you will — is the perfect nest from which to highlight these shining stars. A simple, flaky, buttery base, easily combined and rolled out, allowing ruby red to peek out from the center of its messily folded edges.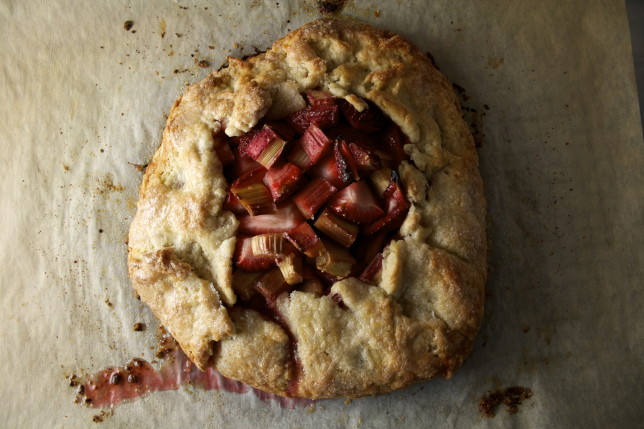 On most of the hot days in the last weeks, I keep thinking "I'm ready for fall." But this strawberry rhubarb crostata kicks that thought right out of me. If the trade-off is bright summer fruit and crisp summer vegetables, fine, I'll stick around. I'll probably still complain, but at least my tongue and my belly will be happy.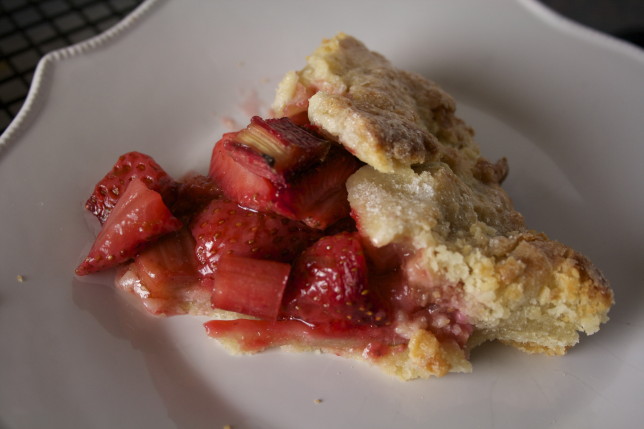 Strawberry Rhubarb Crostata
Some berry pie and tart recipes call for some sort of thickener. This tip from Dorie Greenspan cuts that ingredient out and does the trick beautifully: the strawberries and rhubarb are macerated and most of the sugary syrup is left behind when the filling is added to the crostata dough. Unlike, say, an apple pie, though, you won't end up with dry fruit. Trust me, the strawberries and rhubarb will continue to release more liquid as it bakes. Unless you have cracks in  your dough, the filling won't bubble over and out (but even if it does, that's what the parchment is for), and will be the perfect consistency to cut. It won't fall apart! It's kind of amazing. And delicious. And perfect with creamy vanilla ice cream. Trust me on this.
Let it be known that I am still terrible at rolling dough out into a circle. You will be much better, I'm sure. And if not, hey, that's why they call it rustic.
Dough
1 ½ cups (7 ½ ounces) all-purpose flour
1 tablespoon sugar
½ teaspoon salt
10 tablespoons (1 ¼ sticks) unsalted butter, cut into cubes
3-6 tablespoons ice water
Filling
1 ½ cups rhubarb (about 2 stalks), cut into chunks
1 ½ cups strawberries, quartered (cut smaller if strawberries are large)
⅓ cup sugar (use less if your berries are very sweet, maybe ¼ cup)
zest and juice of ½ a lime
Finishing
1 egg white + 1 tablespoon water
1 tablespoon sugar
Make the dough:
In a large bowl, whisk together the flour, sugar, and salt. Add the butter and work into the flour with your fingers (or with a pastry blender) until the mixture resembles coarse crumbs, with the largest pieces of butter the size of large peas. Slide into the freezer for a moment if the butter seems melty. Add 3 tablespoons of water and pull the dough together with a rubber spatula or fork. If the dough is too dry, add more water, 1 tablespoon at a time, until the dough holds together when pinched together in your hand. Turn the dough onto a clean surface and knead it gently into a disc. Wrap in plastic and refrigerate for 1 hour.
About 30 minutes before ready to bake, make the filling:
Combine the rhubarb, strawberries, sugar, lime zest and juice in a medium bowl. Leave to macerate. Preheat oven to 400 degrees.
Roll out your dough:
On a sheet of parchment or silpat dusted lightly with flour, roll the dough into a rough, 12-inch round, moving the circle a quarter turn every couple of rolls. Pinch the dough together if it cracks. If the butter seems melty at any time, return to the fridge or freezer for a few moments. When you've reached the correct size, gently transfer the parchment + dough onto a baking sheet and place in the refrigerator for 10 minutes.
Assemble:
Using a slotted spoon, lift the fruit from the bowl and mound in the center of the dough, leaving a 2 ½-inch border. The strawberries and rhubarb will release a lot of juice — take care not to transfer too much liquid to the crostata. It will release even more during baking. Fold the dough border up and over the filling, pleating it along the way. Brush the dough with the egg wash and sprinkle with sugar.
Bake the crostata until the crust is golden, about 40 minutes. Transfer the baking sheet to cooling rack and cool for 10 minutes. Carefully loosen tart from parchment using a spatula and slide it onto cooling rack. Let cool for 30 minutes, or until warm or at room temperature, and serve. Delicious with a scoop of vanilla ice cream.