Somewhere, deep down, I wish I remembered my first steps. Our parents always remember our first words (mine were "thank you," or, more accurately, "gackoo" — what can I say, the potty mouth came later), but they don't always remember where we finally stood, wobbling on our tiny feet, and tentatively waddled awkwardly over to open arms. What did we feel? Was it pride? Exhilaration? If you've ever been off your feet or away from the sport you love for any length of time, I think maybe you get a bit of an inkling when you finally take your first steps back. I did, last night, only hours after breaking down into sobs over the memories of my last marathon, of the stubborn thought that I might never run again, of nothing working, of nearly picking up the phone and making an appointment for an experimental treatment with a 50-50 chance of success. Suddenly, in the middle of the day, even with my under eyes still stained with mascara from my tears, my ankle felt… great. I couldn't even manipulate the pain I had felt upon waking in the morning, that I feel nearly every day. With the weather hovering in the mid-60s, I decided to go down to the track, where my teammates were running 1600-meter repeats, and just walk, maybe jog a little, just to see. My first steps on the track were hesitant, but magical. As I continued on with my friend Tracy by my side, I felt exhilarated, free. This must've been what it was like all those years ago.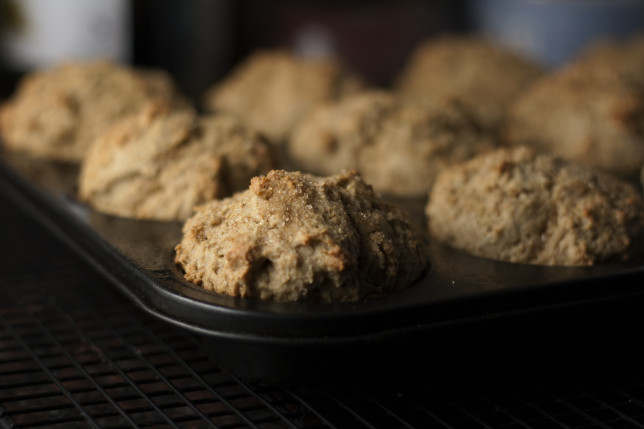 It must also be what it's like to tap the sap from a maple tree as winter begins its thaw in the northeast — it's maple sugaring season! I never knew, not until I saw a video of sap boiling in preparation for a maple syrup festival at the Union Square Greenmarket last week and Food52 posted a delicious looking recipe for maple syrup-filled "sugar pie." Because I haven't been terribly active these last few months, I haven't been terribly hungry. And I've felt uncomfortable in my skin. If we pass Donut Plant, yes, I will buy all the donuts (hello, tres leches). But I will feel incredibly guilty about it. I have very little self-control. So I've been thinking a lot more about how to put nutrients in my body — and tasty treats in my face — in compact packages without lots of refined white flour or sugar. Sugaring season was the perfect excuse to experiment with these Maple Rye Muffins.
I also wanted something simple: no dicing fruit, please (though it would be lovely), no fussy streusel topping. I wanted something I could throw together in just a few minutes and enjoy without clashing with a veggie-filled omelet or a fruit-filled cup of yogurt in a flash. This may be the simplest baked good I have on this site beyond pancakes (which aren't baked anyway — so they don't count), yet they're still interesting. This is a dump and pour recipe, with whole-grain rye flour taking the place of some of the all-purpose — but not all, otherwise the result would be an incredibly dense muffin — and maple syrup taking the place of sugar.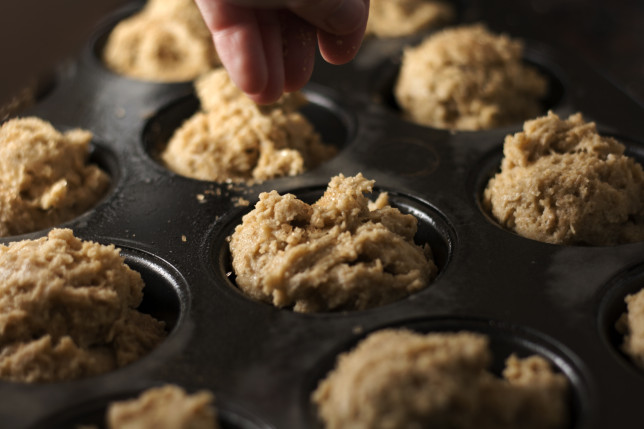 My intention, quite honestly, was for a muffin that was full of maple flavor. But maple syrup is notorious for retreating when baked. Even with a few experiments, I couldn't get it there, but I did get them to a place that was gentle and lovely. The taste of the maple seems to make its appearance only at the very end, with an almost viscous feeling — it almost feels like the vapors of that beautiful, deep amber syrup are left behind when you chew.
They fill me with the same sort of deep satisfaction I now have from running a measly mile, with walking breaks in between laps, on the track. They're not ostentatious, they're not a long run, a fast race. They're simple — deceptively simple. Almost like those first steps.
Previously mapley: Maple Oat Scones
Maple Rye Muffins
loosely adapted from Naturally Ella
In order to try to get the most maple essence out of your muffins, try to use dark, robust maple syrup, what used to be known as Grade B. Its flavor is more intense than lighter amber colors. You can also amp up the flavor by dipping the tops in maple syrup, pouring it over the top, or injecting them after they bake, but I find that makes them too sweet for my taste. I prefer them lightly sweetened, even if the maple flavor is muted.
makes 12 muffins
1 cup (107 grams) rye flour
2 cups (282 grams) all-purpose flour
1 teaspoon baking soda
1 teaspoon baking powder
½ teaspoon salt
½ cup (1 stick) unsalted butter, melted and cooled
¾ cup buttermilk
2 eggs
¾ cup maple syrup
turbinado, sparkling, or maple sugar, for topping
Preheat oven to 375 degrees and line or grease a muffin tin.
In a large bowl, combine flours, baking soda, baking powder, and salt.
In a medium bowl or large measuring cup, whisk together melted butter, eggs, buttermilk, and maple syrup.
Add liquid ingredients to dry and gently fold with a rubber spatula until barely combined.
Portion the batter equally among the wells of the muffin tin — you should use about ¼ cup of batter for each. Sprinkle generously with the sugar of your choice (I used turbinado, but would probably try maple if I had it).
Bake for 15-20 minutes, or until a toothpick inserted into the center of one comes out clean.
Let rest in the muffin tin for five minutes or until cool enough to unmold. Let cool slightly on a cooling rack. Enjoy warm or at room temperature.
Muffins can be stored in an airtight container for several days. Bring them back to life by reheating them in a 300 degree oven for 7-10 minutes.