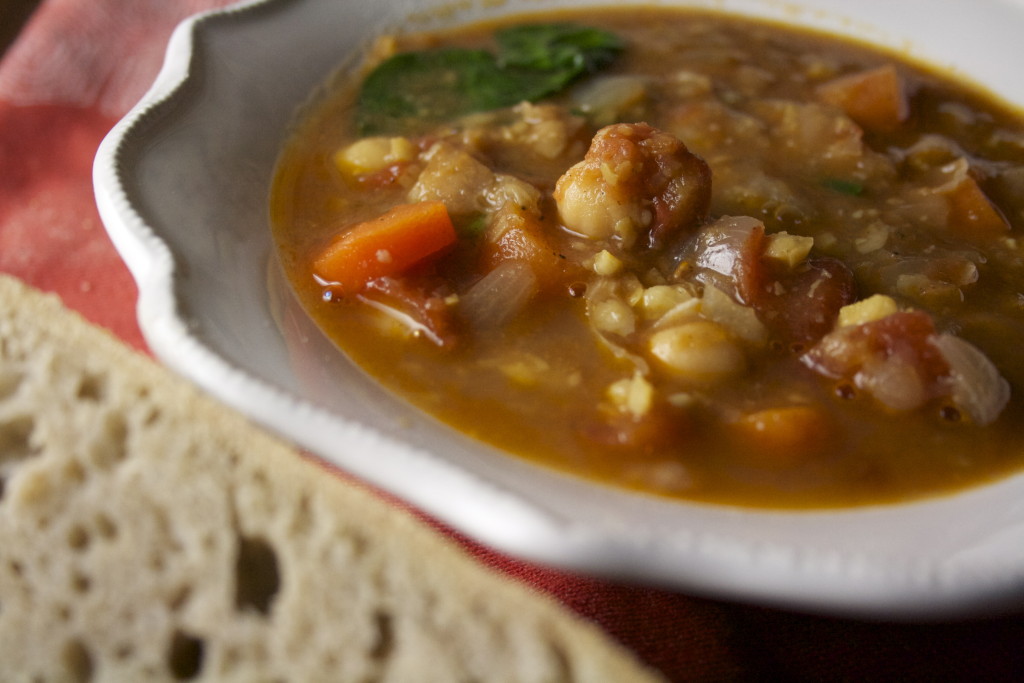 I might be the only person in New York City who likes winter. And not just light snowfalls, pristine white flakes floating down onto quiet sidewalks, silhouetted against lamplight and curtainless windows. Not just chilly temperatures, asking for sweaters and scarves and woolen coats and boots. No, I like extended frozen landscapes. Last winter? The polar vortex? The frozen Hudson? I loved it. I may have been the only person who didn't complain when it felt like spring would never come — well, until it did, for a day, and then got cold again. Then I was ready. Because cold winters mean glorious springs, and it was. I may shiver and it may take courage to go out for a training run when it gets below 20 degrees, but this week's sub-zero wind chills just make me feel all warm and fuzzy inside — because when it gets like this, I fill my insides with warm bread and hot soup. But not just any hot soup — Moroccan chickpea soup.
This beautiful concoction melds the flavors of cinnamon and cumin, paprika and cayenne, to build a slightly sweet, slightly spicy base from which the chickpeas can make their case for a hearty alternative to meat. Baby spinach adds vitamins, a pop of color, and a hint of bitterness, which compliments the handful of slightly acidic tomatoes here wonderfully, and I've added diced carrots for an additional boost of mellow sweetness (and something else to chew on). Some of the chickpeas are mashed at the end, so that the soup isn't just chunky, it's thick, too.
It was just the thing I wanted when I came in from the bitter cold yesterday, and thankfully, it makes as much as six servings to get us through at least one more dinner (what can I say, I always go back for seconds). The spices helped clear my stuffed-up nose, at least for a while, and the warmth placated a tightness in my lungs that I can only blame on running in this windy winter wonderland. Served with a couple of slices of crusty bread and this Moroccan chickpea soup gives light — and sustenance — in winter's early darkness.
I know what you might say — I probably would feel differently if I lived in Minnesota and felt the full force of the mighty polar vortex. And you'd probably be right. But then again, I'd probably just own an even warmer coat and more SmartWool socks — and be making even more soup.
Spring is just over two months away, folks. It's okay. Enjoy the quiet, enjoy the hearth — the beauty of the stark outdoors and the warmth in your kitchen. And if all else fails, listen to Vivaldi while you sip your winter blues away.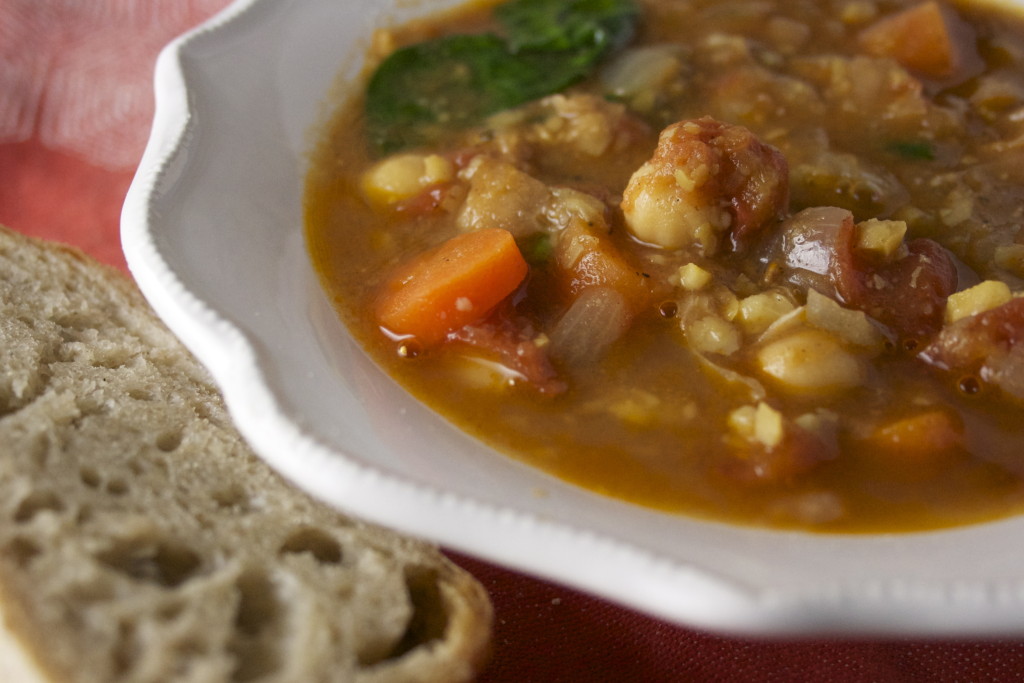 Moroccan Chickpea Soup
adapted from Dave Lieberman
This soup is another one that's cheap and easy to make, and like most, is fairly versatile. Add more veggies if you'd like — just make sure the water level is right. Because I'm in the "use what you have" frame of mind, I used the baby carrots already in my fridge — I diced about 12 of them. I mashed the chickpeas with a fork against the side of the dutch oven, a little at first, and then more after I stirred and realized I wanted an even thicker soup. It's vague because it should be to your liking. Or, if you want a looser consistency, skip that step altogether — though I think the thickness is absolutely wonderful. It just sticks to your bones.
serves 4-6, depending on portion size
¼ cup extra virgin olive oil
1 large onion, diced
6-8 cloves garlic, minced
1 teaspoon ground cinnamon
1 teaspoon ground cumin
1 heaping teaspoon sweet paprika
⅛ teaspoon cayenne pepper
1 (14.5-ounce) can diced tomatoes
3 (15.5-ounce) cans chickpeas, drained and rinsed
1 large carrot, diced
1 quart (32 ounces) vegetable or low-sodium chicken broth
1 teaspoon sugar
kosher salt
freshly ground black pepper
3 ounces baby spinach
Heat olive oil in a dutch oven or large pot over medium heat. Add the onion and garlic and sauté until the onions begin to turn translucent, taking care not to burn the garlic.
Add the spices and sauté for 30 seconds to one minute to bloom their flavors.
Add tomatoes, chickpeas, carrots, broth, and sugar. Season with a pinch or two of salt and 10 grinds of fresh pepper. Stir well. The chickpeas and carrots should be just covered with liquid. If they're not, just add some water until they are.
Bring the soup to a simmer. Lower heat to low and gently simmer, uncovered, for about 45 minutes.
Remove from heat. Using a potato masher or a fork, mash some of the chickpeas right in the pot. Stir in the spinach until wilted, about 1-2 minutes.
Season with salt and pepper to taste, and serve.