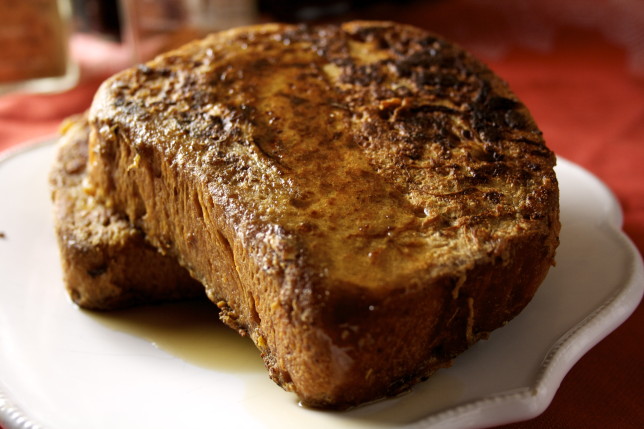 When I was a kid, every once in a while my mom would treat us to something extra special:  French toast for dinner. Simple. White bread, dredged in egg wash, fried in butter, dusted with granulated sugar, and cut into squares, like a checker-board. It's the way her mom used to do it when she was little, and it's probably the way I will if I have kids of my own. The crunch of the sugar on top of the bed of golden bread was unbeatable. Now that I'm older — well, I still let other people make French toast for me. And my goodness can my fella make French toast. He takes his time — makes sure the bread is perfectly soaked (not too little, not too much),  and perfectly cooked at just the right temperature — and just knows intrinsically how to flavor it just right.  But one day we wondered: what would it be like with ALL the spices? What if we made Gingerbread French Toast?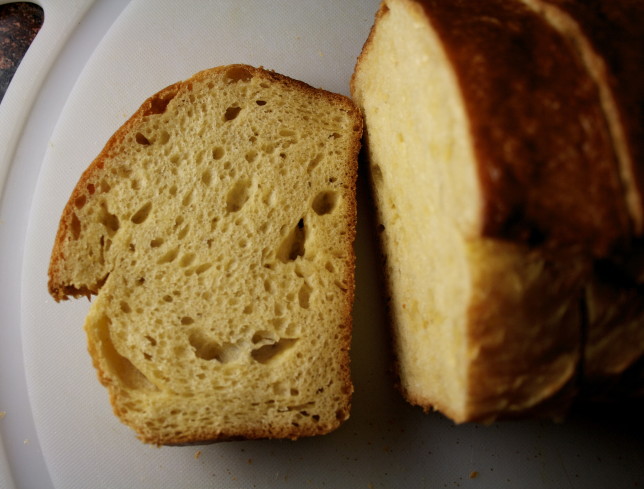 So I made a loaf of  brioche with the rest of the dough from the donuts, let it sit for a day and a half to dry out a bit, slept late — too late — and we debated. This much ginger? Maybe this much cinnamon? Yes, I'm putting in this much molasses. And just a little bit of nutmeg, a little bit of cloves, a pinch of allspice. Whisked together with lots of eggs and a bit of milk, and it didn't look like it would work out. Spices, it should be known, don't really dissolve the way you want them to. They kind of just float around until you whisk it some more, when they separate, and float to the edges of the plate again. But oh was I wrong.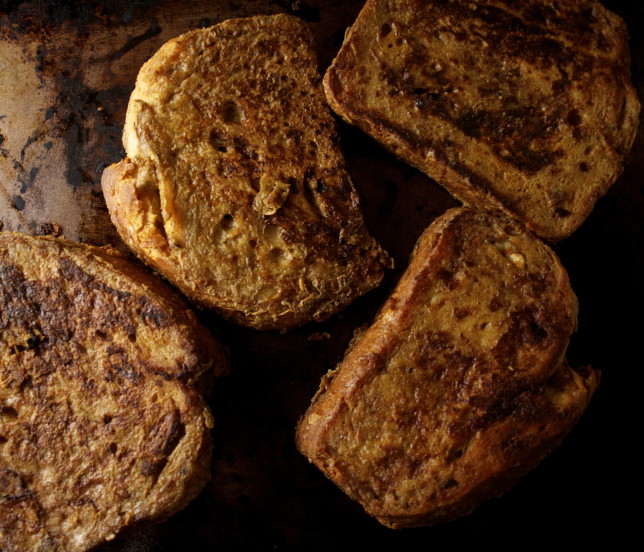 Those spices soak into the bread, cling beautifully to its surface and sink into its depths. Fried in butter, doused in pure maple syrup, and it's simply voluptuous. And even better when someone you love takes the reins and makes it for you. Being pretty new to Christmas, it's sort of what I always imagined Christmas to be like. Simple, warm, hopeful, custardy, and magical.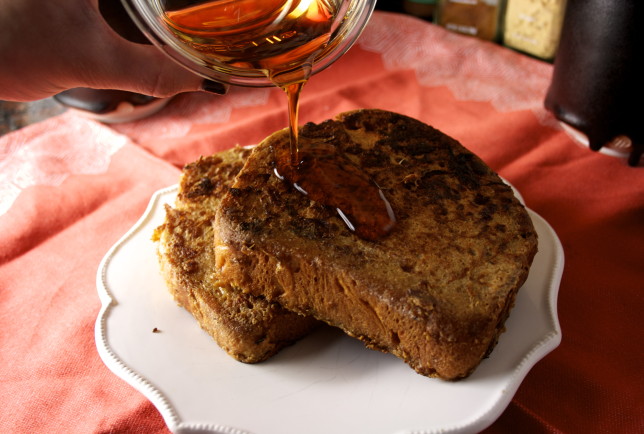 Gingerbread French Toast
We cut the brioche 1-inch thick, but next time will probably make them slightly thinner, perhaps 2/3- or 3/4 -inch slices. Truly though, any bread will do. If all we have is sliced whole wheat we'll do it, no questions asked — we just need to be careful not to soak it too long in the egg wash. Challah and brioche, though, are sure to soak up the egg wash best and create a most custardy inside.
6 thick slices of slightly stale bread (challah or brioche)
6 eggs
½ cup milk
2 tablespoons molasses (light or robust)
1 ½ teaspoons ground ginger
1 teaspoon cinnamon
⅛ teaspoon cloves
⅛ teaspoon nutmeg
pinch allspice
butter, for pan
In a shallow bowl or pie plate whisk together eggs, milk, molasses, ginger, cinnamon, cloves, nutmeg, and allspice.
Set a skillet over medium-low heat and melt butter.
Working one at a time, place bread in the egg wash and toss until fully coated. If you have thin sandwich bread, take care not to let it soak too long or it will fall apart. If you have thick bread, a few turns in the egg wash will be best. Allow excess egg wash to drip away before placing in the skillet. Repeat with one or two slices, depending on the size of your pan.
Cook slowly, turning down the heat if necessary, until the underside is browned. Flip and continue to cook until it is similarly browned. Repeat with remaining slices. Keep cooked slices warm on a baking sheet in a 170-degree oven until all slices are fried. Serve warm with pure maple syrup.