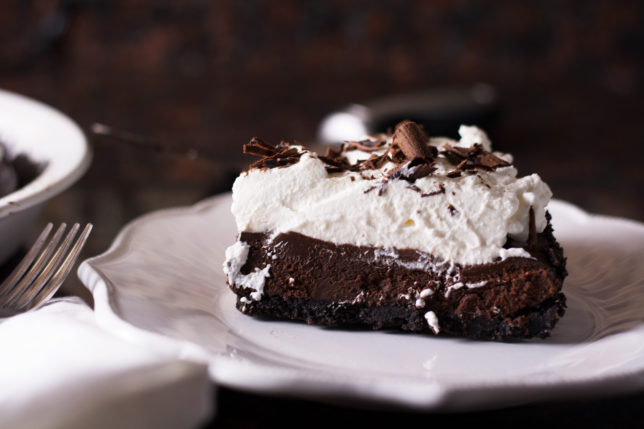 For years, it seems, Ray has been asking me to make a French silk pie, and every single time I've balked. It just never appealed to me. I'm not a fan of most whipped frostings and most whipped mousses — unless they're drenched with flavor. Flipping through Cindy Mushet's The Art and Soul of Baking a few weeks ago, though, I stumbled upon a chocolate silk pie that sounded leagues more sophisticated than anything I ever imagined French silk pie to be — it looked, in essence, like a chocolate truffle pie. It sounded decadent, dense, and rich — and quite a bit less cool-whippy than I always thought it traditionally was. And, to make it even more enticing, the crust was to be made from Oreos. Now this was the sort of silk pie I could get behind. This would be his birthday surprise.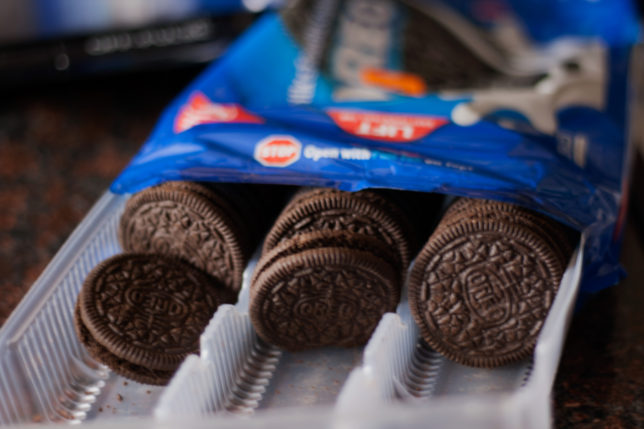 I surreptitiously ran out to the corner bodega while he was sleeping and stashed the Oreos on top of the fridge while I prepped his birthday brunch. Later on in the afternoon, after I stepped back in the kitchen and took out the food processor to grind the cookies up into a flour, he came in and asked if it was something I could keep a surprise until we ate or if he'd smell it while it was baking and figure it out. I grabbed the Oreos and looked right at him, shocked that he hadn't even noticed them. Still, he would have no idea, I told him. I flipped on the oven, weighed my cookies, and shooed him out. Ground finely, mixed with melted butter, and pressed into a 9-inch pie plate, the crust bakes for just a short amount of time, exuding the intoxicating aroma of hot, black cocoa as it solidifies in the oven.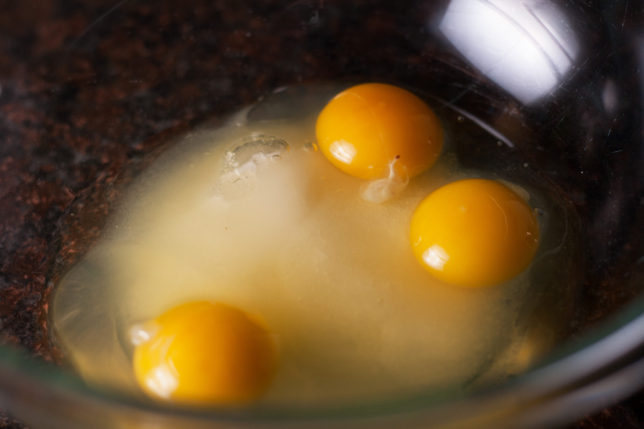 On this hot summer day, I was thrilled to be able to turn my oven off shortly after turning it on for its preheat. While the crust cooled, I whisked my eggs and sugar in a bowl over a pot of simmering water, heating it to 160 degrees in order to kill any bacteria without actually cooking the eggs. A time-consuming step, yes, but one I'd take over poisoning my friends and loved ones — always a perennial worry. I then whipped them on high in my stand mixer while putting another bowl, with chopped chocolate, butter, and cream, over the pot, once again shooing the birthday boy out of the kitchen with his beer.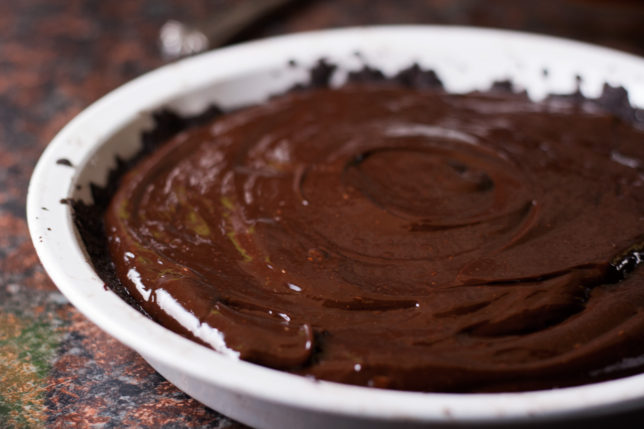 The glossy, melted chocolate was poured messily, though gingerly, into the now tall, frothed eggs, and whipped together, along with vanilla extract, until it was uniformly chocolate throughout, then poured into the cooled crust. It looked almost like chocolate pudding — I could eat it with a spoon out of that bowl and generally have no need for pie later, but I forged ahead. I chilled that pie in the fridge until it was completely cool and whipped up some cream and a smidge of sugar, dolloped it on top, and attempted chocolate curls with a leftover chunk of chocolate and my vegetable peeler. Took a picture and sent a text to the fella, who was drinking his beer with his buddy downstairs. "That looks nuts," he replied. Yes, yes it was.
We dined on homemade barbeque chicken pizza later, after I subjected myself to the blasting heat of a 550 degree oven, and settled in with a movie and our last remaining Death by Coconut Irish porter from earlier in the year. Finally, it was time. I cut in: it was more than pie, it was a truffle in a pie. The knife slid through the ganache filling deftly, but with effort. It didn't feel like I was going to mush anything, like a pie with a more mousse-like texture would. It was almost fudge-like in heft.
This chocolate truffle pie was everything we hoped it would be, and more: deeply rich dark chocolate cookie base; thick, creamy, decadent filling; and a gorgeous tuft of barely sweetened whipped cream to cut it all. Because it's so rich, I didn't feel the need to stuff my face, saving my stomach and my "holy-shit-I-need-to-fit-into-my-wedding-dress in three months" waistline.
"Is it anything like the French silk pie you know?" I asked him as we licked our forks, thick with ganache. "No," he said. "It's better."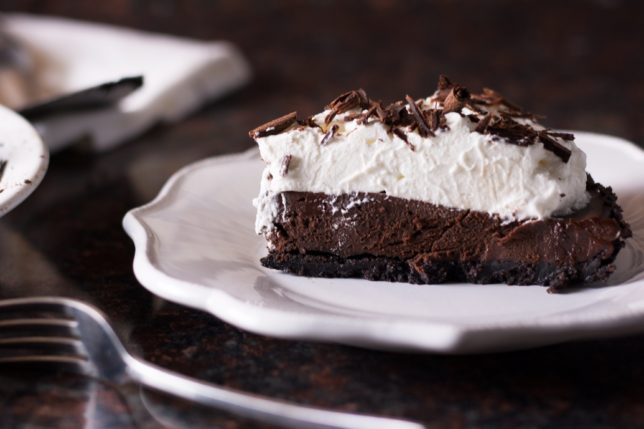 Chocolate Truffle Pie
adapted from The Art and Soul of Baking
Because the chocolate in the filling is the star of the show, get the best you can afford. I'm always a fan of Trader Joe's 72% Bittersweet Pound Plus Bar. It's economical but still boasts an amazingly deep, smooth chocolate flavor.
Crust
1 ½ cups (7 ounces, 200 grams) original-style Oreos or other chocolate sandwich cookies (about 18 cookies)
5 tablespoons (2 1/2 ounces,  71 grams) unsalted butter, melted
pinch salt
Filling
3 large eggs
7 tablespoons (3 ounces, 85 grams) granulated sugar
6 tablespoons (3 ounces, 85 grams) unsalted butter, cut into small pieces
½ cup (2 ¾ ounces, 78 grams) heavy whipping cream
10 ounces (285 grams) bittersweet chocolate, finely chopped
1 ½ teaspoons pure vanilla extract
Topping
1 ¼ cups (10 ounces, 285 grams) heavy whipping cream
1 ¾ tablespoons (¾ ounce, 22 grams) granulated sugar
Chocolate shavings or curls
Make the crust:
Preheat oven to 350 degrees with a rack in the center. Grind cookies in a food processor until very fine. Pour in melted butter and salt and pulse until moistened. Using the bottom of a measuring cup or glass, press the mixture evenly into the bottom and up the sides of a 9-inch pie plate. Bake for 8 to 10 minutes, until fragrant. Transfer to a cooling rack to cool completely.
Make the filling:
Bring 2 inches of water to a simmer over medium-low heat in a medium saucepan. Place the eggs and sugar in a heat-proof bowl big enough to sit over the pot without touching the water and whisk together until combined. Place the bowl over the simmering water and whisk constantly to prevent the eggs from scrambling. Heat until the mixture measures 160 degrees (an instant-read thermometer would be perfect here) and the eggs look light in color and texture. Take the bowl off the heat to check the temperature to ensure it doesn't overcook while you're measuring. Be patient — this can take anywhere from 5 to 20 minutes depending on how often you remove the bowl from heat. When the eggs reach 160 degrees, remove the bowl from the saucepan, slide into a stand mixer fitted with a whisk attachment, and beat on high for 3 minutes. Keep the saucepan on the burner on medium-low.
While the eggs are beating, place the butter, cream, and chocolate in a medium bowl and set it over the saucepan with the still-simmering water. Let it sit for 1 minute, then gently stir with a rubber spatula until the chocolate is melted and the mixture is smooth. Remove from heat and wipe the bottom of the bowl completely dry — any water that hits the chocolate will seize it. Add the chocolate mixture to the eggs, lower the speed to medium, and beat until there are no streaks of egg visible. Scrape down the sides of the bowl and beat in the vanilla extract. Remove the bowl from the mixer and scrape down the sides, making sure that any streaks of egg are completely blended into the chocolate. Scrape the filling into the prepared pie crust and smooth the top. Refrigerate until cold, about 30 minutes.
Make the topping and finish the pie:
Mix heavy cream and sugar in a stand mixer or with a hand mixer until stiff peaks form. Dollop onto the pie and spread decoratively. Sprinkle with chocolate curls or shavings. Refrigerate until nearly ready to serve, then let sit at room temperature for about 15 minutes. Slice with a sharp knife and enjoy.