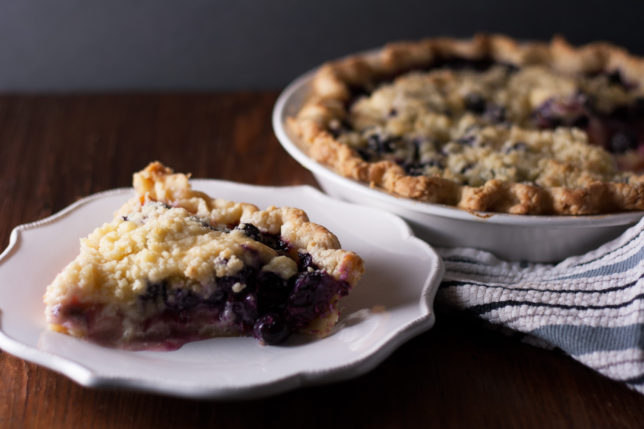 I spent a lot of time this winter and spring in a cave of my own making, shying away from people, from a social life. I am, by nature, a homebody. Running is my social life, and when I was injured after the marathon, I was down, I was defeated, and I hid in my cave, missing the energy of my body and my friends but sinking deeper and deeper into a miasma of self-alienation. Even once I started running again, I didn't feel like myself, not until I cut back on my solo runs and started going back to my team's workouts and running (slowly) in races. But I didn't truly feel like my life was my life again until last week, when I ran an entire speed workout and at the end, after a slow start but a strong finish, our coach, Jared, smiled at me and said, "I love to see that. The athlete in you always comes out." Then, this past weekend, two of my good friends and teammates got married at the base of our hill workout in Astoria Park under the Hell Gate Bridge, and, with the bride in a beautiful white running dress, led us on a group run over the Triboro Bridge and into Manhattan. The next day I cheered on another good friend and teammate as he competed, and kicked ass, in his first triathalon. There's something fulfilling about being part of a community.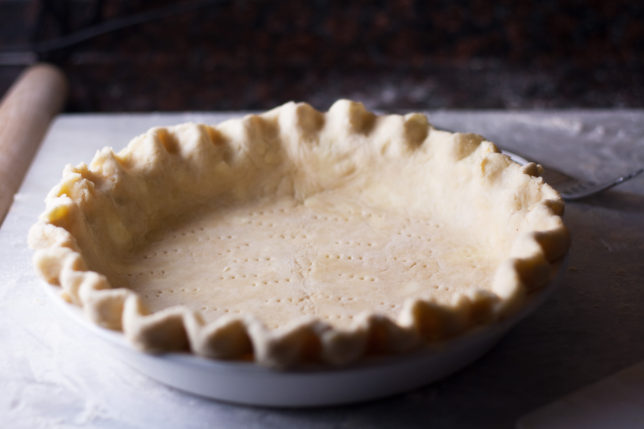 Which is why I also love visiting my local farmers markets, surprising the Tibetan guys who work at Migliorelli's at the Wednesday Astoria market when I say "thuk jay chey" to thank them, banter with Drew the coffee guy at the Saturday Socrates Park market, get advice on the best apples for pie when I can't find my usual Cortlandts or how best to store spring garlic. I'm thrilled to now be featured in the feedfeed's Grow NYC feed alongside other amazing recipes from local cooks and bakers and bloggers, to root myself even deeper in this community I love so much.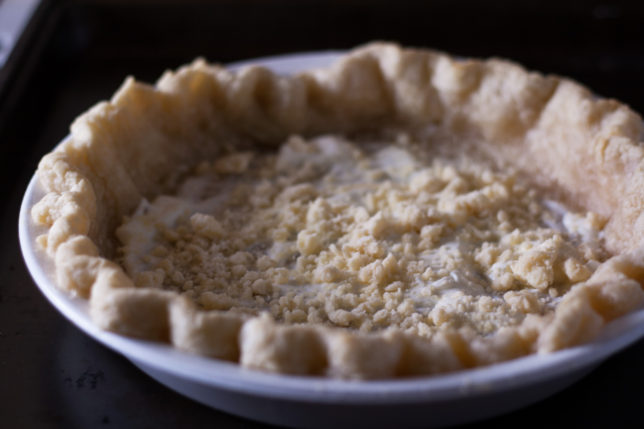 Like so many other farms in the region, Migliorelli's had amazing blueberries last Wednesday: plump, firm, bursting with their signature floral sweetness, nary a sour note to be tasted. Blueberries are killing it this year, and along with my usual fresh blueberry-Greek yogurt-granola concoctions, I had to bake with them again. Blueberries pair so beautifully with nectarines and peaches, and I was dreaming of pie on the eve of the Great Heat Dome of 2016. After much time reflecting on Smitten Kitchen's peach and crème fraîche pie, and with a boost of confidence on rolling out dough after watching Joy the Baker's fantastic Facebook Live video tutorial on pie a couple of weeks ago, I decided that the time was ripe for blueberry nectarine crème fraîche pie.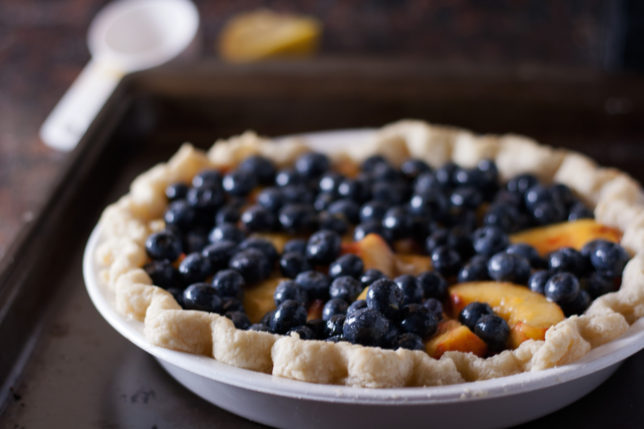 Now, one thing I've learned in the last week or so is that peaches and nectarines are, sadly, not killing it in the northeast this year — entire crops were apparently decimated by the Valentine's Day deep freeze and a late frost. But that doesn't mean that less-than-stellar peaches or nectarines, even from outside your local greenmarket if necessary, can't be exalted in a pie shell. Baking, especially with the right amount of sweetener, elevates even the saddest, tartest fruits. This pie, baked up with dollops of creamy crème fraîche that create an almost custard filling, a lovely, simple, sweet streusel, and a hint of lemon and cardamom, ties the blueberries and nectarines together beautifully. My nectarines were tart out of hand, but baked up sweet. I'd imagine this would be even better with sweeter ones if you can find them.
Like Deb Perelman of Smitten Kitchen, the fella and I both thought this blueberry nectarine crème fraîche pie was even better after it had been refrigerated: the crème fraîche tightens back up a tiny bit after its blast in the oven and its chill in the fridge, and the fruit's juices stay in place, creating perfect, gorgeous slices. It's taken the place of ice cream in our post-dinner, steamy night dessert routine thanks to its cool, creamy, and bright texture and flavor.
This is a pie I would bake for my friends, my neighbors, my amazing teammates — my community — again and again. I hope it gives them as much joy as they've given me.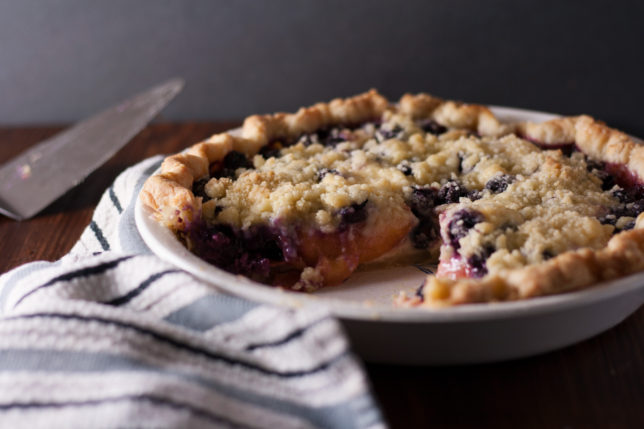 Blueberry Nectarine Crème Fraîche Pie
adapted from Smitten Kitchen
Can you bake this pie with peaches? Of course! Alter the ratios of the fruit, too, with what you have. I only was able to get three decent nectarines, and was too lazy to seek out more, so I used more blueberries than I may have otherwise. Don't have cardamom or don't like it? Cinnamon would be a lovely replacement. Also, be sure to taste a bit of your fruit — you'll want to adjust the sugar accordingly. I ended up using a full 4 tablespoons, or 1/4 cup, in my filling. I also could have cooked mine a bit longer, but it still tasted absolutely delicious. Next time I would probably leave it in for the full 50 minutes.
makes one 9-inch pie
Crust:
1 ¼ cup (177 grams) unbleached all-purpose flour
½ teaspoon kosher salt
heaping 1/2 tablespoon granulated sugar
8 tablespoons (1 stick) cold unsalted butter, cut into pieces
½ cup cold water
2 tablespoons apple cider vinegar
½ cup ice
Streusel:
¼ cup (34 grams) confectioners sugar
¼ teaspoon baking powder
Pinch salt
6 tablespoons (58 grams) all purpose flour
4 tablespoons (½ stick) cold unsalted butter, cut into pieces
Filling:
12 ounces (340 grams, about 3) ripe nectarines, pitted and quartered
12 ounces (340 grams, about a cup) blueberries
2-4 tablespoons granulated sugar
¼ teaspoon cardamom
1 teaspoon lemon juice
Pinch salt
5 tablespoons crème fraîche
Make the pie crust:
In a large bowl, whisk the flour, sugar, and salt. Add the butter, toss to coat. With a pastry blender or your fingers, work the butter into the flour until most of the butter is the size of smallish peas. Some larger pieces are okay.
Combine the water, cider vinegar, and ice in a large measuring cup or small bowl. Sprinkle 2 tablespoons of the ice water mixture over the flour mixture, and cut it in and toss it together with a bowl scraper or rubber spatula until fully incorporated. Add more of the water, 1 to 2 tablespoons at a time, until the dough comes together in a rough, shaggy ball, with some dry bits remaining. Squeeze the dough together with your fingers to bring it together, sprinkling dry bits with small drops of water to combine if necessary. Shape the dough into a flat disc and wrap in plastic. Refrigerate for at least 1 hour or overnight, or up to two nights.
Once it's sufficiently chilled, roll out pie dough until it's about 12 inches across and ⅛-inch thick and fit it into a standard 9-inch pie plate. Trim the edge to ½ inch, fold under, and crime as desired. Pierce the bottom of the dough all over with a fork. Freeze for 30 minutes. Just before you're ready to take the dough out of the freezer, preheat the oven to 400 degrees.
When the oven has preheated, tightly press a sheet of aluminum foil against the frozen pie crust and fill with beans or pie weights. Bake for 10 minutes, then carefully remove the foil and weights and return to the oven for another 5 to 8 minutes, until lightly golden brown. Transfer to a rack to cool slightly and reduce oven temperature to 375 degrees.
Meanwhile, make the streusel and fruit fillings:
In a small bowl, stir together confectioners sugar, baking powder, salt, and flour. Add butter pieces and, using your fingers, a fork, or a pastry blender, work the butter into the flour mixture until it resembles coarse crumbs.
Add fruit to a large bowl and sprinkle with sugar, cardamom, lemon juice, and salt. Let sit for 10 minutes.
Assemble and bake pie:
Spread 2 tablespoons of creme fraiche over the bottom of the par-baked pie crust. Sprinkle ⅓ of the streusel over the crème fraîche. Fan the nectarine slices over the streusel. Add blueberries to fill in gaps. Dab the remaining 3 tablespoons of crème fraîche over the top and sprinkle the remaining streusel.
Bake the pie for 40-50 minutes, until the crème fraîche is bubbling and the streusel is golden brown. Let cool on a wire rack before serving. Serve warm or at room temperature or, once it's cooled, chill it thoroughly in the refrigerator and serve cold. Pie is best kept in the fridge.